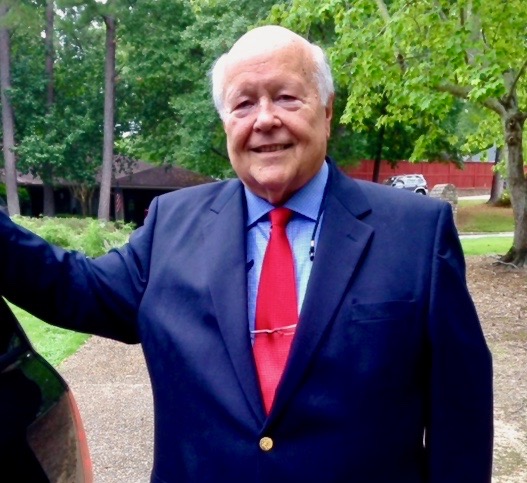 The Aflac Duck has created its own dynasty.
With sincere apologies to Dan Amos and his talented team on Wynnton Road, when people think of the Columbus based insurance giant, they don't think of the CEO that leads the company — they usually think of the whimsical duck that represents it.
And new reports indicate that the iconic duck won't be paddling away anytime soon.
The Aflac Duck has worked for Amos for 18 years and an article in  Marketing Daily reports that the affable spokes-duck will continue to be the focal point of Aflac's branding and advertising strategy with an increased emphasis on serving, growing and educating.
When Tayna Gadzik of Marketing Daily asked Aflac's Chief Brand and Communications Officer Catherine Hernandez-Blades whether the public might be tired of the Aflac Duck, here is what she said:
"The Aflac Duck continues to be a focal point for the Aflac marketing strategy. He will continue to showcase his funny side, but with a greater focus on serving others by demonstrating generous and friendly attributes — someone who is always there to help policyholders in their time of need."
On the heels of that article comes another by Lindsay Rittenhouse of AdWeek. Her story says Aflac and its iconic duck are staying with Publicis Seattle as the company's Agency of Record. More than a decade ago members of that creative firm played roles in the duck's creation.
Hernandez-Blades confirmed that in a text message to AdWeek:
"We know that our creative work historically has had a significant impact on our business, so we wanted to ensure that as trends continue to evolve and emerge, we have the most innovative partner to help us deliver our messages in meaningful, relevant ways. After conducting this review, we feel that we are in alignment as to how we believe that our creative and our communications will continue to successfully drive our business to the levels that have made Aflac the leader in our industry."
The power of the duck cannot be underestimated. A supplemental insurance company in a quiet Georgia community suffering from poor brand awareness turned to a quacking waterfowl in 2000 and international results came overnight.
Hernandez-Blades, a senior vice-president at Aflac for less than a year after four years in other positions — talked about the influence and popularity of the company duck in a conversation with Marketing Daily:
"For the past 18 years, we have leveraged the popularity of the Aflac duck to grow our brand and connect with key audiences. With every campaign, we offer consumers a consistent, integrated brand message regardless of when or where they intersect with our company — be it consumer advertising, sponsorship activations or corporate social responsibility initiatives. And, of course, the Aflac Duck is integrated into our entire marketing ecosystem to help create moments of joy while providing information for consumers at every touchpoint along the way."
The duck is a marketing phenomenon. Since he (or is it she?) waddled up to that park bench in the TV commercial where he made his advertising debut, Aflac's brand recognition has soared from 11 percent to 94 percent. No wonder the company intends to keep the duck around, though numbers can't accurately measure the affection that the buying public has for this worldwide symbol.
Yes, the Aflac Duck is a modern-day rock star.
But in 2000, no one knew what to expect when Aflac took a chance by adding the unknown duck to its American advertising strategy and a bigger risk when the duck made its debut on Japanese television soon afterward. Today, spots featuring the duck (It is black, not white in Japan) are fixtures on stations where the only word someone from Georgia would understand is a loud, resounding Aflac!
A business leader who wears ties decorated with ducks to work everyday is the hero of this story.
After growing up in Columbus, Dan Amos was immediately successful in the family business after he got out of college in Athens. By 1990, he was CEO of the company known as American Family Life Assurance Company. Waiting on him was a name change that would be vital to the future of the 45-year-old company.
A Wisconsin company had registered a name similar to insurance company in Georgia. The original naming followed a flip of the coin that included officials of the two companies. The one founded by Dan Amos' father Paul and his brothers John and Bill won the coin toss. When Dan Amos took over the company, he recognized the need for a new name. Easy to propose but difficult to carry out. To do so would have required untold thousands of policies all over the world to obtain new government licenses.
So in 1989, the company adopted the acronym of Aflac.
Amos undertook a revised and vigorous advertising campaign that was needed to solidify Aflac's standing in the industry. A move to television began over the coming decade, but Aflac was still looking for its identity. A search for a creative agency and a concept for an advertising campaign was launched in the late 1990s.
In a descriptive first-person article written for The Harvard Business Review in 2010, Amos describes the birth of the Aflac Duck starting with what Amos called "a creative shootout." Twenty agencies were asked to submit five ads for testing. Amos wrote about submission of the New York-based Kaplan Thaler Group
" . . . (Their) creative guys came up with the idea of the Aflac Duck because they'd been having a hard time remembering our name. One day, one of them asked, 'What's the name of the account we're pitching?' A colleague replied, 'It's Aflac—Aflac—Aflac—Aflac.' Someone said that he sounded like a duck, and the idea was born."
The agency knew it was risking rejection by presenting a commercial that would make fun of Aflac's unusual name. A plan was worked out between Kaplan Thaler and Aflac. Third-party testing was allowed but before the spot was aired Amos tried to explain the concept to key investors and no one seemed to understand, according to the Harvard article:
"When I tried explaining to people what we were thinking about, no one got it. 'Well, there's this duck,' I'd say. 'And he quacks Aflac.' The response was always the same: a silent stare. So I stopped telling people. I didn't even tell our board; I just said we were trying something very bold and creative for our advertising campaign. It's difficult to explain, I told them, but we've had it tested, and the numbers are amazing.
At the University of Georgia, Amos studied Risk Management so he considered the odds and became committed to the proposal that would involve a $1-million ad buy.
He decided they would air the commercial for two weeks and monitor every second. If things went badly, Aflac would pull the spot from the air immediately — an action that was never taken.
The first Aflac Duck ad on TV made its debut on New Year's Day, 2000 on CNN. It ran four times an hour. With the business world fearing the impact of the Y2K virus,viewership was up, creating maximum saturation for Aflac and the unknown duck.
"Success was immediate — in fact, it was overwhelming," Amos wrote.
The Aflac website was overrun with visitors. Within weeks, people were demanding a stuffed-animal version and people comfortable in the insurance industry had to figure out the most efficient way to  manufacture miniature ducks. Manufacturing demands were met and within a few months sales of stuffed ducks exceeded $75,000, money Aflac promised to donate to the Aflac Cancer Center in Atlanta — a pledge that has never been broken.
Any remaining doubts about the decision to include the Aflac Duck in the company's ad campaigns were erased at a special corporate event held at Walt Disney Studios in conjunction with the Democratic National Convention in Los Angeles.
Amos wasn't sure whether the company should display stuffed ducks on their tables, not knowing what the response would be from the 500 movers and shakers in attendance that evening. The fretful CEO speng most of his time obsessively monitoring how many people were picking up ducks to take home.
By the end of the night, there were no stuffed ducks left on the tables. That was encouraging, sure. But what made this a night to remember for Amos and was when the Aflac chief spotted the head of Disney Studios with an unmistakable bulge under his jacket.
"When I jokingly asked him what was going on, he replied, 'I want you to understand that Donald (Duck) is always the king around here. But I want to take one home to my kids.' That was it for me: the confirmation of confirmations. I knew we had a winner and we had to play it for all it was worth."
What happened in the years that followed is well documented. Starting with the runaway success of those early campaigns in the USA and Japan, the Aflac Duck overnight became a media darling, a worldwide figure in advertising circles and a popular gift for children during the Christmas season.
College professors lecture about the duck in class. During comedy routines on late-night television, standup comedians use the duck as a punchline. The duck is often used as a prop in Hollywood productions. More importantly, Aflac's numbers continue to rise in both sales and name recognition and the popular duck presently has close to 1 million followers on social media.
Today, the Aflac Duck's standing as an international brand icon makes the Columbus insurance company's decision to go forward with those early marketing campaigns very easy to accept. As time passes, minor tweaks in the duck's personality will have to be made, but company officials pledge that the Aflac Duck will always stay true to his values.
Meanwhile, Dan Amos will continue to buy every Duck Tie that he finds in the Men's Department when he's out shopping, and the longtime CEO will smile when he passes the duck pond that he asked architects to add when work was being planned on Aflac's international headquarters in Columbus — the city where the supplemental insurance company was founded and the iconic Aflac Duck was born. The duck's globally familiar image can be seen on signage attached to the sides of the tower that stands tall on the sprawling Midtown Columbus campus.
And as people have written: The Duck stops here.