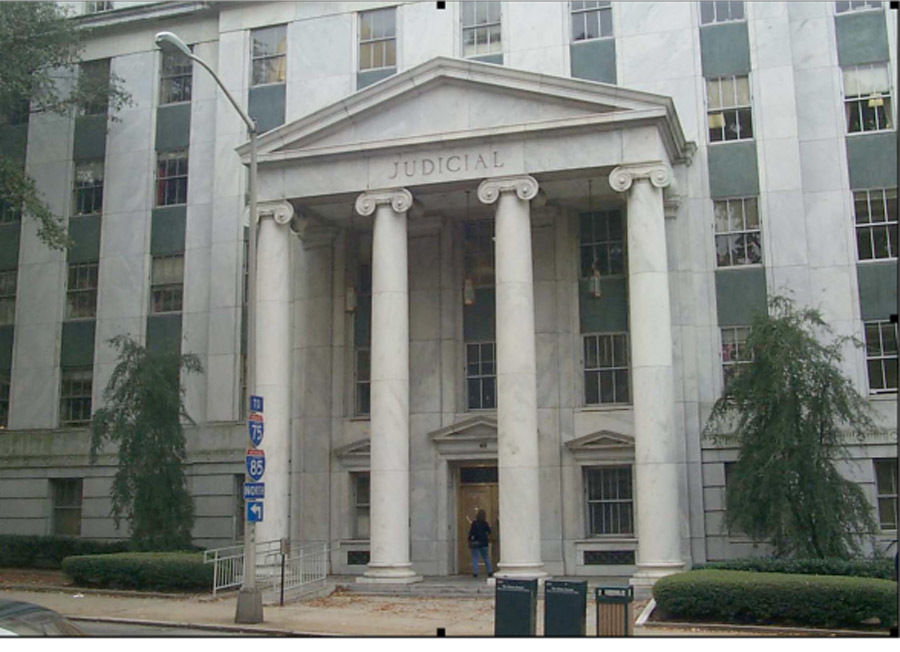 Judge Arthur L. Smith III of the Chattahoochee Judicial Circuit will wear his familiar black robe in a loftier setting on Tuesday afternoon as a designated member of the Supreme Court of Georgia.
The Muscogee County Superior Court judge will be sitting in for Justice Charles J. Bethel when the court hears arguments in the appeal of a lower court ruling involving grandparents who are seeking to regain custody of a grandson and a granddaughter. Judge Smith will participate in the court's decision.

The hearing is scheduled to begin at 2 p.m. on Tuesday at the Judicial Building in Atlanta, located at 40 Capitol Square. The courtroom is in Suite 572.
Designated judges are appointed when a justice must recuse himself or herself from a particular case. The court maintains a list of qualified judges from circuits around the state. When the need arises, the court appoints the next judge on the list.
Smith has been a member of the local bench since being appointed by Gov. Nathan Deal in 2011. He was elected to a full four-year term the following year. Prior to his election he was a vice president and senior associate counsel at Aflac for 23 years. He was a private attorney in Columbus from 1979 to 1989.
The Columbus native is one of seven Superior Court judges now serving in Muscogee County, joining the Honorable Gil McBride, the Honorable Bobby Peters, the Honorable Ben Land, the Honorable Ron Mullins, the Honorable Bill Rumer and the Honorable Maureen Gottfried.
Below is the Supreme Court's announcement of its designation of Judge Smith.
10/3/18 – JUDGE SMITH TO HEAR GEORGIA SUPREME COURT CASE
Atlanta, October 3, 2018 – Superior Court Judge Arthur L. Smith of the Chattahoochee Judicial Circuit has been designated to serve in place of Justice Charles J. Bethel in the appeal of In the Interest of H.G.D. et al., children (S18G0199). The Supreme Court of Georgia will hear arguments in the case on Oct. 9 during its 2:00 P.M. session. In this case, grandparents of a young boy and girl are appealing a lower court's denial of their motion asking the court to allow them to present evidence so they can regain custody of their grandchildren. In addition to hearing arguments, Judge Smith will participate in the Court's decision.
Judge Smith, 63, was appointed to the Chattahoochee Judicial Circuit on Dec. 16, 2011 by Gov. Nathan Deal. The Chattahoochee Judicial Circuit includes the counties of Chattahoochee, Harris, Marion, Muscogee, Talbot, and Taylor. He has been reelected twice. Prior to his public service, he served in a general practice law firm in Columbus from 1979-1989. In 1989, he joined the Legal Division at AFLAC and handled litigation and arbitration throughout the United States. He also served as a JAG Officer in the U.S. Navy Reserves.
Judge Smith is a native of Columbus, GA. He was educated in the public schools and graduated from Columbus High School in 1973. He obtained a bachelor's degree in Political Science from Columbus College (now Columbus State University) in 1976. He obtained his law degree from Samford University's Cumberland School of Law in 1979. In 2005, he obtained an L.L.M. in Taxation from the University of Alabama School of Law.
Judge Smith is a member of the American Bar Association, Columbus Bar Association, and Kiwanis Club of Columbus. In 2017, he received Columbus State University's Thomas Y. Whitely Distinguished Alumni Award. Judge Smith serves on the Executive Committee of the Council of Superior Court Judges and is a member of the Judicial Council of Georgia. He also serves as the Administrative Judge of the 3rd Judicial District of Georgia, which consists of four Judicial Circuits that include 16 counties and 18 superior court judges.
Judge Smith is an active member of St. Luke United Methodist Church. He has been married to his wife, Sue, for 36 years. They have two grown daughters and one grandchild.