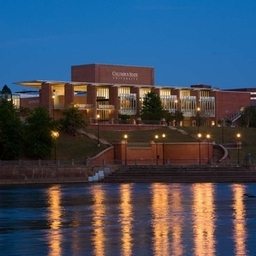 Homecoming Week at Columbus State University is coming up Oct. 22-27, and a full schedule of enjoyable events is planned for Cougars past and present.
Popular traditions for the entire community return this year with the Homecoming Parade through downtown Columbus on Oct. 26. There also will be an Oktoberfest-inspired Cougarfest event, tailgating and Homecoming Game on Oct. 27.
The Homecoming Week goes out with a bang on Oct. 27 at the annual CSU Alumni Association's Evening on the Top and Firework Show high above downtown in the Columbus Parking Garage on Front Avenue.
Activities will be held on the main campus as well as downtown. Alumni, students and their families are encouraged to view the schedule below in advance, as some events may require pre-registration.
####
 FRIDAY, OCTOBER 26
6th Annual Downtown Domination
CSU Homecoming Parade
6:45 PM | Down Broadway
Celebrate students, alumni, and the community through a colorful spirited parade. Wear your red, white, and blue.
SATURDAY, OCTOBER 27
Cougarfest
11:30 AM-2:00 PM /CSU Main Campus
Inspired by Oktoberfest, Cougarfest will feature selections of craft beer from around the country. The guys from Maltitude will be on site to help expand your knowledge of craft beer. Tickets will be sold online prior to the event and at the door. This event is for adults 21 and older. Tickets for the event can be purchased online.
Tailgating
11:30 AM -3:00 PM / CSU Main Campus,  TBD
As a part of CougarFest, pack a cooler and join the fun. Alumni are invited to tailgate on CSU's main campus prior to the basketball games. Come join the fun and bring your family.
Homecoming Game
Men's Basketball vs. Central GA Tech 1 PM / Lumpkin Center
Women's Basketball vs. Agnes Scott College 3 PM / Lumpkin Center
Evening on the Top
7:30 PM / City of Columbus Parking Garage (1028 Front Ave.)
Bringing together students, alumni, and the community event is sure to please. With live music from Funk Factory Five and fireworks, guests can dance the night away with their friends and family. Some table seating will be available so bring your own picnic and settle in for a night of fun! While this event is free, please RSVP here to assist us in planning.
####
Source: Jennifer Joyner, Assistant VP for Alumni Relations and Donor Engagement, 706-507-8956, joyner_jennifer@columbusstate.edu