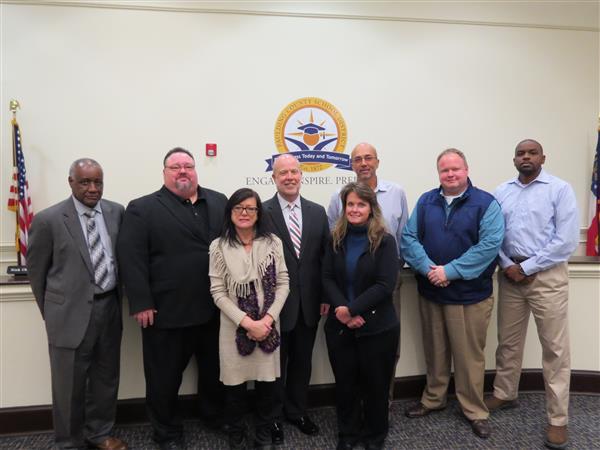 https://www.youtube.com/watch?v=YLoqWCuhFDM
On March 27 the Paulding County Board of Education held the second of their 2 monthly public meetings. During this meeting, there was an update on the district finances and budget. A video of the entire meeting is above and a PDF of the budget presentation is below. The next meeting will be held on April 24, 2018, at 8:30 AM. This will be the first public meeting on the proposed budget.
Budget outlook

During the public participation phase of the meeting, there were 4 residents who spoke. Heather Tatum, Kyle Pinkard, Rita Cabe, and Jen Garrett. All 4 ran into time allotment issues so AllOnGeorgia reached out to them and asked if there was anything they would like to add that they didn't get to say when they addressed the board. Heather Tatum and Kyle Pinkard had a few additional comments while Rita Cabe and Jen Garrett provided their notes they were speaking from that they also emailed to the board. Below are their replies to AllOnGeorgia in their entirety and unedited.
Heather Tatum: "I think it's ridiculous that more attention hasn't been given to security. The superintendent only needs to thinks it's important. Then he can request to amend the budget to provide security. It seems like they are taking too much time to take action and put real solutions in place. Additionally, I believe it's important for the board and super independent to seriously discuss taking advantage of provisions on HB60 immediately."
Kyle Pinkard: "Just that I do not want to wait on the feds. I don't want to wait until we are burying our children before we do something. I don't care what any County around us is doing, I care what Paulding is doing. If my ideas, or something close to it, isn't implemented soon, I'll be running for office in this county."
Rita Cabe:  "Paulding County does more with less. Those were the words used at the March 13th meeting. Do you know why Paulding is able to do more with less? It's because of it's people. It's the people of Paulding County that define this community.
Some of you know me personally. You know my children. I'm very proud of who they are. But, they didn't magically become that way. One of the lessons taught to my children was that they were to learn the names of those providing a service to them and address them accordingly.
My son was the first to meet Mr. Tony. You may believe that as a custodian, all they do is clean. Nothing could be further from the truth.
I call my position on this subject Tony's Law. In loving memory of a man who gave so much to the children of Dobbins Middle School.
Mr. Tony gave his heart and soul to those children. He loved them. He was invested in them, and he was invested in his job. He could often be seen counseling a student who had gotten in trouble and was waiting to meet with the principal. And, not just with "you shouldn't have done that", but with the same sage advice of a grandparent, delivered lovingly.
Children can never have too many people who show them love and compassion. Some may not get that at home.
Mr. Tony could be seen giving lunch money to a student who didn't have money for lunch that day. I'm not asking every custodian to offer advice or to give money to our children. But, in honor of a man who truly went above and beyond, every single person who comes into direct contact with my children, and all of our children, should be invested in their job and the children around them.
Every person working in that school should take a sense of pride and ownership in the work being done there.
Bathrooms should be checked periodically throughout the day and tidied and re-stocked as needed. A visible presence of someone who isn't going to put up with you making a mess.
There is never a good excuse for my daughter to go to the restroom and be unable to wash her hands. That's how germs spread.
Mr. Tony passed away after my son had gone to high school, but my daughter was still at Dobbins. My son will still tell you today he loved that man. That Mr. Tony loved them and his job and it showed every day. My children cried when he passed. We still have our Mr. Tony memorial tshirts. THAT'S how much impact a custodian can have in the life of a child.
The care of our children and our schools should return to those who are invested, like Mr. Tony. In honor of Mr. Tony.
You can't replace that with a savings that is just a blip on your budget. With an almost $255 million 2018 budget, the maximum savings of $2.5 million (which is even debatable), is a savings of less than 1% of your budget.
You've increased the budget for custodial supplies by $60,000, a 750% increase, to $68,000.
The average yearly property tax paid by Paulding County residents amounts to about 2.04% of their yearly income.
The median property tax in Paulding County, Georgia is $1,384 per year for a home worth the median value of $149,600. Paulding County collects, on average, 0.93% of a property's assessed fair market value as property tax.
When you DIDN'T vote to roll back the millage rate, you voted a budget increase from local taxes of approximately 10%. I vote you spend that money you took from me and my neighbors and spend it on our children.
I've spoke with students, teacher, and administrators. They all agree that the job was done better, and by people who cared."
Jen Garrett: "Good morning, Superintendent Otott, Mrs. Cobb, and board of education members. I thank you for your continuing leadership and support for the education of our children. My name isJennifer Garrett, mother of two children raised in the Paulding County school system. Now they're young adults at 19 and 16, but still my kids. We have enjoyed the efforts of several amazing teachers & staff and I feel like they are thriving because of them. My husband and I thank you, all the teachers, and staff for being an extension of our home in their education.
Like so many, I was rattled by the Columbine shootings in 1999. At the time, I lived in Littleton Colorado and experienced the devastation in my community. My oldest, Ryan, was just a baby then and I felt so vulnerable for him and prayed that something like this would never happen again. But, aside from crying for the victims and their families and laying flowers at their memorial, I did nothing. Snap forward to 2012, how can anyone not have been effected by the shootings in Sandy Hook and all the small lives lost to that community? As devastated as I felt, I was busy raising my kids and did nothing. Tears wept with no conviction to help with change are useless.
So, that's why I stand in front of you today, because it hasn't just been Columbine and Sandy Hook that I've cried empty tears for, it's been countless others at universities, movie theaters, and on the streets of our cities and even in our own community. We've had our own students shot for drugs and one who recently took his own life with a gun because he felt helpless and voiceless. I can no longer stand in my place of privilege and do nothing but cry, pray, then go about my existence.
Inspired by the students at Marjory Stoneman Douglas High School in Florida, I reached out to all of you on February 25, asking that the Board support the students in participating in the School Walkout for national awareness for common sense gun control. I thank you, Dr. Otott and Mrs. Cobb, for your quick and considerate response. I want to thank Dr. Browning and Mrs. Taylor as well. I also reached out to my daughter's principal, Dr. Keith Rowland, who spent time with me by phone listening thoughtfully to my concerns and requests. He let me know that the Board had issued instructions that the students were not allowed to leave the school and explained why. He also described the positive actions that students were permitted to participate in with his full support.
While I appreciate the very loving way our board & our schools managed the reactions and
requests for the Walk Out, I can't help but feel remiss in a lost opportunity. Perhaps I'm wrong, but my impression is that the administration is treating this like a student issue to be contained within the walls of each school. I come to you today to say please look at this as a faculty issue, a staff issue, a student issue, a family issue, and your issue.
In order to address this issue on a local level, I request a fresh look at the culture inside the school community. Are we showing that all students have something to offer, something to excel in? Are we fostering goodwill with diversity and tolerance for different views? Do our students have a voice? Please look at activities in school guidance and counseling to see if the entire student body knows they are supported and cared for in our school community. Let me know how I can help.
One of the initiatives that the students at South Paulding High School discussed is a letter writing campaign to our state's legislators. My next request to you is to encourage this in the classroom. I ask you to support this initiative to show our children that if you see a need for change, writing to your legislators is a good first step. That, you don't have to be the one at the podium, but you can join or support others, and that there is always power in the pen and in your one voice. [I would also like to encourage support for field trips to the Center for Civil & Human Rights in Atlanta.]
Lastly, I am here today to express concern about arming our teachers, which now has the full support of the highest office in our country. I request that you reject this as a solution for school safety. As I thank the school community for helping raise my kids, I understand we ask way to much of our teachers. Asking them to stand in the classroom with a gun or stand next to a colleague with a gun (one motivated with money to do so) is an overreaching and frightening request. Who helps the teacher survive when they accidentally shoot a student? Who helps the teacher survive their carelessness when their weapon is picked up and used in a school shooting?
And, any teacher should be able to understand that sometimes, personal fears and prejudices lead to the wrong actions. In April 2017, Jordan Edwards, a child with a light and a smile like my own son, but a different color of skin, was shot by a police officer with deep prejudice. I say this not to shame police officers. He is just one man solely responsible for his actions. I use this as an example to say this risk does not belong in our schools. I am just one voice. But, if the time comes that our teachers are armed and an innocent student is killed by a teacher's actions, I will be the one voice that will keep you from saying that your constituents supported this by their silence. We cannot teach our children that guns are not the answer if we continue to rely on guns being the answer.
This issue does not just lie in the hands of our students. And the burden to fight for common sense gun control does not lie in their hands alone. Let's be the role model and the champions our kids need us to be. Please join them in supporting change like universal
background checks, age restrictions, weapon holds for people charged with domestic
violence or a mental illness with violent tendencies. Change like a full-time resource officer at each of our schools and like the recommendations by our school safety director.
I attended the March for Our Lives Saturday in Atlanta and am further inspired by the youth that sang and spoke outside our Center for Civil & Human Rights and outside our Capital. I am inspired by the many parents, legislators, and teachers that walked beside me. And, I am inspired by the words of young Yolanda Renee King, who at the March in Washington, D.C. led hundreds of thousands of participants in saying, "Spread the word, have you heard, all across the Nation? We – are going to be – a great generation!" Now, we can take that as a rally cry to our kids or we can embrace that for ourselves and be a great generation. The generation our kids need us to be.
Thank you!"