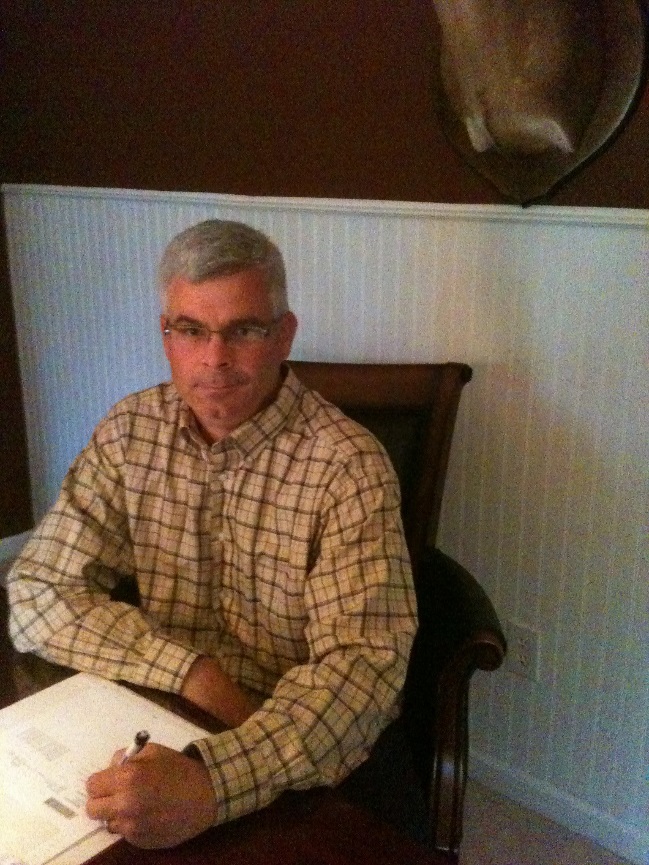 All On Georgia Paulding (AOG) sent some questions to the candidates running for Post 3 commissioner. This is the third of three articles we're publishing with the candidate's answers. Chuck Hart (CH) is one of the 3 candidates that qualified to run. The following are the answers he provided to AOG Paulding, unedited. But first, a little bit about why he is running, in his own words.

I have put more time in serving your community than any sitting commissioner. I have answered the call for any and all emergencies experienced by a vast number of citizens within the county. I am running for post 3 commissioner as I feel this call again. I believe in being an honest, hardworking, proactive, and conservative voice for our community. I believe the combination of business knowledge coupled with county knowledge and concern makes me the best candidate for this position.
(AOG) It should be the goal of all government to operate as fiscally responsible and as efficiently as possible, In what ways can Paulding County become more efficient in its operations.
(CH) I am for all the departments we currently support and all the employees we currently employ. I have worked with contractors at my current company and I believe as we expand we should consider utilizing more small contracting companies to assist in duties performed. We would be wise to utilize these opportunities with local contractors. These opportunities will buffer spikes in needed services and alleviate some of our long term liabilities.
(AOG) There is a lot of talk about building our infrastructure in order to entice businesses to locate here, as a BOC Board member, are you willing to devote more money to expanding roads and infrastructure? How would you fund this?
(CH) In the past we have captured a great deal of infrastructure from developers within the county. I believe we can negotiate some of these opportunities going forward, but we need to consider what is being generated by developers and business in the form of tax revenue. We need to sharpen our pencils when we work with those who offer us good long term yields. We need to consider investments based on success and past yields.
(AOG) What do you believe will be the biggest challenge facing the Paulding County over the next 5 Years?
(CH) We need to get back on track for growth. The people have the future in their hands and I believe they will vote to assist us in creating better paths for success. I do believe that the special interest groups have created confusion in order to promote their own agendas. I believe we have good solid people and good opportunity, but I do feel the timing is crucial. I believe four more years of the same will mean higher taxes, pension plans that won't work for county employees, and in the end loss of opportunities we can't get back.
(AOG) Last year there was an increase in property taxes, what is your assessment of the county's overall financial position? Where do the biggest threats to the county's financial stability lie?
(CH) Our county currently receives about 85% of its total tax revenues off the backs of the tax payers. We will have to measure decisions made going forward or I can assure you this number will grow. We must utilize all of our assets to include the airport and the area surrounding it. We can assist in utilizing the charm of the city of Hiram and Dallas to draw people to our part of the world. It is simple, we have people, think about that. We have people means we have customers and we have workers. We simply make it easy to do business in Paulding again. We can live stay and play in our own backyard. Creative solutions such as these will assist in alleviating the tax burden currently being born by the citizens of Paulding County.
(AOG) Would you raise property taxes again?
If elected and if the BOC can work together there should be no need to raise taxes.
(AOG) What experience do you have with complicated budgets? When you are given a 400-page budget for the county, what will be your process to determine if it is a good budget for the county?
(CH) I worked in the bid market for a company that represents the largest distributer of a proprietary life safety product in the state. I have pulled down and estimated complex jobs with complex bids as well as supported work logs to support. I further had to negotiate large jobs with entities to include the board of regents, the CDC, Georgia Power, and many others. I created paths of business development with major electricals, general contractors, and end users. When reviewing county budgets, I will weigh past budgets with current budgets. I will inquire from department heads of the growing needs and concerns.
(AOG) In your view, what has the County BOC done well over last 4 years? What has it done poorly that you would change?
(CH) I am proud as steps for infrastructure have begun to slowly come to attrition. I am happy to see the reservoir and some small sections of sewage expansion. I am frustrated as I talk to developers and small business owners and hear about the complexities they have expressed about doing business in our county. I am furthermore disappointed to hear about disconnects in the areas of city and county cohesion. I personally feel that the sitting commissioners could have been more effective in IBA position selections and creating growth around the airport. I do not believe current commissioners represent a majority of the citizens at this time, but rather a select few and special interest groups outside the county.
(AOG) In your past professional experience, what criteria do you use to make decisions about hiring people, retaining goods and services, or the effectiveness of a course of action? How will you use these criteria when making decisions as a BOC board member?
(CH) I have supervised many people and have had my best success by defining boundaries and holding accountability. I do not believe in micromanaging, but hiring the right people for the right job and give them the tools and support to succeed. I learned from Tom Peters that money is not a long term motivator. I believe people want to be a part of success, in other words, they want to be on a winning team. We need to build good teams and pour into the people who want to succeed. I further believe that measuring the success of people and projects is essential to maintaining healthy departments. I believe we should create short and long term goals and revisit them quarterly as we measure our own performances.
(AOG) What are your views on open data and transparency of information? What kinds of county information should be made public?
(CH) I do believe in complete transparency as it relates to any programs which are funded through the county budgets. I have always felt that this information should be readily available for the citizens to review and gauge performance. I do understand that in the process of entertaining opportunities sometimes anonymity for business can be crucial to their success and therefore may have to be respected. These exceptions should be tracked by a board of advisors until a time expedient to its approvals or negotiations.
(AOG) What specific steps would you take as a BOC board member to improve transparency and make county information more widely available?
(CH) I do believe this has been the slippery slope throughout many of our past BOC representation as well as the majority of the sitting commissioners. I believe the position of commissioner to be a position of public service and should reflect the integrity of those who sit on the board. I simply believe we should hold ourselves to a higher standard and represent truth in what we say and do while performing our duties. I believe we should always guard against any special interest groups who would work on behalf of any interest that is contrary to those men and women who fund our county budget.