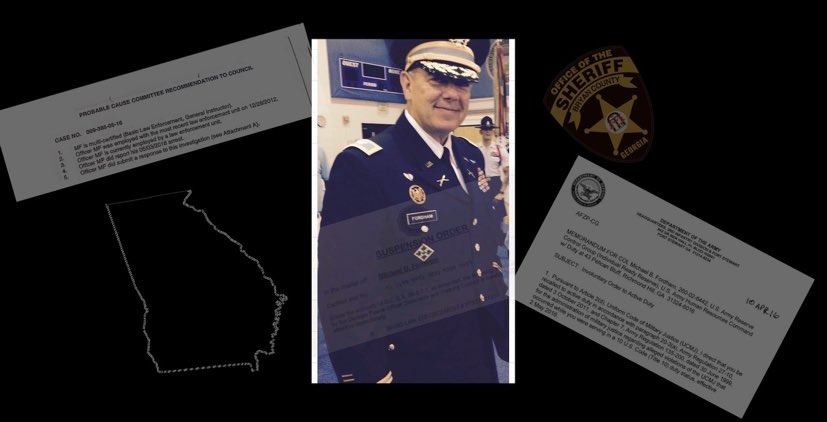 The assertions listed below were detailed in a number of documents including those from the Georgia P.O.S.T. Council, the Bryan County Sheriff's Office, and the United States Army. 

They were verified to be that of the same Michael B. Fordham running for Sheriff in Bryan County via confirmation of details with the Bryan County Tax Assessor's Office, Fordham's campaign webpage and social media accounts, and references to 'Detective M.B. Fordham' in reports by the Bryan County Sheriff's Office. 
---
Michael B. Fordham is one of five candidates running to succeed retiring Bryan County Sheriff Clyde Smith.
While Fordham's resume brings a lengthy tenure of 40+ years in law enforcement with the GBI, the Bryan County Sheriff's Office, and the U.S. Army, as well as commendations from Former State Senators Ross Tolleson and Tommie Williams, his administrative files show inconsistent timelines for peace officer certifications in recent years and domestic issues that have overlapped into his official duties. 
A compilation of hundreds of pages of documents show a pattern of substantiated claims of abusive behavior by Fordham, to include calls from the Fordham residence for domestic disputes, investigative findings of 'terrorizing behavior' documented by a Colonel at a U.S. Embassy overseas, multiple findings of aggravated sexual assault discovered during a military police investigation, and a punitive reprimand under Article 15 by a Major General in the U.S. Army.
Nevertheless, Fordham received an honorable discharge from the Army, worked for the Bryan County Sheriff's Office without interruption and even received a promotion before the Georgia Peace Officer Standards & Training Council restored his police certification despite the findings of the investigation. Fordham still remains on probation with P.O.S.T. 
The documented history of Fordham's behavior dates back to at least 2012, when a colleague of Fordham's then-wife reported to authorities that she believed Fordham's wife was 'in immediate need of assistance.' Investigations by a number of entities within the U.S. Army, U.S. Air Force, and a U.S. Embassy would later reveal a series of 'heated arguments' involving reports of verbal, physical, and sexual abuse.
But documentation extends back to the states as well, with incidents and 911 calls detailing domestic disputes at the Fordham residence, a stolen truck report when the vehicle was repossessed, and a questionable traffic stop initiated by Fordham while he was in his pajamas that ended with a high speed pursuit with Georgia State Patrol.
Each of these incidents are outlined below, beginning with the timeline of events leading up to an investigation by U.S. Military Police and an ultimate Article 15 reprimand.
Military Investigation
The timeline of events is as follows:
July 30, 2011 – Michael Fordham marries wife #3, referred to henceforth as 'DF.'
October 2011 – Michael Fordham is activated by the GA National Guard and assigned to Tbilisi, Georgia but will spend a brief period in Stuttgart, Germany.
January 2012- Fordham and DF arrive in Tbilisi together. DF, a Lieutenant Colonel in the Air Force, is assigned to the U.S. Embassy in Tbilisi under a military spouse program. 
[DF begins keeping a journal of abuse occurring at the hands of Fordham. Between October 2011 and September 2012, she will later state that on a number of occasions, Fordham forced her to engage in sexual acts against her will, grabbed and twisted her arms behind her back, shoved her, dragged her up stairs, placed his forearm on her neck, threw her onto the bed, shoved her out of the bed, struck her on her head, neck, and arm, grabbed her by the face and head with his hands, and struck her in the head with combat boots.] 
August 10, 2012– Citing events over the previous months and a heated argument at the Embassy that night, a State Department employee familiar with the marital strain of the Fordhams, who also spent time in the U.S. as a prosecutor in the domestic violence unit, contacts superiors at the Embassy and requests 'an immediate intervention,'citing concerns for DF's safety. She tells investigators that she identified DF as a 'typical victim.'
State Department employees place DF in a hotel for the evening to 'ensure her safety.
In an interview, Fordham says there was no abuse, just 'heated arguments.' He says he regrets his wife getting her current job because she spends 'too much time out of the home.'
August 12, 2012 – A military protective order is issued against Fordham with regard to his wife. He is directed to leave Tbilisi for Germany 'as soon as possible.'
August 13, 2012 – Michael Fordham leaves Tbilisi. 
August 31, 2012 – An Embassy Colonel is appointed to investigate the Fordham case and drafts a report.
He denotes that DF was treated for injuries at medical units 'many times' but did not reveal at those times that the injuries were from her husband. The Colonel also notes that "the investigation was conducted under informal procedures, per the appointing authority."
The report includes a sworn statement from DF's adult daughter, who is also a member of the U.S. military, which attests that Fordham routinely called her mother 'whore, slut, and bitch' would accuse her mother of having affairs, calculated her mother's travel time from point to point, and that her mother locked the door and slept in her daughter's bedroom during her daughter's visit out of fear of Fordham after an argument.
The report finds that the claims of abuse can be 'substantiated at a moderate level' under AR 608-18 and 'ongoing domestic violence.' The report finds that Fordham:

a) showed a pattern at a minimum of verbally abusive behavior; and
b) coercive control, including terrorizing behavior.
The USAFR Colonel investigating recommends Fordham be issued a Letter of Concern,
be directed to take anger management classes, undergo a medical evaluation, and enter
into a treatment program for PTSD if a medical doctor deems it suitable.

It is recommended that DF enter into a victim assistance program.
September 5, 2012 – Stuttgart, Germany CID office is contacted regarding the status of the investigation.
September 19, 2012 – DF provides a 4-page sworn statement to the U.S. Embassy in the country of Georgia, in which she also asks that Fordham be ordered to undergo treatment. 
October 1, 2012 – DF again contacts CID for a status and expresses her frustration with the lack of action. She threatens to file a complaint with the Inspector General. 
Over the next 12 months (thru 9/2013), DF will contact CID at least 4 more times about the lacking investigation by military police, note she is in fear for her safety, and would like a military protective order, but is told she can get one in the state in which she resides instead. DF files 2 complaints with the Inspector General. 
December 28, 2012– Michael Fordham is hired by the Bryan County Sheriff's Office.
September 26, 2013 – A Family Advocacy Program Report determines claims of emotional abuse are founded, but physical abuse is not.
October 2013 – CID in Stuttgart, Germany receives the preliminary investigation report from RSO. CID also receives DF's medical records, which indicate at least 3 incidents for x-rays, a stair fall, and glass fragments in her foot. The dates correspond with her claims. They also receive photos and journal entries from DF documenting alleged abuse.
October 9, 2013 – EUCOM SJA recuses the office from the matter.
[At some point during this period, Fordham is promoted from Lt. Colonel to Colonel]
February 14, 2014 – DF is interviewed by the U.S. Military Police. 
May 29, 2014 The divorce of DF and Michael is finalized. Michael Fordham was listed as the complainant who filed for divorce.
April 20, 2015 – Michael Fordham is deployed again. 
June 26, 2015 – Investigation by U.S. Military Police is completed and a final report finds the 'aggravated sexual assault' claims to be 'founded,' as well as the 'assault consummated by battery' claims. The 'forcible rape' claims are deemed 'unfounded.'
October 2015 – Michael Fordham marries his 4th wife, Melissa Callaway Fordham.
April 10, 2016 – Michael Fordham is notified by a Major General with the U.S. Army that he has been recalled to active duty and must report to Ft. Stewart on May 2, 2016 'for the
administration of military justice regarding alleged violations of the UCMJ…'
May 3, 2016 – Michael Fordham is charged by U.S. Military Court. He is charged with:
1– Forcible Rape (4 Specifications/counts)  -Violation of UCMJ, Article 12;
2– Assault (11 specifications)  – Violation of UCMJ, Article 128;
3–3 specifications of violation of UCMJ, Article 133 in when he kicked, threw,
      and threatened to kill the dog of the victim.
4–2 specifications of Violations of UCMJ, Article 134 when he threatened the victim's life and well-being.
After charges are preferred, USMC can handle the matter administratively and take no disciplinary action, order non-judicial punishment, or convene a court martial.
May 4, 2016 – The Georgia Peace Officer Standards & Training (P.O.S.T. Council) suspends the certification of Michael Fordham under an emergency provision. The Suspension Order cites USMC arrests for felony offenses of rape and assault. Fordham is barred from certified duties, like making arrests, until the matter is resolved.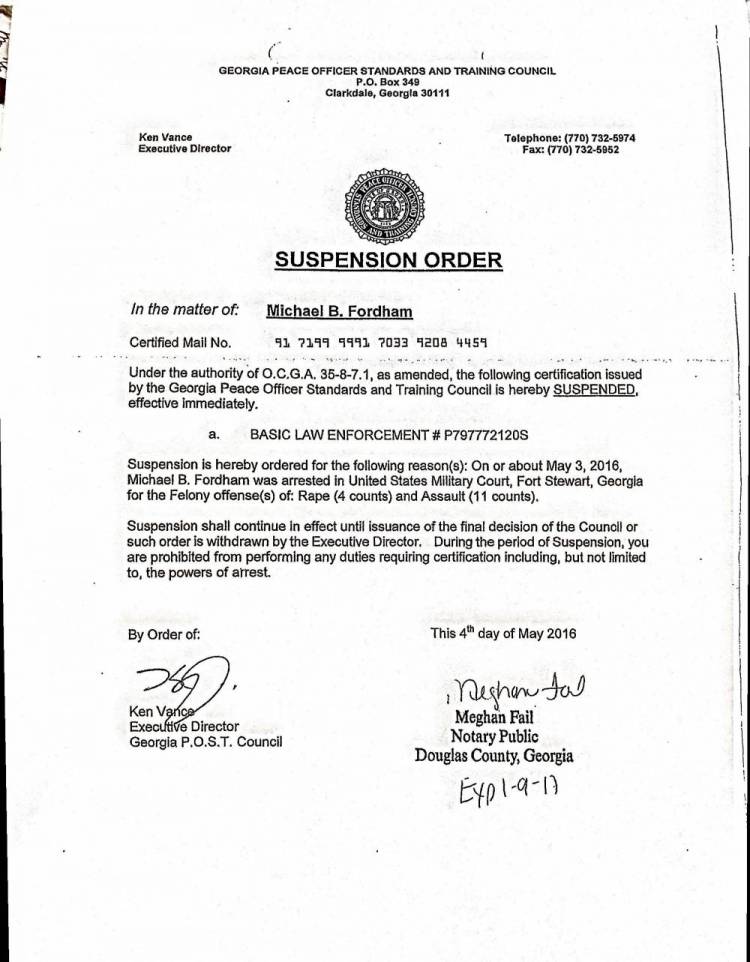 May 25, 2016 – Bryan County Sheriff's Office responds to a domestic dispute at the Fordham home. 
According to the BCSO Incident Report, dispatch advised that a woman called 911 and could be heard yelling 'Leave me alone!' and was in need of an ambulance before hanging up. EMS and deputies were dispatched before 'a male' contacted dispatchers to let them know everything was 'OK' and that his wife thought she cut her finger off. EMS and deputies disregarded the call and went back into service. 
An hour later, the mother-in-law of Michael Fordham calls 911 to report that her daughter was 'beat up.' Deputies responded to the Fordham house and Fordham was located in another location, in which he tells a deputy that he found his wife 'face down in the bathtub.' When he pulled her out of the tub, she became combative and bit him, so he left.
[Listen to 911 call here. *There is an extended silence before the audio of Mike Fordham calling back to 911* WARNING: Audio may be disturbing to some listeners]
A Sergeant on duty denotes that Melissa Fordham has red and purple marks on her arms, but wants 'no trouble for Mike.' No one is arrested. 
(BCSO Incident Report – Click to Enlarge)
July 1, 2016 – In a victim statement to USMC regarding a pre-trial agreement submitted by Fordham's defense counsel, DF says she supports either outcome – the pre-trial agreement or the punitive reprimand. She asks the court to expeditiously dispose the case because of how long it has carried on. She tells the court she is 'frightened and exhausted' and after 27 years, leaves the military. 
November 17, 2016– In a second victim statement, DF requests that the NJP action served to Fordham be upheld with a punitive reprimand and forfeiture of ½ of one month's pay for a period of two months. She explains she fears returning to the State of Georgia because of Fordham's ties to law enforcement. She cites limited use of her left hand and lower arm and treatment to her head and body over time. DF calls the punitive reprimand a  "fraction of accountability he [Fordham] should endure."
December 2016 – Punitive reprimand under Article 15 is imposed as punishment by a Major General in U.S. Army. 
Though the final report concluded with findings of sexual and physical abuse, the official reprimand only references 'an abusive relationship' and a charge of 'Conduct Unbecoming of an Officer and a Gentleman.'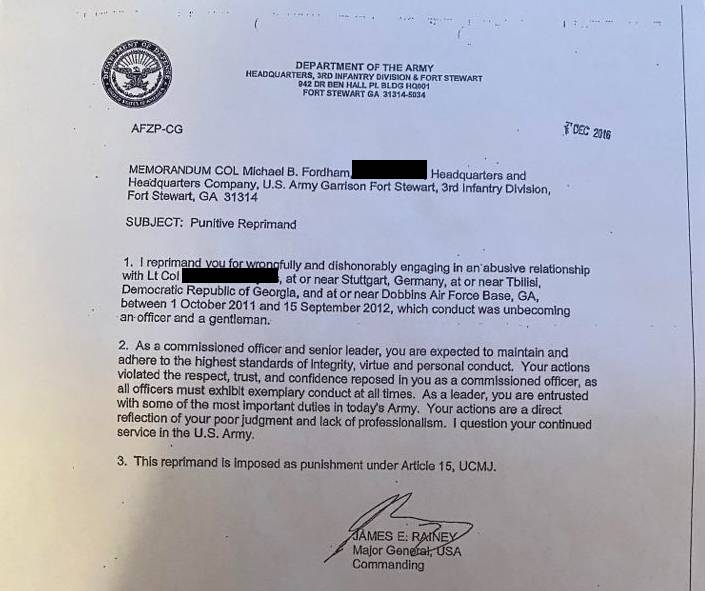 January 6, 2017 – Michael Fordham returns to the Bryan County Sheriff's Office.
March 17, 2017– Michael Fordham is promoted to Lieutenant in the Bryan County Sheriff's Office. 
January 1, 2018 – Bryan County Sheriff's Office deputies respond to the Fordham home for a call about a choking incident. Deputies arrive to find Michael's wife, Melissa, claiming to have been choked by neighbors. Neighbors make no mention of the choking, but say Melissa Fordham walked into their home and slapped one of the neighbors in the face. 
The Incident Report lacks complete details and does not result in an arrest of anyone. 
September 12, 2018 – Georgia P.O.S.T Council notifies Fordham of its intentions to issue a public reprimand, 'revoke withhold imposition' with regard to his certification, and place him on probation for 36 months. P.O.S.T. also recommends Fordham take a course on sexual harassment and anger management, as well as one on ethics. Fordham appeals the
action. 
A Case Summary from the Probable Cause Committee Recommendation to P.O.S.T Council noted that the report by the UCMJ concluded the offenses of aggravated and sexual assault and assault consummated by battery were founded. The summary noted in the final sentence that the victim 'supported the pretrial agreement' submitted by Fordham amid pending court-martial charges.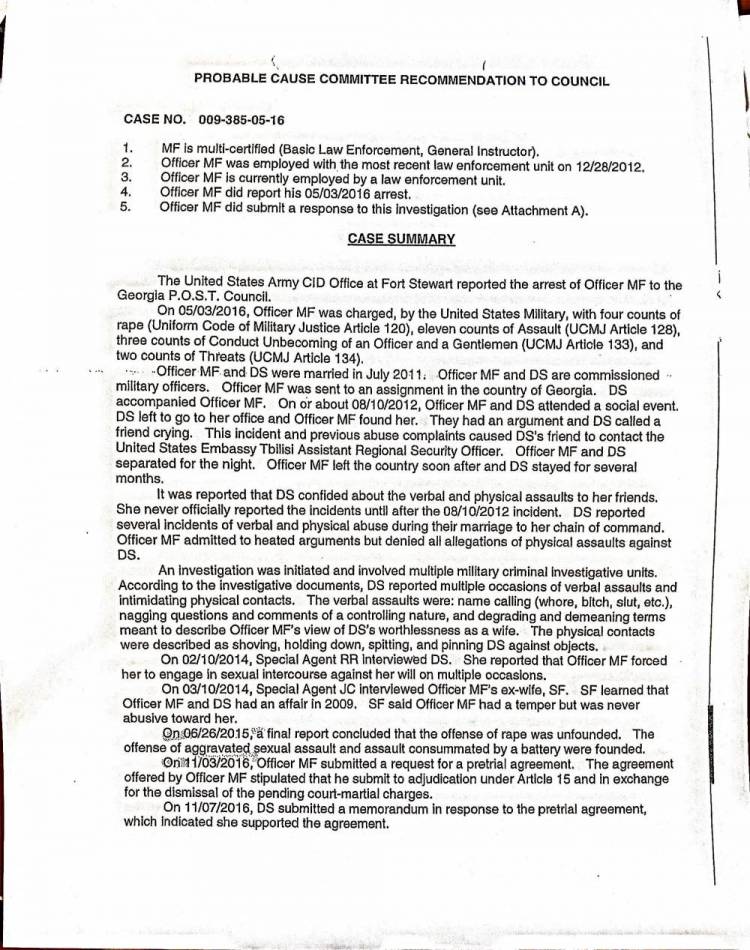 [during the appeal] Fordham repeatedly denied the physical and sexual abuse claims and pushes for a reduced sentence, stating he was never arrested. He admits to receiving the Article 15 reprimand, but says he also received an honorable discharge.  
Deputy Director of Georgia P.O.S.T Ryan Powell told AllOnGeorgia that in some instances, certification suspensions are restored at the request of an officer after a disposition or conclusion in court. Though he did not speak to Fordham's case specifically, Powell said it is possible that a certification was reinstated from 'suspended' status to 'active' status before P.O.S.T Council ordered the final adjudication on Fordham, allowing him to resume working in law enforcement. At later date, he was placed on probation for the same incident.
January 22, 2020– P.O.S.T. Council agrees to a lesser sentence and places Fordham on probation for a period of 12 months. Fordham may continue working, but must complete an Ethics & Professionalism Course at his own expense. He is also ordered to pay a $120 probation fee. 
Fordham will remain on probation with the Georgia P.O.S.T Council through January 26,
2021. P.O.S.T. confirmed to AllOnGeorgia on Monday, May 18, 2020 that Fordham's probation runs for 12 months beginning on the date his probation payment was made – January 27, 2020. 

February 29, 2020 – Michael Fordham separates his employment from the Bryan County Sheriff's Office in order to qualify to run for Sheriff in Bryan County following week.
He remains on probation and, if elected as Bryan County Sheriff, would serve his first month in office on probation with the state accreditation agency.
Consent Order for Michael Fordham with Georgia P.O.S.T. (Click to Enlarge) Story continues below.
A traffic incident in which Fordham attempts to stop someone with whom he's had a custody dispute.
On May 22, 2019, Michael Fordham attempted to make a traffic stop in his vehicle after receiving a call from his neighbors about a woman walking in the street near the Fordham home. 
Fordham contacted dispatch for a deputy but began a patrol himself, at which time he located a green truck. Fordham began to actively pursue the truck, but according to Fordham's report, the driver fled, reaching speeds of 105 mph.
Two Georgia State Patrol Troopers joined the chase after, according to their reports, Fordham radioed that he had "tried to make a traffic stop." The Troopers continued the pursuit as the woman drove 'recklessly,' unsuccessfully attempting to deploy stop sticks. The woman eventually slowed down to a point where Troopers could box in the driver. She was forcibly removed from the vehicle and placed in handcuffs without any further incident. According to GSP reports, the woman told Troopers "They are trying to kill me" for several minutes and was shaking erratically on the ground. One of the Troopers who was familiar with the woman (as a former neighbor) called for an ambulance and attempted to calm her down by talking to her in the back of the ambulance. It was discovered the woman had a suspended license, was possibly DUI, and she was transported to the BCSO on a number of charges. 
Once the woman was under arrest, Fordham left the scene. Neither report mentions wrongdoing related to the initial purpose of pursuit, other than 'criminal trespass,' though Fordham did not witness that himself. Oddly, a photo of Fordham at the scene of the arrest shows him dressed in a t-shirt and blue flannel pajama pants, giving rise to the question of how he planned to initiate a traffic stop. 
Fordham's written narrative inconsistently says he received a call about a mulatto woman walking without shoes, but he reportedly begins pursuing a green truck because the truck made a U-turn on a public road. This happens some occurs from the neighborhood street.
Story continues below (Click to enlarge)
In his narrative for the report, Fordham makes no mention of his relationship with the arrested woman, C.B. Morris, and even writes 'suspect info withheld' on his official report. But a March 2018 Incident Report from the Fordham's home indicates very personal knowledge of the woman. C.B Morris is the mother of a 10-year-old girl who, at the time of the March 2018 incident, had been in the custody of the Fordhams for four months due to a Temporary Custody Order (TCO) with no end date issued by Bryan County Probate Court. At the time, C.B. Morris was requesting the Fordhams allow her to see her daughter and, according to the incident report, said she never appeared in court and was unaware of the TCO. At the conclusion of the March 2018 incident, Fordham had C.B. Morris served with a Criminal Trespass notice. 
Documents from Fordham-Morris incident in March 2018 (click to enlarge)
Read the Georgia State Patrol report.
---
Fordham Calls 911 to Report That His Truck Has Been Stolen When It's Actually Been Repossessed 
On May 2, 2019 at 1:30 a.m., Michael Fordham called 911 to ask the dispatcher to run a car VIN # for him and after a few moments, tells the dispatcher that he is waiting for a BCSO deputy to arrive (#130) because his personal vehicle had been stolen. Fordham says he only has the VIN # but needs 911 to give him the tag number for the report.
After a brief hold, the dispatcher informed Fordham that the vehicle was in possession of Asset Recovery and had been noted in the Sheriff's Office Repo Log – a record keeping system to assist law enforcement with tracking repossessions so they are not investigated as stolen vehicles.
You can listen to the 911 call here.
---
Mike Fordham will be on the Republican ballot on June 9, 2020. To learn more about Fordham, visit his campaign website – MikeFordham.com