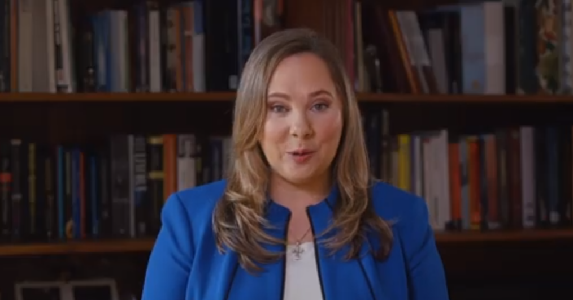 One of the Democratic contenders hoping to ultimately unseat Senator David Perdue has hit airwaves in Georgia.

U.S. Senate candidate Sarah Riggs Amico launched her first TV ad this week to promote what her campaign says is 'her vision of leadership that guides America through its current storm by placing the interests of the nation's working families first.'
The ad, which focuses on faith, also prods Perdue for not speaking up for some communities in Georgia. At the end of the ad, Amico says, "I approve this message because the problems we face are fixable, but Senator Perdue is not."
These are times that test our faith.
I'm Sarah Riggs Amico, and I'm running for U.S. Senate because we need leaders who will fight for the world we want our kids to grow up in.
I teach my daughters that faith demands action, not just words.
That's why for decades, I've created jobs,
Paid 100% of my workers' health care,
Why I ran for office with Stacey Abrams, fighting for voting rights.
In the Senate, I'll stand up for working families because everyone deserves dignity and respect.
I'll speak up for communities that have been denied justice.
I'm Sarah Riggs Amico, and I approve this message because the problems we face are fixable, but Senator Perdue is not.
"The challenges we're facing as a country are tough, but fixable," Amico said. "This ad reaffirms our message that getting the job done will take leaders prioritizing working people, fighting for those who serve on the front lines of this pandemic, and speaking up for communities that for too long have been denied justice. Senator Perdue has failed us on all counts."
In a press release with the ad announcement, the Amico campaign said:
The spot reminds voters that, unlike Perdue, Amico has been a jobs creator who spent her career putting working families first. As the only candidate in the race with union support, Amico has earned the trust and faith of working families across Georgia. She offers a vision of a nation that champions those who have been marginalized and speaks up for communities who have been left behind. It's the reason she's earned the endorsement of five labor unions, to date, and the vocal support of workers' advocates.
As early in-person voting began this week, the state was on track to break election primary records. Nearly 700,000 absentee ballots have already been requested by Democratic voters, demonstrating the kind of voter enthusiasm that propelled Amico to more than 1.8 million votes in her 2018 bid for Lt. Governor — nearly a half million more votes than Perdue received in his 2014 election.
Amico has been endorsed by the Leadership Now Project and Vote Mama, and has been named a "2020 Gun Sense Candidate" by Moms Demand Action.
Amico will appear on the Democratic ballot on June 9th in a crowded race to become the Democratic nominee. The ultimate nominee will face Republican David Perdue and Libertarian candidate Shane Hazel in November.
You can watch the ad below.
https://www.youtube.com/watch?v=kCqDZZq0_4k&feature=youtu.be