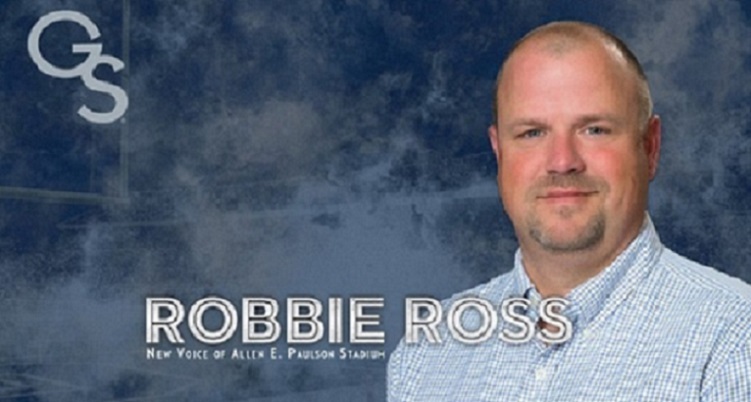 Robbie Ross felt strange not being in a press box on Saturday afternoons and nights the past few football seasons.

That's one of the biggest reasons the current St. Simons Island resident applied to become the public address announcer for Georgia Southern football games.
"I missed being part of college football Saturday," Ross said.
He will be back in the booth where he feels he belongs this coming season. Ross has accepted the job as PA announcer at Allen E. Paulson Stadium, the on-campus home of the Georgia Southern Eagles in Statesboro.
The Georgia Southern Athletics Department announced Ross as the new voice of Paulson Stadium late last week. Ross took the job with the Eagles as soon as the offer was made. He replaces longtime announcer Dr. Todd Deal who announced his retirement in March.
"I was both honored and excited to be chosen," said Ross who has extensive experience as a radio announcer and also has done PA work in the past. "I enjoyed the audition process and can't wait to get started."
Ross will make his debut with the Eagles in August at the fan fest event at Paulson Stadium. His first game at the stadium will be the Sept. 1 season opener against South Carolina State.
The Eagles will play five other home games in the 2018 season including a Thursday night contest against rival Appalachian State on Oct. 25. The game will be nationally-televised by ESPNU.
Ross was among eight candidates selected from the large number of applicants to go to Statesboro for a live audition in front of a judging panel. The candidates were asked to call live plays from a video of a previous game and also read sample scripts.
The four finalists for the job were invited back to campus for the recent Blue-White Spring Football Game. Each finalist called a portion of the game and fans were able to vote on their favorite announcer online after the game.
Also, each candidate prepared another demo for fans who weren't able to attend the spring game to help them vote on their announcer of choice. The fan votes were taken into consideration before the final decision was made on the next PA announcer for Eagles football.
"We had an extensive process for selecting the next Voice of Paulson Stadium," said Gleen Hart, senior associate athletics director for Fan Experience and Community Relations, in a press release from the GSU athletic department. "We had numerous quality candidates apply and it was hard to narrow the pool down to four.
"In the end, we thought Robbie did the best job and look forward to working with him starting this fall. I want to thank all of the candidates who applied as well as the fans who cast their votes for making this a successful process."
In terms of experience, Ross is more than qualified for the position as he 25 years of announcing experience. He has been behind a microphone at sporting events since high school at Gainesville (Ga.) High where he played both football and baseball for the Red Elephants.
When he wasn't competing, Ross served as the school's PA announcer for home basketball and junior varsity baseball games.
He started his career in radio at WDUN in Gainesville right out of high school in the summer of 1995. Ross started out as a weekend and overnight board operator and also did the occasional newscast.
Ross would soon be hired full-time at the hometown station to do overnights, news and weather.
He also worked with the broadcast teams for Gainesville High football as the spotter and statistician and served as color commentator for the high school basketball game of the week in Hall County.
Ross began a nearly 20-year association with Furman football in Fall 1996, working alongside WDUN sports director Chuck Hussion who also was the play-by-play voice for the Paladins at the time. Ross started as the spotter and provided scoreboard updates during breaks in the live action.
He would eventually take on a broader role with Furman football broadcasts as he hosted the pregame and postgame shows on the radio and served as a sideline reporter during the games. He also filled in occasionally as the play-by-play announcer.
Ross also did play-by-play for Furman women's basketball while also broadcasting some men's basketball and baseball games.
His experience also includes broadcasting Augusta State basketball for the school's video stream and Ross also was the color guy for Washington-Wilkes football while working as general manager at WLOV in Washington.
Ross came to the Georgia coast in January 2015 as the new advertising sales manager for ESPN Coastal Georgia. He also has done high school football and basketball play-by-play for the radio station while hosting coach's shows and also sometimes co-hosting a daily sport talk radio show for the local ESPN affiliate.
Ross continues to be the lead writer for the Southern Conference for SouthernPigskin.com and is a voter in the weekly FCS football poll.
He served one season as the PA announcer for high school football games at Glynn County Stadium in 2015. He also did play-by-play on the school webcasts for College of Coastal Georgia men's and women's basketball and softball during the 2016-17 school year.
"I'm really glad for Robbie," said Kevin Thomas, general manager for ESPN Coastal Georgia. "He has done a great job of announcing with us, and I expect he will do likewise in Statesboro. He's a professional and will bring a good level of energy and excitement with him on game days."
Ross has long respected Georgia Southern football and looks forward to being affiliated with the Eagles starting this fall.
"Erk Russell, yellow school buses, Beautiful Eagle Creek, Adrian Peterson's run, the triple-option and national championships," Ross said when asked what comes to mind when he thinks about Georgia Southern football.
"It's always been exciting for me to be in Paulson Stadium, and I'm looking forward to being a small part of all the traditions that make up Georgia Southern football."