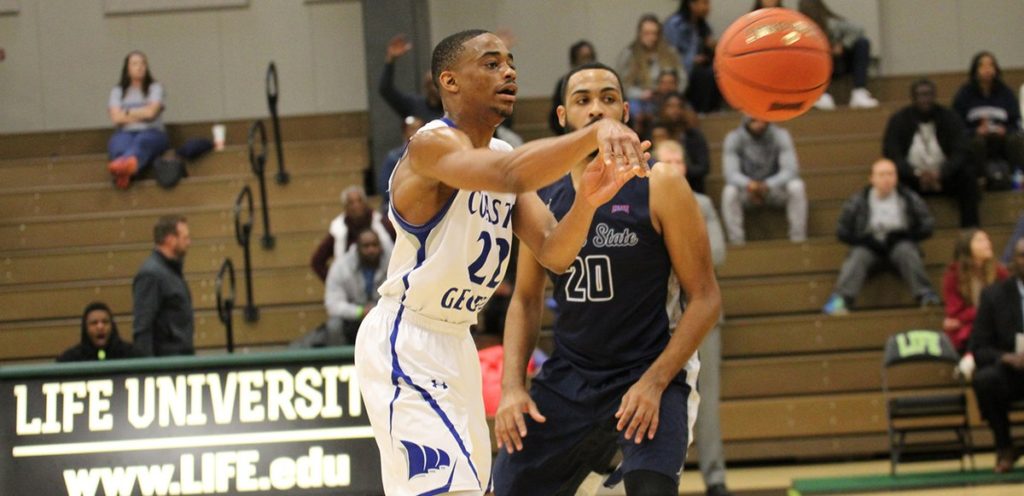 The College of Coastal Georgia men's basketball team won its final game prior to Christmas break on Sunday when the Mariners sailed past Alice Lloyd College at Howard Coffin Gym.
The 93-69 non-conference victory snapped a three-game losing skid by the Mariners (9-7) which included losses by six points or less.
One of those losses took place on Saturday afternoon when the Mariners dropped a 67-64 decision to Life University, also a Georgia-based program.
Also this past weekend, the Coastal Georgia women's team closed out its pre-Christmas schedule with a 92-62 victory over nationally-ranked Milligan College.
Milligan came into the game Saturday in Brunswick with a perfect 9-0 season worksheet and was also ranked No. 23 in the NAIA national rankings for Division II.
The win was the third in a row for the Mariners who take a 9-5 overall record into their holiday break.
In Saturday's win, former Brunswick High standout Brianna Gibson led the Mariners with a career-high 26 points while also pulling down eight rebounds. Gibson is averaging a team-best 17.2 points a game.
In Sunday's men's game, the Mariners trailed early, but they went on a 7-0 run early in the opening 20 minutes to take a lead they would never give up.
Coastal Georgia held a 44-26 lead at halftime.
The Eagles (4-8), another NAIA program that came south from Kentucky for two-game trip, cut their deficit to 12 points early in the second half, but they wouldn't get any closer.
Coastal Georgia would pad its lead to as much as 32 points late in the second half before winning by the final 24-point margin.
Junior forward Jaylen Smallwood, a former Camden County standout, paced the Mariners with a game-high 28 points.
Also scoring in double figures for the Mariners were Devonta Leslie (19), Deontre Dixon (16) and Elijah Wade (10). Both Leslie and Dixon came off the bench in the win.
Elijah Goodman led the Mariners with nine rebounds while Wade followed with eight boards.
Coastal Georgia shot 48.5 percent from the field (33-68) while shooting 37 percent (10-27) from the three-point line. The Mariners made 17 of their 20 free-throw attempts.
Alice Lloyd got 15 points from Blake Smith in defeat.
Both Coastal Georgia teams will be off until Jan. 3 when they return to action at home against Ave Maria in the Sun Conference. The women will play at 5:30 p.m. while the men are slated for a 7:30 p.m. tip time.
Also, both Coastal Georgia squads will be at home on Jan.5 against Southeastern. Both Southeastern teams currently lead the conference races with unbeaten records. The Southeastern women's team is also ranked No. 2 in the country with a perfect 9-0 record.
For more info on the Coastal Georgia basketball teams, visit www.coastalgeorgiasports.com