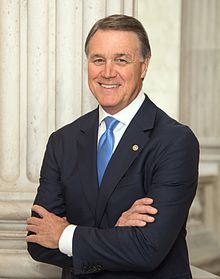 U.S. Senator David Perdue is the presumptive Republican nominee as qualifying formally closed Friday with no GOP opponent for the seat.

Perdue is rounding out his first six year term as U.S. Senator, recently rising to the ranks of senior senator when Senator Johnny Isakson retired and Governor Kemp appointed Kelly Loeffler. He has continually crafted his message as the 'political outsider' and only Fortune 500 CEO in Congress.
After Perdue qualified this week, he stood with Governor Brian Kemp for a press conference and affirmed his support for President Donald Trump's campaign platform and "made it clear that he will stand against the rising tide of socialism as he seeks a second term."
"Six years ago, I stood right here and said, 'Washington's broken and if you want to see different results, send a different person,' " Perdue said after qualifying, adding: "I didn't see Donald Trump coming, but thank God, God sent him…"
"I'm truly humbled by the breadth of support Georgia voters have shown for our movement to change the status quo in Washington,"Senator Perdue said in a news release. "We've accomplished so much these last few years and we're just getting started, I look forward to continuing our fight to deliver real results for all Georgians as I seek re-election this November."
Six Democrats did, however, qualify for the seat and will face off on May 19th for a spot in the general election in November. The Democratic qualifiers were as follows:
Sarah Riggs Amico
Marckeith DeJesus
James Knox
Tricia Carpenter McCracken
Jon Ossoff
Maya Dillard Smith
Teresa Pike Tomlinson
Libertarian candidate Shane Hazel will also appear on the ballot in November for Perdue's seat. Hazel announced his candidacy last month.
The last day to register to vote in the May Primary election is April 20, 2020.
Early voting will begin April 27, 2020.