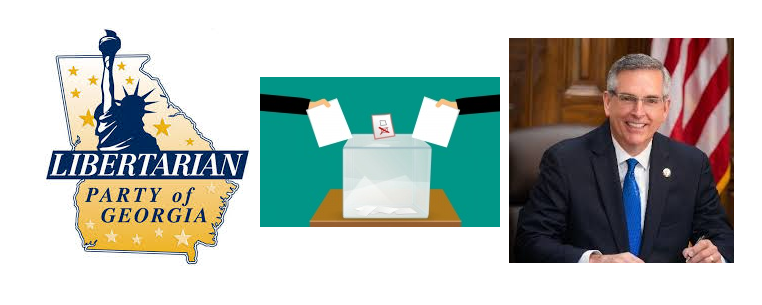 11th Circuit Vacates District Court Ruling, Says Georgia Must Revisit Third Parties' Exclusion From Elections
The Libertarian Party of Georgia has made a substantial gain in a matter against the Georgia Secretary of State. While the case was filed by the LPG, the potential for improved access will impact all third party candidates in Georgia.

The 11th Circuit Court issued a ruling on Wednesday requiring a Georgia district court to consider whether candidates of the Libertarian Party of Georgia had been unconstitutionally excluded by Georgia's ballot access laws.
In the Peach state, any third party candidates (those outside Republicans and Democrats) must obtain thousands of signatures and submit those signatures to the Secretary of State, a partisan office, for approval. These measures are not measures required of the two main parties, which merely pay a qualifying fee and complete paperwork. Surprisingly, even if no candidate from one of the two major parties runs for a particular office, a third party candidate must still clear the hurdles of signature collection and submission before even being considered for the ballot.
Because of the restrictive laws, which are referenced as 10x as restrictive as other states, Georgia has not had an independent candidate for Congress since 1964 and 82% of the state legislature races have only had one candidate.
In a separate matter, the LPG made a request for injunctive relief once social distancing guidelines were implemented in the state, claiming mandates requiring signature collection via door-to-door interactions and other public appearances would be next to impossible, therefore barring third party candidates from the ballots all together. In a news release, the LPG called the signature requirements "both illegal and immoral."
From the news release issued Thursday:
Arguing not just for themselves but for other unrecognized parties and political independents, Libertarians told the district court that ballot access barriers violated their associational rights under the 1st and 14th Amendments and their Equal Protection rights under the 14th Amendment. Libertarian candidates were being denied the right to run for office, they claimed, and Libertarian voters were disenfranchised when their chosen candidates were blocked from appearing on ballots.
"Today's ruling from the Court of Appeals means that the Secretary of State is going to have to justify a ballot-access scheme that has deprived Georgia voters of choice in congressional elections for more than 70 years," said Bryan Sells, the attorney for the Libertarian Party and its co-plaintiffs in both suits. Sells has handled the case pro-bono, but the Georgia LP has raised $13,000 to cover expenses and court fees.
Martin Cowen, Georgia resident and the most recent of more than two dozen candidates to try and fail to meet the signature requirement to run for U.S. House, is a plaintiff in both suits.
You can read the ruling here.
The Party has tried more traditional means of affecting change, including seeking a change to the law itself. House Bill 191, sponsored by Representative Dar'Shun Kendrick, was filed in 2019 with bipartisan support to lower the number of petition signatures required for all third-party and independent candidates from 5% of votes cast in the previous election to 200. The Chairman of the House Governmental Affairs Committee, Ed Rynders, however, blocked attempts to even give the bill a hearing for discussion.