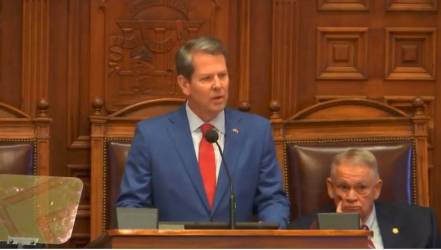 Governor Kemp delivered his second State of the State Address to a joint session of the General Assembly in the chamber of the Georgia House of Representatives earlier this week. Lieutenant Governor Geoff Duncan, Speaker David Ralston, Atlanta Mayor Keisha Lance Bottoms, former Senator Johnny Isakson, former Governor Nathan Deal and First Lady Sandra Deal, constitutional officers, members of the Judiciary, and other special guests were all in attendance as the Governor outlined his priorities for the coming year.
On a historic 2019… "In 2019, we stood together on the construction site, building on a sure foundation. I'm proud of what we've accomplished, but there's still more work to be done. As your Governor, I have been honored to travel this great state, and everywhere I go, I start by saying the same thing: 'It is a great time to be a Georgian…'
"Right now, our unemployment rate is 3.3 percent. That's the lowest in Georgia history. We have a record number of hardworking Georgians in the workforce. Our state is the No. 1 place for business for the seventh year in a row. During the past twelve months – since I addressed this joint session – we added over 64,000 private sector jobs. Of the 371 economic development projects announced by the state in 2019, 79 percent were outside of Atlanta in communities like Cairo, Cartersville, and Commerce, creating economic opportunity – no matter your zip code.
"The State of the State is strong, and folks, we are just getting started."
On education… "As we move forward as a state, we must re-affirm our commitment to Georgia's schools, trust parents to make decisions in the best interests of their children, [and] support our superintendents, teachers, counselors, and specialists as they work to educate and inspire the next generation.
"We have some work to do in the days ahead. Let's fully-fund public school education for the third year in a row, accounting for growth and resources needed to properly educate. Let's dismantle the remnants of Common Core, reduce the number of required tests, and give teachers the opportunity to actually do what they do best: teach.
"And finally, let's give our educators another well-deserved pay raise. In my budget, I have included a $2,000 pay raise for all public school educators. This raise will enhance retention rates, boost recruitment numbers, and improve educational outcomes in schools throughout Georgia. By investing in our educators, we can build a strong house, a place where everyone learns and all Georgians have the opportunity to thrive."
On healthcare… "As the father of three, I know that a healthy home is a happy home. The same is true in our state.
"…Empowered by the Patients First Act, we crafted Georgia-centric healthcare solutions to lower healthcare costs, reduce insurance premiums, enhance access to top-notch care, and ultimately improve health outcomes for Georgia families. For nine months, we developed two unique and innovative healthcare programs that meet the needs of hardworking Georgians, keep our budget balanced, and reflect our values and vision as a state.
"These proposals, Georgia Access and Georgia Pathways, shake up the status quo and put patients first – not the special interests. While these reforms will provide a new pathway for 408,000 Georgians to access affordable care and lower insurance premiums for millions more, this is only the beginning.
"…This year, we will implement long overdue reforms that put our families first. Working with patients, providers, and the private sector, we'll craft a legislative remedy to reduce surprise medical billing. We will demand transparency, embrace empathy, and insist on fairness. We will take care of each other – in sickness and in health."
On public safety… "This year, we launched the Anti-Gang Task Force at the Georgia Bureau of Investigation. Under the bold leadership of Director Vic Reynolds, we are partnering with local law enforcement and prosecutors to 'stop and dismantle' gangs throughout Georgia. We are providing the resources and training needed to put these dangerous criminals behind bars. We are working around the clock to keep our neighborhoods safe.
"While Georgia already has tough gang statutes on the books, there's more we can do to stop violence from taking over our state. There's more we can do to prevent another innocent person from being shot…another law enforcement officer from being killed.
"…This session, we will empower law enforcement and prosecutors so these people will get the justice they deserve. We will do our part to make this right."
On the fight to end human trafficking… "Every day, hundreds of people are bought and sold for sex in our state. Traffickers use Atlanta as a hub, trading human life like it's a commodity.
"Shortly after taking office, we created the GRACE Commission to help coordinate efforts to end modern day slavery in our state. Under the leadership of our First Lady, Marty Kemp, the GRACE Commission has worked to raise awareness. They've partnered with elected officials, law enforcement, non-profit organizations, and those who have been in the trenches for years fighting human trafficking. They have traveled the state to sound the alarm and urge action.
"Members of the House and Senate, we're once again asking for your help to win this fight against human trafficking. We must advance legislation this session that closes loopholes that leave children vulnerable to exploitation. We must help victims tell their story in the courtroom without fear of retaliation. We must support survivors who want to enter the workforce but still bear the scars of the past. The house we are building will be safe and secure, and we will not stop working until it is."
On adoption reform… "During debate on the heartbeat bill, I would always start with a simple statement: Georgia is a state that values life. Honestly, it's hard to disagree with that. We live in a place where every person matters – young or old, rich or poor, any race from any place.
"As a pro-life Governor, I believe that we need to protect the unborn and the born. It's incredibly sad how many children are abandoned in our hospitals – hundreds every year, living, breathing babies, discarded, forgotten, innocent and full of potential, now wards of the state. Over the years, the General Assembly and Governor Deal made incredible progress in updating our adoption laws in Georgia. It's now time to build on those efforts.
"First, we will triple the adoption tax credit from $2,000 to $6,000 to help new parents offset the incredible costs of adoption. We will lower the adoption age from 25 to 21 so more qualified Georgians can adopt and more children can be placed. Finally, we will launch the Families First Commission so we can begin to change the way our state's foster care system operates and serves the most vulnerable among us.
"Our goal is simple: to keep our kids safe, to encourage adoption, and ensure that every young Georgian – no matter where they live – has the opportunity to live in a safe, happy, loving home."
To see the full text of the State of the State speech, click HERE.