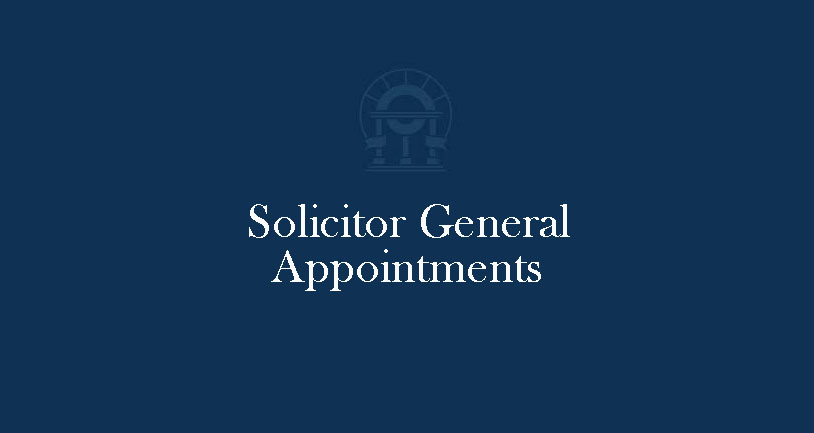 Governor Brian Kemp announced his appointment of Mr. Graham Floyd as Solicitor General of Appling County and Mr. Tracy Brown as Solicitor General of Jeff Davis County.
Both Floyd and Brown are replacing Mr. William Terry Turner. Turner previously served as Solicitor General of both counties. His resignation was effective March 31, 2021.
Graham Floyd comes to the position serving as Associate City Attorney for the City of Baxley since 2009, Counsel with Appling County BOE since 2011, Partner at JohnsonFloyd, LLP since 2013, as well as Associate Judge of Juvenile Courts with the Brunswick Judicial Circuit since 2018. Floyd graduated from the University of Georgia with a bachelor's degree in Agricultural Communications, and a Juris Doctorate from Samford University's Cumberland School of Law. Floyd is a current member of the State Bar of Georgia, the American Bar Association, and the Georgia Trial Lawyers Association. He is married to his wife Cristen and has three children: Camille, Robert, and Charlotte.
Tracy Brown holds a bachelor's degree from Georgia Southwestern University and a law degree from Florida Coastal School of Law. He most recently served as Sole Practitioner for Tracy Alan Brown, P.C., with offices in Jesup and Baxley. Prior to this role, Brown served as a partner with Brown & Johnson, LLC. Brown is a current member of State Bar of Georgia, Superior Court of Georgia, State of Georgia Supreme Court, State of Georgia Court of Appeals, United States District Court, Southern District of Georgia, and United States Court of Appeals for the Eleventh Circuit. He and his wife, Michele, live in Baxley and have three children: Dylan, Keri, and Kaydin.