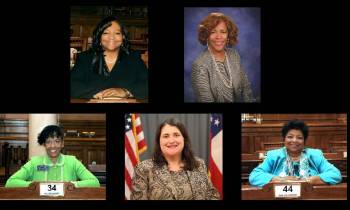 Some Georgia lawmakers want to make feminine products available to women for free in restrooms located in government buildings and in Georgia public schools.

Two separate bills have been filed in the Georgia State Senate to require feminine hygiene products in certain restrooms: Senate Bill 349 and Senate Bill 350. Both have already been given votes of approval from the Senate Education & Youth and State Institutions and Property committees.
Senate Bill 349, by State Senators Donzella James, Zahra Karinshak, Gail Davenport, Horacena Tate, and Valencia Seay, would require local boards of education to make sanitary napkins and tampons available in all public schools in which there are students enrolled in any grade six through twelve. The items are supposed to be provided to students at no charge and the legislation calls on the Georgia Department of Education to set rules and policies as to how the local school boards should implement providing the items. 
When first introduced, SB 349 set forth a requirement that the products be made available in 'female designated restrooms,' but the Senate Education & Youth Committee revised the language to merely require schools make the products available. The first version of the bill is available here.
Senate Bill 350 is backed by the same five senators, but would require that sanitary napkins and tampons be made available free of charge in 'all female-designated restrooms in property owned or leased by this state.' Such a measure would include buildings ranging from the Capitol and the state Sloppy Floyd buildings to state judicial buildings and annexes.
Both bills now head to the Senate floor for consideration. 
You can read both measures below.
SB 349_2020

SB 350_2020