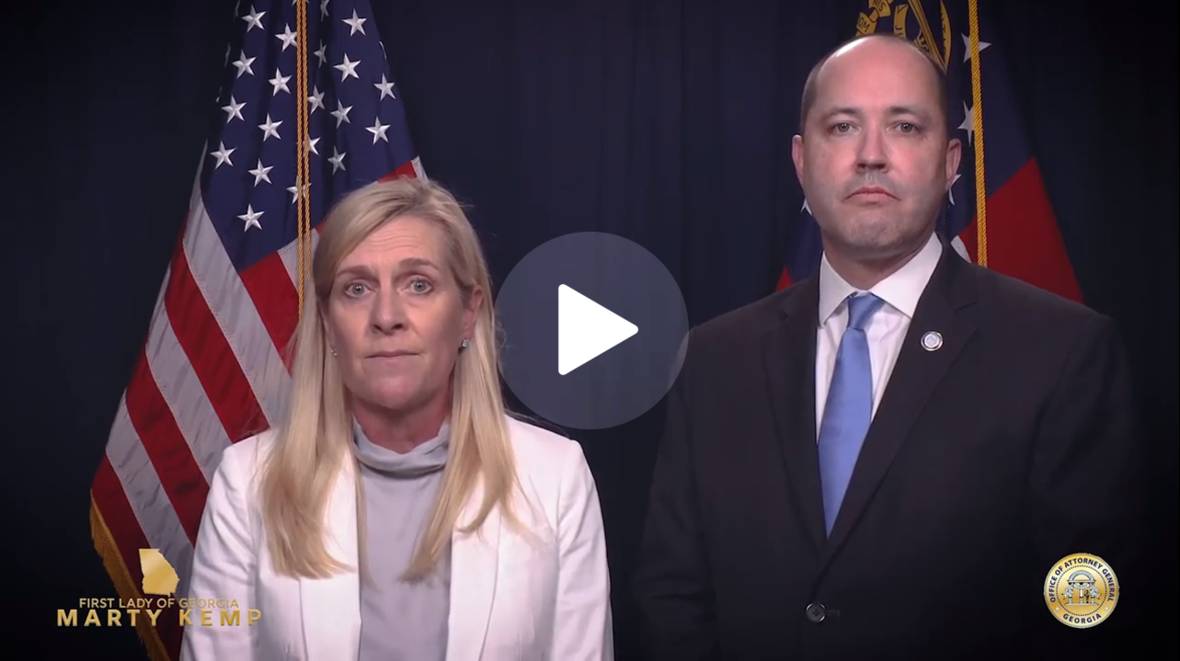 Georgia First Lady Marty Kemp, in partnership with Attorney General Chris Carr, today released a new anti-human trafficking public service announcement (PSA). The new PSA highlights "The Survivors First Act" and is airing across the state on digital media.

"Brian and I were proud to work with Attorney General Carr and members of the Georgia General Assembly to institute 'The Survivors First Act' to help victims heal by removing barriers to employment, housing, and other steps towards rehabilitation," said First Lady Marty Kemp. "We need to make sure we are getting the word out to survivors as much as possible, and through all means. This PSA provides that clear message, and I hope all survivors know that we will stop at nothing to support them."
"Unfortunately, some survivors of human trafficking still carry around the weight of a criminal record while trying to heal from the trauma they've experienced," said Attorney General Chris Carr. "We are proud to work with Georgia's First Lady, Marty Kemp, to ensure all survivors are aware of the opportunity in Georgia to wipe the slate clean and focus on healing."
Senate Bill 425, known as "The Survivors First Act," became effective on June 29, 2020. SB 435 creates remedies for individuals to clean up their Georgia criminal history if they are survivors of sex or labor trafficking, as defined in O.C.G.A § 16-5-46. Specifically, SB 435 gives trafficking survivors the opportunity to either vacate their convictions if the conviction was a direct result of the trafficking, or restrict access to their record if the arrest was while they were being trafficked. These new remedies will remove individuals' barriers to employment, housing, and other opportunities, as well as hopefully help heal the trauma they have experienced.
The PSA launches in addition to a webpage from the Office of the Attorney General that provides survivors with the forms they need to petition for vacatur or record restriction. Their webpage can be found here.