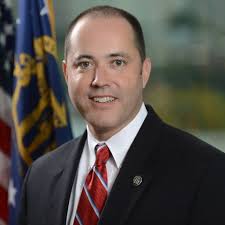 Attorney General Chris Carr led a 17-state coalition in sending a letter to President Trump, Attorney General Barr, Speaker Pelosi and Leaders McConnell, McCarthy and Schumer condemning the Defund the Police movement and backing law enforcement in order to make all Americans safer and restore trust between law enforcement and the communities they serve.

"The American people are yearning for safety, stability, and security during these difficult times," said Attorney General Chris Carr. "Our nation is being torn between those who respect the rule of law and those who rationalize the lawless, tragic burning of our communities while rallying behind the 'defund the police' movement. We must defeat the notion that defunding the police will make America safer and focus on what we can do to rebuild trust between law enforcement and our communities.
"Elected officials who say 'defund' doesn't mean 'defund' choose to ignore the consequences of their statements and the public safety risk posed to their communities," the letter continues. "To 'defund the police' would mean to turn our backs on victims of domestic violence, children being bought and sold for sex, or the elderly being physically and emotionally abused. Creative parsing of the word 'defund' is at best an attempt to pacify the loud, lawless few, and at worst, an attempt to vilify a noble profession.
"Our goal should be to empower law enforcement to legally and ethically fulfill their duties, not restrict their ability to protect us all," said the attorneys general. "We need to give law enforcement the tools and support they need to help people, not take them away."
The following state's attorneys general also signed the letter: Arkansas, Florida, Indiana, Kansas, Kentucky, Louisiana, Mississippi, Nebraska, North Dakota, Ohio, Oklahoma, South Carolina, South Dakota, Texas, Utah and West Virginia.
To review copy of the letter, visit law.ga.gov.