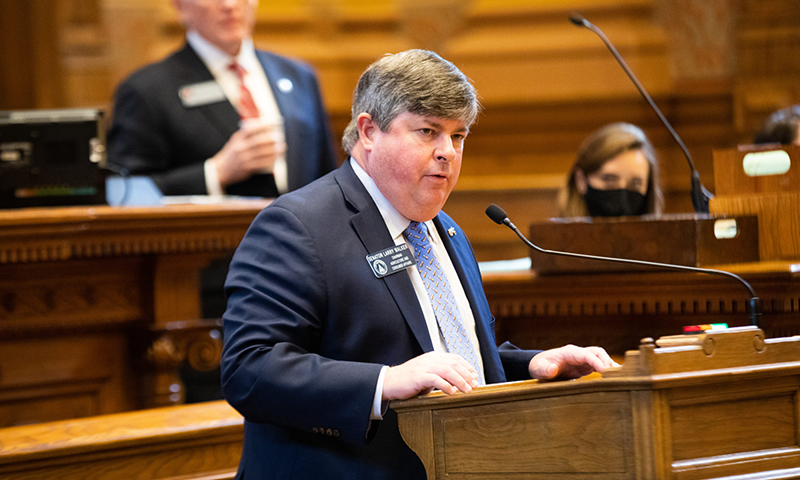 By: Sen. Larry Walker (R – Perry)

This past week, the Senate convened for our most productive legislative days yet, with several substantial pieces of legislation receiving favorable passage by the Senate body. As the pace continues to increase, our schedules have begun to fill with full days spent in our respective committees once our business in the Senate Chamber is complete. While the speed has certainly increased, it has not impeded the Senate from carrying out our work.
On Tuesday, members of the House and Senate once again deviated from our usual business in order to gather in the House Chamber to hold a joint session. This time, we convened to hear Chief Justice of the Georgia Supreme Court David Nahmias deliver the annual State of the Judiciary Address. Our criminal justice system was impacted greatly by the COVID-19 pandemic and backlogs continue to exist in our state's courts. However, this situation is improving and, as Chief Justice Nahmias noted, improvements are being made every day ensure justice is served. I thank Chief Justice Nahmias for his seamless navigation of these unchartered waters and ensuring our judicial system is able to keep moving.
Over the last few years, the General Assembly has made progress in supporting Georgia's children in foster care. However, one segment of the foster population that, unfortunately, is often left out are those on the precipice of aging out of the foster care system and having to enter into the adult world alone. Senate Bill 370, known as the "Fostering Success Act", would provide a dollar for dollar state income tax credit to support foster children that have recently aged out of the foster system. The new tax credit would allow single filers to contribute up to $2,500 and joint filers to contribute up to $5,000 to qualified foster support organizations. These proceeds can then be used for mentorship and advocacy, education costs, transportation or housing needs, and for other wraparound resources that these children need in order to succeed.
This week, I was also honored to present Senate Bill 361 to the Senate. SB 361 proposes a similar solution to help support our state's law enforcement community and is known as the "Law Enforcement Strategic Support Act" or "LESS Crime Act," SB 361 would permit single filers to claim a tax credit of up to $5,000 and joint filers up to $10,000 for qualified contributions to law enforcement foundations. The proceeds from these contributions are eligible to be spent towards pay increases for law enforcement, equipment, training or to establish a mental health co-responder program. I was honored to sponsor this bill on behalf of Lt. Governor Geoff Duncan and want to thank him and his staff for their leadership and dedication to further supporting our state's law enforcement community.
Last Friday, the House successfully passed the Amended Budget for the 2022 Fiscal Year (AFY22). Now that that budget has been sent over to the Senate, we will hold a series of hearings next week in order to further delve into the budgetary needs of our state agencies. If you have any questions about the budget or any of the bills the Senate took up this week, please do not hesitate to contact my office.
---
By: Sen. Larry Walker (R – Perry)
With Thursday's adjournment signifying the end of our 18th legislative day, we are quickly approaching the halfway point of the 2022 Legislative Session. This week, a total of fifteen bills and resolutions passed on the Senate Floor, many of which carried bipartisan support. Now that the budget is in the Senate's hands, that, too, has become one of the key fixtures of our work this week.
Last week, the House passed their version of the Amended Budget for the 2022 Fiscal year in the form of House Bill 910. Early in the week, much of the Senate's time was dedicated to subcommittee hearings of the Senate Appropriations Committee. These subcommittees hearings allow us to hear from Georgia's agencies themselves, what their budgetary needs look like for the remainder of the fiscal year and how those may differ from what was originally anticipated. This way, we can true up any discrepancies between what we originally budgeted for, versus what funding was actually necessary. After our hearings, additional meetings were held to iron out the final details of the Senate's proposed budget, which should be passed out of the full committee and on to the Senate floor in the next week or two.
A major theme of our legislative calendars this week was public safety, as we passed several measures aimed at providing additional financial security for our officers and imposing harsher penalties on those who carry out the most detestable of crimes. For instance, we passed Senate Bill 84, which would add communications officers to those eligible to enter into the Peace Officer's Annuity and Benefit Fund. Senate Bill 461 would make it even more difficult for someone convicted of human trafficking to be bailed out by elevating that authority to a superior court. Additionally, the Senate saw a need to address a growing issue in our schools: cyberbullying. Senate Bill 316 would require parents and students be notified that certain acts of cyberbullying may be considered stalking. This is such an important step to take to thwart the unsettling rise in mental health struggles among our student population. As a final bill dealing with public safety, we took up this week, SB 360, known as "Colton's Law," would increase penalties against those who are convicted of cruelty against a disabled minor. Each of these bills are intended to make our state a safer place and one that is more supportive of our law enforcement.
Next week, we will convene for only two legislative days, but will have plenty of committee work to keep us occupied all throughout the week. If you have any questions about any of the bills we have discussed to this point, or about the budget, please don't hesitate to reach out to my office.
---
Sen. Larry Walker serves as the Majority Caucus Vice Chairman and Chairman of the Senate Agriculture and Consumer Affairs Committee.  He represents the 20th Senate District, which includes Bleckley, Houston, Laurens and Pulaski counties.  He may be reached by phone at 404.656.0095 or by email at larry.walker@senate.ga.gov.