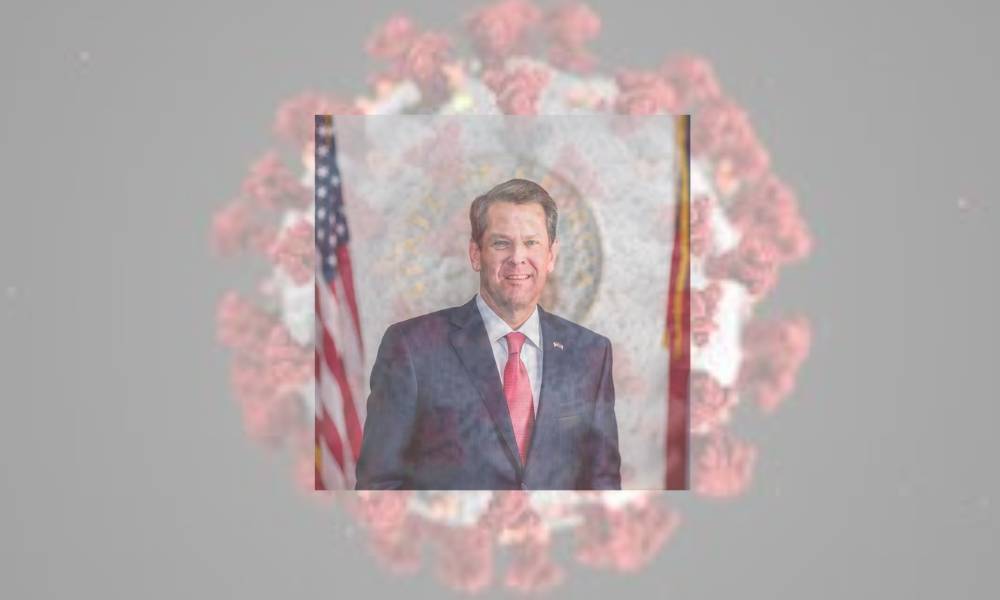 As media outlets report Georgia's climb toward the top for confirmed COVID-19 cases, Governor Brian Kemp's team maintains the Georgia's situation is improving.

The Peach State has been under immense scrutiny by politicos and the media as the nation has watched Georgia's response to COVID-19. Governor Kemp and the Georgia Department of Public Health have been criticized for shutting down too late, re-opening too early, not having adequate testing, opting not to mandate masks, and allowing schools to reopen. Twitter hashtags like '#KillerKemp' and '#KempKills' have dominated conversations, which are largely divided down party lines. But this week, reports claim Georgia is now number one in the nation for new cases based on the seven days leading up to August 14th, though the same report from the White House Coronavirus Taskforce also says that Georgia's numbers 'have improved modestly in recent weeks.'
11Alive reported on two studies Tuesday, one from Harvard and another from Georgia Tech, in which Georgia was declared the state in which you're 'most likely to be exposed to coronavirus.' The coverage largely focuses on risk of exposure with no distinction between 'exposure' and 'contraction,' before noting the confirmed cases. The  Harvard Global Health Institute declared that Georgia leads the country in positive cases, with more than 25 cases per 100,000 people and named eight counties in which "resources are close to becoming overwhelmed."
The Georgia Tech study relies on the idea that asymptomatic cases are not reported and therefore Georgia's numbers are lower than they would be if all asymptomatic people were tested and included. As a result, the study, which finds Georgia at the top for exposure risk, includes a multiplier of 5 and 10 to account for unreported cases and increased risk.
Kemp's team says the reports from the media just aren't true.
In a email distribution Wednesday morning, Team Kemp said the 7-day average is down, along with hospitalizations and the 7-day average for positive tests. "In Georgia, our 7 day average of new COVID-19 cases is down 26%, our hospitalizations are down 19%, and the 7 day average of positive tests is down to 9.4%," the email reads.
And while the White House Coronavirus Task Force says Georgia's rate of testing roughly 27,000 individuals per day, the trend which has held steady for more than three weeks, isn't enough, Kemp's people say Georgia's transmission rate is .85 and "testing capacity remains high but underutilized."
But the numbers haven't stopped Georgia Democrats from blasting Kemp and President Trump for their policy positions, calling the latest reports 'devastating.' Tuesday evening, Democratic Party of Georgia Executive Director Scott Hogan said, "These latest devastating numbers are the direct result of Brian Kemp and Donald Trump's failed leadership. Throughout this pandemic, Kemp's best efforts have been nothing but staggering incompetence, and his worst failures have made Georgians suffer. Instead of listening to doctors and the CDC, Kemp listened to Donald Trump and shut down any effort at keeping Georgians safe. Georgians are worse off because of them both."
The email, which originated from Ryan Mahoney, Kemp's campaign manager from 2018, is in its entirety is below.
Friends,
You can't trust the media. Here's another reason why:
In Georgia, our 7 day average of new COVID-19 cases is down 26%, our hospitalizations are down 19%, and the 7 day average of positive tests is down to 9.4%. Georgia's transmission rate is .85 and testing capacity remains high but underutilized.
This is encouraging data that hardworking Georgians need to know. Sadly, the Atlanta Journal Constitution refuses to chart our progress.
Instead, they print leaked reports provided by adversaries, undermine trust in Georgia's public health officials, and intentionally mislead the public with fake headlines and undeniable bias.
We are supposed to be in this fight together but they are making this pandemic worse by stoking fear, creating division, and sowing seeds of distrust and doubt.
The Atlanta Journal Constitution boasts about being Georgia's "flagship paper." Well, they should put politics aside and act like it.
Until then, we will continue to do their job for them. We will share our challenges – and our triumphs – with hardworking folks in every zip code. We will encourage our friends and neighbors to mask up, hunker down, and keep choppin'!
With your help, we will protect the lives, livelihoods, and personal freedoms of all Georgians. Together, we will build a safer, stronger, and more prosperous state.
-Team Kemp