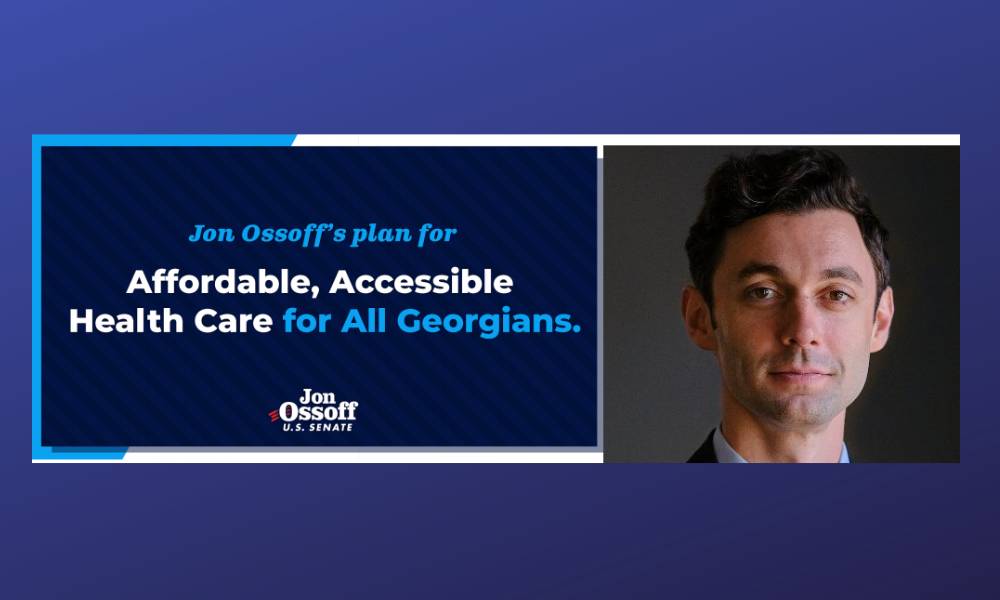 Last week, Democratic U.S. Senate nominee Jon Ossoff unveiled his health care plan 'aimed at ensuring affordable, accessible health care for all Georgians.'
Ossoff joins Libertarian Shane Hazel in the race against Senator David Perdue this November.
Ossoff's plan centers on access and affordability — focusing on price gouging by insurance companies, expanding Medicaid to make insurance affordable for all, and creating a public option that is universally affordable and accessible. Ossoff has long held that people need a choice between private and public plans.
In a press release with the plan, Ossoff said he seeks to 'strengthen consumer protections for pre-existing conditions, women, and young people on the private health insurance market.' Promising to provide resources to build new clinics and hospitals in rural and underserved parts of the state, expand the U.S. Public Health Service to train and deploy nurses and doctors into underserved communities, and rush preventative, prenatal, and maternal health resources to communities that need urgent help, Ossoff made grand commitments on affordability, access, and expanded choice.
"My health care plan solves the two core problems — affordability and access — by cracking down on price gouging by drug and insurance companies, ensuring every Georgian is covered by high-quality insurance regardless of wealth, improving access to health care services across our state with new hospitals and clinics and an expanded U.S. Public Health Service, and expanding the personal choice and control Georgians have over their own insurance and care."

"The high cost of health care in America is driven by the corrupt influence of the insurance and drug industries in Washington — a devastating product of our broken campaign finance system, which allows powerful trade groups to purchase political influence and rig the system so they can rip off the public. That is why Senator David Perdue, a puppet of the insurance and drug companies, has voted to allow discrimination against Georgians with pre-existing conditions and now is lying about it. In the U.S. Senate, I'll work to make quality health care a simple, affordable, and reassuring reality for all of us. Other countries have achieved this. So can we."
The Perdue campaign wasted no time in blasting Ossoff's plan and criticizing him for pushing a 'Big Government, Socialized Healthcare In The Middle Of A Public Health Crisis.'
"In the middle of an unprecedented public health crisis, Jon Ossoff is pushing for big government, socialized healthcare that would leave Georgians with fewer doctors and less access to medicine while they pay higher prices for care," Perdue for Senate Communications Director John Burke said in a news release. "Ossoff has misled voters about the Covid-19 crisis to score political points and now seems content to have them foot the bill for his party's socialist schemes. Senator David Perdue is committed to protecting healthcare for all Georgians. Ossoff would allow Democrats to destroy their access to affordable and available care."
You can read the plan here.