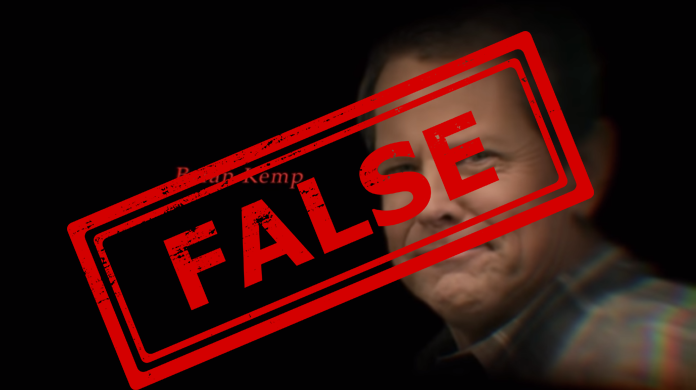 With the start of early voting for Georgia's General Election now less than 30 days away, political ads are flooding televisions in households across the state, but no organization has spent more money on tv ads to date than the Democratic Party of Georgia (DPG).
From defending Abrams' unpaid tax claims to labeling Secretary of State Brian Kemp an 'Abuser' to the most recent which deals with the massage therapy licenses, the DPG has spent considerable time creating sound bites for the Party's top of the ballot candidate, Stacey Abrams.
But is everything put on a television ad true?
One of the seemingly most damning ads on television so far is 'Abuser' released by the Democratic Party of Georgia. The ad accuses Kemp of facilitating an environment for abusers and refusing to protect victims of sexual assault because a massage license was renewed for a person alleged to have committed such acts. The Democratic Party, in the ad, holds Kemp solely responsible, allegeding his political interests may be vested somewhere other than the public.
In a press release issued with the ad when it went live, the DPG said "Brian Kemp continued to put women at risk by allowing abusers to keep their licenses. He was protecting himself and his campaign donor. Kemp received a large campaign contribution from the former franchise owner of one of the massage clinics involved in this scandal."
AllOnGeorgia has fact-checked the  ad 'Abuser.'
The script of the ad 'Abuser' reads:
"The abuser pleaded guilty to assaulting a woman during a massage. She told him to stop. This wasn't his first offense. Yet Brian Kemp's office, which is responsible for overseeing licensing of Georgia massage therapists, renewed the abuser's license. Let that sink in for a moment. Brian Kemp's office renewed the abuser's license. If he isn't protecting the victims, just who is Brian Kemp protecting?"
Let's break it down point-by-point:
The criminal activity of a person is not within the purview of the Secretary of State's office to mitigate. Law enforcement officials are responsible for establishing that. 

It's true that Brian Kemp's office is "responsible for overseeing licensing of Georgia massage therapists," however, the Secretary of State's office serves as an administrative facilitator for licensing board.

Additionally, the Massage Therapy Board is authorized by law and has "sole and full discretion" on the licensing process. This includes investigation claims, revoking licenses, reinstating licenses, and invoking disciplinary action.

It is up to the Massage Therapy Board to determine if a person has violated the code of conduct for massage therapists.

The Georgia Attorney General's Office is responsible for administering any disciplinary action that is decided upon by the Massage Therapy Board. It is, essentially, the prosecutor.

Hearings are conducted by the Medical Office of State Administrative Hearings.

The Massage Therapy Board members of appointed by Governor Nathan Deal.

The office did renew the license because there was no sanction or disciplinary action by the Board.

Brian Kemp does not choose whether or not to 'renew' the license of any person or entity.

If Brian Kemp single handedly chose to renew the license of a person, he would be acting outside of the purview of his authority.

If Brian Kemp opted not to renew the license of a person, he would be circumventing the due process of the accused.

Protection of victims would come from law enforcement, not an administrative licensing board, due to the fact that a license revocation has not bearing on the incarceration status of an alleged or convicted abuser.

It is true that Kemp received a campaign donation from a former franchise owner of the company in question, but this point was not part of the television ad script, only the press release.
You can watch the ad 'Abuser' below.
Kemp's television ads in the General Election have, so far, not focused on Abrams or Democrats and instead redirected to his policy positions and family life. The Republican Governor's Association, however, did release an ad in August criticizing Abrams' decision to loan her campaign $50,000 while owing taxes to the federal government.
You can watch Kemp's ad here and the Republican Governors Association ad here.
The Abrams campaign released an ad just this week that had a slightly more positive spin. You can watch it below.
WATCH: Stacey Abrams Releases Ad Touting Record of Bipartisanship
A poll released two weeks ago showed Kemp at 45.3%, Abrams at 44.9% and Libertarian candidate Ted Metz at 2.1%. 7.6% of respondents said they were still undecided.
Early voting begins October 15 with Election Day being November 6.
New Poll Shows Abrams & Kemp 'Tied,' Libertarian Polling at 2%