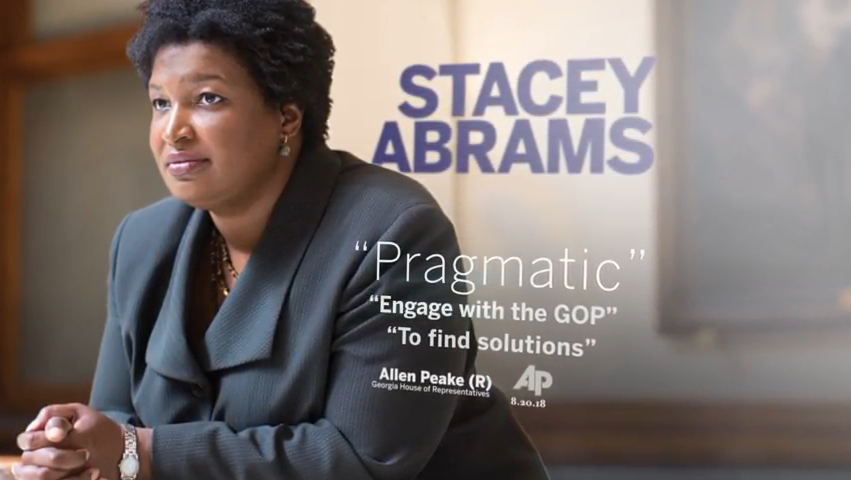 Democratic candidate for Governor Stacey Abrams has released a new television ad and it touts her work on both sides of the aisle when she served in the Georgia legislature.
The ad "All  Sides Agree" spotlights Abrams' "pragmatic, bipartisan record", a release from the Georgia candidate's teamg said Monday. "As Minority Leader, Abrams routinely worked across the aisle to find balanced solutions on critical issues such as transportation, criminal justice reform and taxes," Abrams' campaign said." The press release also championed Abrams' work with Governor Nathan Deal and said Abrams single-handedly stopped the largest tax increase in Georgia's history. 
Republican groups from outside Georgia spend millions attacking Stacey Abrams. But Republicans in Georgia say "that doesn't match her record." Georgia Republicans call Stacey Abrams a pragmatic leader who engages with the GOP to find solutions. Her balanced view allowed her to reach across the aisle to help Governor Nathan Deal…Pass a billion-dollar transportation bill and comprehensive criminal justice reform. And she stopped the largest tax increase in Georgia history. Both sides agree, Stacey Abrams works to help all of Georgia.
From the press release:
Claim

Backup

VO: Republican groups from outside Georgia spend millions attacking Stacey Abrams

GFX: Republicans OUTSIDE Georgia Attacking Stacey Abrams

Meanwhile, the Washington D.C.-based Republican Governor's Association reported spending about $2 million on ads slamming Abrams over her handling of her finances and her support for gun control measures.

VO: But Republicans in Georgia say that doesn't match her record

GFX: Republicans INSIDE Georgia "That doesn't match her record" AP 8.20.18

Brian Robinson, a former top aide to Deal, simultaneously skewers and compliments Abrams. She "has run a campaign as if she's Bernie Sanders," he said, referring to the democratic socialist senator and failed presidential candidate. But, Robinson added, "That doesn't match her record in the General Assembly.

VO: Georgia Republicans call Stacey Abrams a pragmatic leader who engages with the GOP to find solutions

"Pragmatic" "Engage with the GOP" "To find solutions" Allen Peake (R) Georgia House of Representatives AP 8.20.18

"She's a brilliant woman … one of the smartest people I've ever met," said state Rep. Allen Peake, who backs Kemp but counts Abrams as a friend from their days in the same legislative freshman class.

Peake said he's wary about Abrams' policy agenda, but characterized her as "pragmatic" and avoided broadsides about socialism.

"She did always try to find solutions," he said, noting the state budget passed nearly unanimously during Abrams' tenure because she corralled her caucus to engage with the GOP majority.

her balanced view allowed her to reach across the aisle to help Governor Nathan Deal

 "Balanced view" -Republican Speaker of the House David Ralston The NY Times 8.19.18 "Ability to reach across the aisle" -Republican Speaker of the House David Ralston The NYTimes 8.19.18

But when Ms. Abrams was beginning her long run as the minority leader in the State House of Representatives, Republicans who were getting to know her style told a different story: They saw a Democrat with a "balanced view on issues," as the speaker of the House, David Ralston, put it at the time, and an "ability to reach across the aisle.

VO: pass a billion dollar transportation bill

Campaigning recently at a recreation center in Murray County — a rural, mainly white bastion of Republicanism on the Tennessee border — she stood before TV news cameras, reminding people of her work helping to pass a bipartisan billion-dollar transportation bill, and her support of legislation that supports grandparents and other family members raising children.

"I know how to work across the aisle when we need to," she said.

And comprehensive criminal justice reform

 "To help Gov. Nathan Deal…enact a criminal justice overhaul" AP 8.20.18

Abrams also brought Democrats to the table to help Gov. Nathan Deal, a Republican, enact a criminal justice overhaul with a distinct focus on juveniles and nonviolent drug offenses.

And she stopped the largest tax increase in Georgia history

GFX: "Stopped the largest tax increase in Georgia history" TIME 7.26.18 

The tax overhaul failed, and on the campaign trail Abrams can credibly boast of having single-handedly stopped the largest tax increase in Georgia history.

VO: Both sides agree, Stacey Abrams works to help all of Georgia

GFX: Paid for by Stacey Abrams for Governor