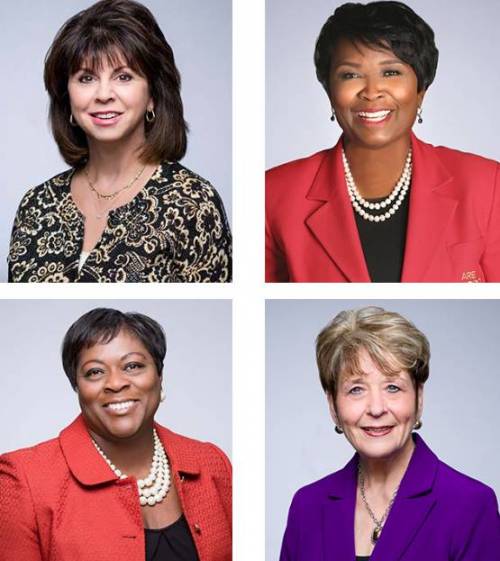 Engineering Georgia magazine released its annual listing of "100 Influential Women in Engineering"– women of character, integrity and purpose. The Georgia Department of Transportation (Georgia DOT) is well-represented with four State Transportation Board (STB) members and six Georgia DOT team members.

"It is an honor to be able to highlight the achievements of the power players from engineering, architecture, and construction firms and from public agencies and private companies who are creating Georgia's built environment," said Michael L. "Sully" Sullivan, publisher of Engineering Georgia.
The State Transportation Board is comprised of 14 congressional districts each represented by a board member elected by a majority of a General Assembly caucus from their congressional district. Board members serve staggered five-year terms and guide the planning, development and management of the department and critical transportation projects in the state of Georgia.
Georgia DOT aims to deliver a transportation system focused on innovation, safety, sustainability and mobility. The Department prides itself on its diverse and well-trained workforce and is proud to recognize the achievements of these women.
Woman recognized who are affiliated with Georgia DOT include:
Emily Dunn, who represents Congressional District 9 on the State Transportation Board, was elected in 2011. Dunn previously served as board chairman—the STB's first female chair—and is currently board secretary. Dunn is owner of Tom's Amusement Company, Inc. and is known for her civic involvement.
Stacey Key, who represents Congressional District 5, joined the State Transportation board in 2013. She is president and CEO of the Georgia Minority Supplier Development Council (GMSDC) and serves on various boards including the Georgia Chamber of Commerce and the Midtown Alliance.
Dana Lemon, who represents Congressional District 13, has served on the STB for 17 years and was the first woman elected to the board. Lemon is president of W.D. Lemon & Sons Funeral Home and co-hosts a local TV talk show, Community Spotlight.
Ann R. Purcell, who represents Congressional District 1 on the State Transportation Board, was elected in 2013. She has served as chair and vice chair. Purcell previously served 18 years in the Georgia House of Representatives.
Meg Pirkle, P.E., is the first woman to serve as chief engineer for GDOT. Pirkle oversees the management of GDOTs engineering, construction, project management, and P3 program delivery. She is a registered professional engineer.
Angela Whitworth is the treasurer of GDOT where she administers and manages a $3.7 billion annual budget. Whitworth has served the state of Georgia for 22 years in various capacities.
Carol Comer is director of the Division of Intermodal where she oversees GDOT's statewide programs for aviation, rail, transit and waterways. She has been with GDOT for over 20 years. Comer is also a licensed FAA commercial pilot and flight instructor.
Marlo Clowers, P.E., DBIA, leads the Transform 285/400 project, GDOT's largest project currently under construction. She also oversees the I-85 Widening Phase 1 project, the first Major Mobility Investment Program project to break ground. She is a registered professional engineer and a certified design-build professional.
Hiral Patel, P.E. is division director of engineering. She has been with the Department for over 20 years. Patel is a licensed professional engineer.
Natalie Dale is the spokesperson for GDOT and uses her diverse experience in strategic communications to guide and represent the department during severe weather events, infrastructure challenges, and local, state and federal transportation issues.
The magazine also recognized Monica Flournoy, P.E. state materials engineer and Kimberly King, director of Equal Employment Opportunity as "Women in the Know." They were selected among those most likely to have considerable influence on the future of Georgia's built environment. They are on the fast-track to becoming the next generation of engineering influencers.