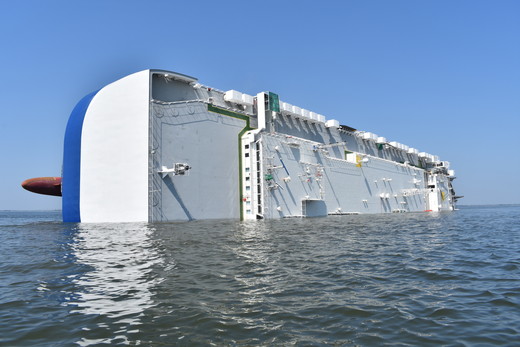 The massive ship that capsized in Georgia's St. Simons Sound last month continues to be of concern for oil leakage.

The 656-foot long Golden Ray remains tipped over on its side and while there was considerable relief after the entire crew was rescued, the relief has been short lived as oil continues to wash ashore and remains in sheens in the water. That's because more than 300,000 gallons of fuel and oil were in the ship's tanks when the accident occurred. To date, only 220,000 gallons have been pumped out and the seeping oil and gas is already impacting the the marshes. Contracted crews are working tirelessly to limit the lasting effects.
NPR reports:
Crews in yellow protective suits have been working 12 hours a day trying to mitigate the effects of the oil, setting up thousands of feet of containment boom, spraying sphagnum moss, a peat absorbent on the grass to keep it from sticking to other surfaces and animals, and removing already dead, oiled marsh grass.
They're part of what's known as Unified Command, a joint recovery and salvage effort between the state of Georgia, the Coast Guard and the shipping company, Hyundai Glovis's contractor, Gallagher Marine Systems. There are about 400 people and 70 vessels participating.
The Georgia Department of Natural Resources closed commercial shellfish harvesting in the area near the ship. DNR Commissioner Mark Williams made the precautionary move through an Administrative Order after oil believed to be from the ship was detected in marshes less than a mile from the site. The closure is precautionary and only affects the recreational picking area in Jointer Creek south of Downing Musgrove Causeway, which connects Jekyll Island and the mainland.
Surveys and shellfish meat sampled from the site Sept. 26 showed no signs of contamination. The following day and again on Sept. 30, the capsized ship discharged a significant volume of pollutants. Shoreline assessments conducted on Oct. 1 of Cedar Creek, which leads to Jointer Creek, confirmed oiling in marsh vegetation approximately seven-tenths of a mile from the recreational shellfish harvest area.
The recreational harvest area will re-open as soon as the risk of pollution contamination has subsided. The Unified Command, which is overseeing the response to the capsized ship, will conduct water quality testing weekly.
Officials have also said the ship will have to be dismantled to be removed from the water.