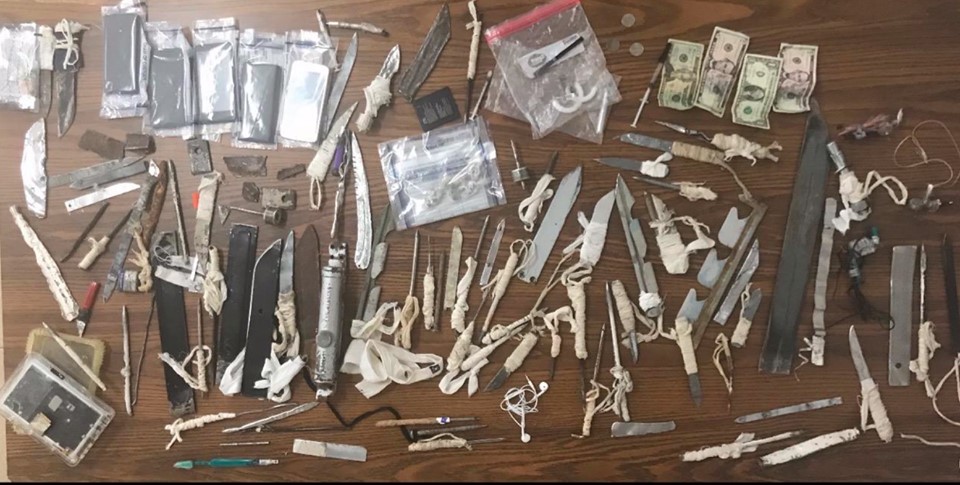 As part of ongoing efforts to prevent contraband from entering our facilities, the Georgia Department of Corrections (GDC) seized a total of 6,592 contraband items during the third quarter of 2019. The agency continuously makes improvements to our processes in addition to utilizing full-facility shakedowns to combat contraband entering our facilities.
"It is because of our diligent staff that we were able to interdict over 6,500 contraband items from our facilities, said Commissioner Timothy C. Ward. "We will continue to strengthen our efforts to keep contraband outside of facilities, and we remain vigilant in our mission of creating safe and secure facilities."
Through the collaboration of our Office of Professional Standards, GDC Tactical Squads and K9 Units, the following items were confiscated between July and September 2019:
1357 cell phones
542 cell phone chargers
2084 handmade weapons
7,643.37  grams of marijuana (300 bags/balloons)
65,775.76 grams of tobacco (1754 bags/balloons)
2357.66 grams of methamphetamine (180 bags/balloons)
764 ounces of alcohol (24 bottles)
327 pills
18 syringes
6 SIM/SD cards
The GDC also utilized shakedown operations to detect 1,600 items in the third quarter of 2019. A total of 24 shakedowns were completed at 17 of the 34 state prisons.
Third quarter shakedown seizures included:
245 cell phones
951 handmade weapons
705.70 grams of marijuana (31 occurrences)
2209.44 grams of tobacco (23 occurrences)
193.12 grams of methamphetamine (16 occurrences)
1 ounce of homemade alcohol (2 occurrences)
332 unidentified pills
This is a press release from the Georgia Department of Corrections.