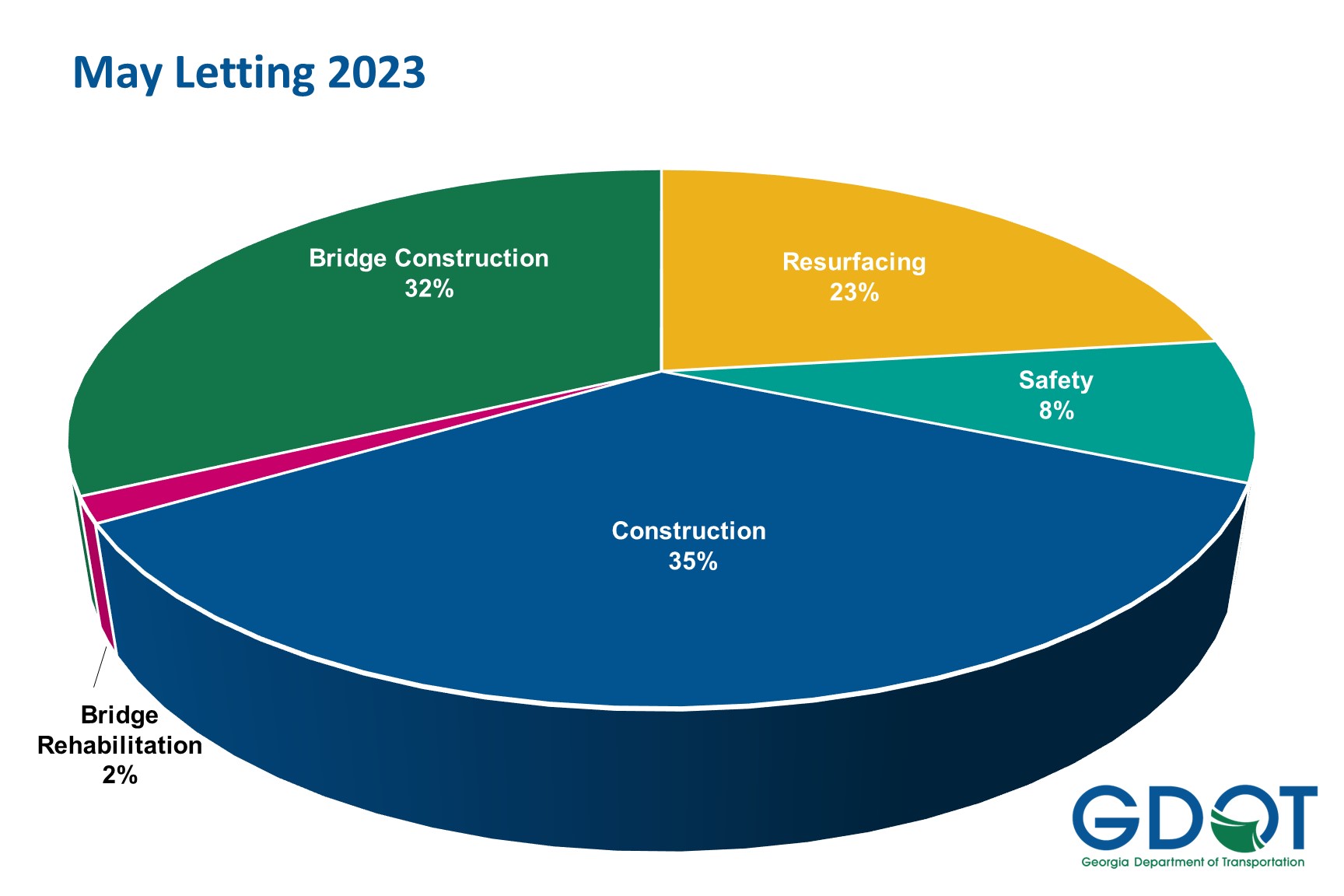 In May 2023, the Georgia Department of Transportation (Georgia DOT) awarded 20 projects valued at approximately $83,430,162.

The largest project is a resurfacing project worth approximately $10 million and was awarded to McLendon Enterprises, Inc. The project consists of milling, inlay, and plant mix resurfacing on 18.42 miles of State Route (SR) 30 from west of SR 15/SR 135 to the Tattnall County line in Montgomery and Toombs counties. This contract, along with two other resurfacing projects, represent 23 percent of the awarded funds.
There were eight construction projects which represent 35 percent of the awarded funds. The largest of these projects consists of construction of a roundabout at the intersection of SR 16 and SR 54 in Coweta County valued at $7 million. All eight projects will construct roundabouts.
Six bridge construction projects represent 32 percent of the awarded funds. The projects include bridge construction on various roads in Brooks, Gordon, Jenkins, Macon, Meriwether and Polk counties. The largest of these projects, valued at $9.35 million, consists of 0.469 miles of construction of a bridge and approaches on US 27 BUS/SR 1 BUS over Lake Creek in Polk County.
Two Safety projects represent 8 percent, or approximately $7 million of the awarded funds. The projects include traffic signals upgrades at various locations along SR 3, SR 42 SPUR, SR 54 and SR 70 in Fulton County.
The remaining 2 percent is allotted for one bridge rehabilitation project. Work will include co-polymer overlay and replacement of all joints at seven bridge locations on I-20/SR 402 through Columbia, McDuffie and Richmond counties.
The May awards bring the total construction contracts for Fiscal Year 2023 to $1.8 billion. This total includes TIA, Design-Build, and locally administered projects. Fiscal Year 2023 began July 1, 2022.
Award Announcement list (includes rejected and or deferred projects). Bids for Design-Bid-Build projects were received on May 19, and contracts were awarded to the lowest qualified bidders on June 2.
Supplemental Award Announcement (includes previously deferred projects that have now
been let).
Contractors and consultants, including Disadvantaged Business Enterprises (DBEs), registered small businesses and veteran-owned small businesses interested in bidding on projects or performing work must prequalify with Georgia DOT. To learn more, please visit https://www.dot.ga.gov/GDOT/Pages/DBE.aspx.