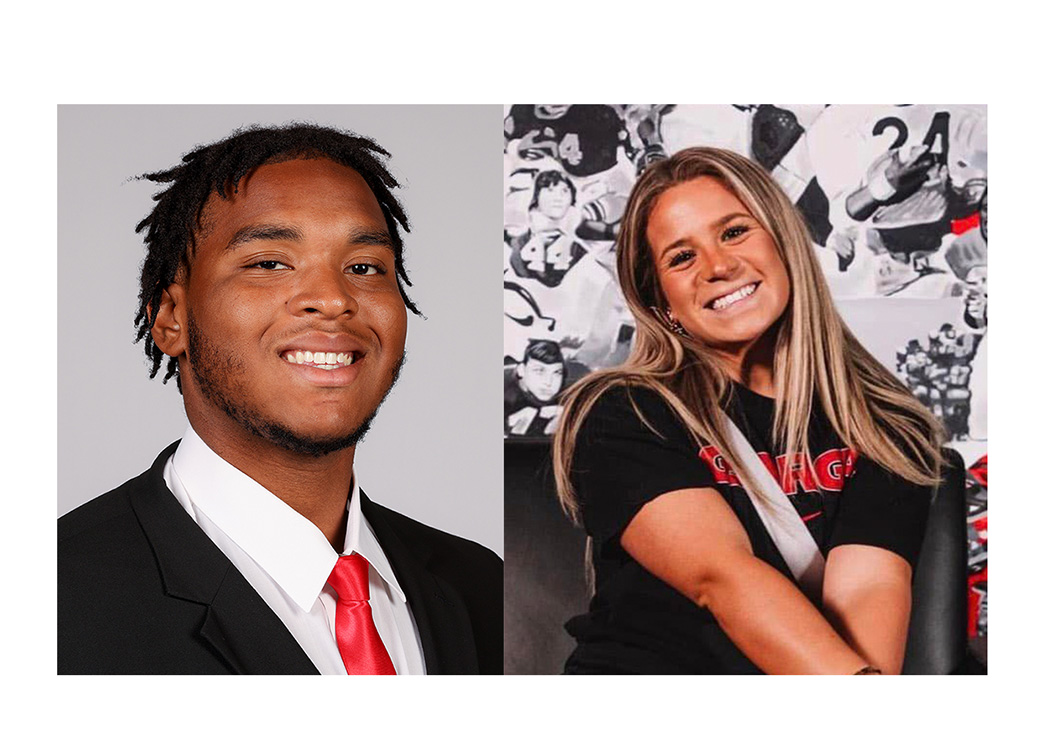 University of Georgia offensive lineman Devin Willock and a recruiting staffer Chandler LeCroy were both killed in an automobile accident early Sunday morning. Two others, offensive lineman Warren McClendon and recruiting staffer Tory Bowles, were also in the vehicle. McClendon was treated for minor injuries and released from the hospital. Bowles sustained more serious injuries but is in stable condition, according to the UGA Athletic Association.

From Athens-Clarke County Police: 
"On January 15, 2023, at approximately 2:45 AM, ACCPD responded to a single-vehicle crash in the 900 block of Barnett Shoals Road. Initial investigation indicates that a 2021 Ford Expedition was traveling southbound in the outside lane of Barnett Shoals Road when the vehicle left the roadway, striking two power poles and several trees. A passenger, Devin Willock, 20, died at the scene as a result of his injuries. The driver, Chandler LeCroy, 24, was transported by EMS to a local hospital where she died as a result of her injuries. A 21-year-old male passenger sustained minor injuries and a 26-year-old female passenger sustained serious injuries. The investigation remains ongoing. Anyone with information regarding the crash is asked to contact Lieutenant Butt at 762-400-7090 or via email at john.butt@accgov.com. This is the first fatal motor vehicle crash of 2023 in Athens-Clarke County."
Statements from UGA:
Statement from the UGA Athletic Association
"The entire Georgia family is devastated by the tragic loss of football student-athlete Devin Willock and football staff member Chandler LeCroy. Two other members of the football program were injured in the accident. They are both in stable condition, and we will continue to monitor their status with medical personnel.
"Devin and Chandler were two special people who meant so much to the University of Georgia, our football program and our athletic department.  We ask that everyone keep their families in your prayers during this very difficult time.
"The UGA Athletic Association will work with our medical team as well as our mental health and performance personnel to make sure we are providing the best support possible for our staff and student-athletes who are processing this grief. We can provide no further comment at this time but ask that everyone continue to keep those involved in your prayers."
Statement from UGA Head Football Coach Kirby Smart
"We are all heartbroken and devastated with the loss of Devin Willock and Chandler LeCroy. Devin was an outstanding young man in every way and was always smiling. He was a great teammate and a joy to coach. Chandler was a valuable member of our football staff and brought an incredible attitude and energy every single day. We grieve with their families for this tragic loss and will support them in every way possible."
Statement from J. Reid Parker Director of Athletics Josh Brooks
"We are covering the families of Devin Willock and Chandler LeCroy in prayer this morning. We are deeply saddened on the tragic loss of Devin and Chandler, and we will continue to honor their memory in the years to come.
"These two special people meant the world to our football program and athletic department. We are working with our medical staff and mental health and performance team to ensure our staff and student-athletes have all the support they need during this extremely difficult time."
Statement from UGA President Jere W. Morehead
"On behalf of the University of Georgia, our entire campus grieves for the loss of two young members of our campus community—student-athlete Devin Willock and football staff member Chandler LeCroy. Our thoughts and prayers are with their families and friends. We also pray for the full recovery of those injured in this tragic accident."