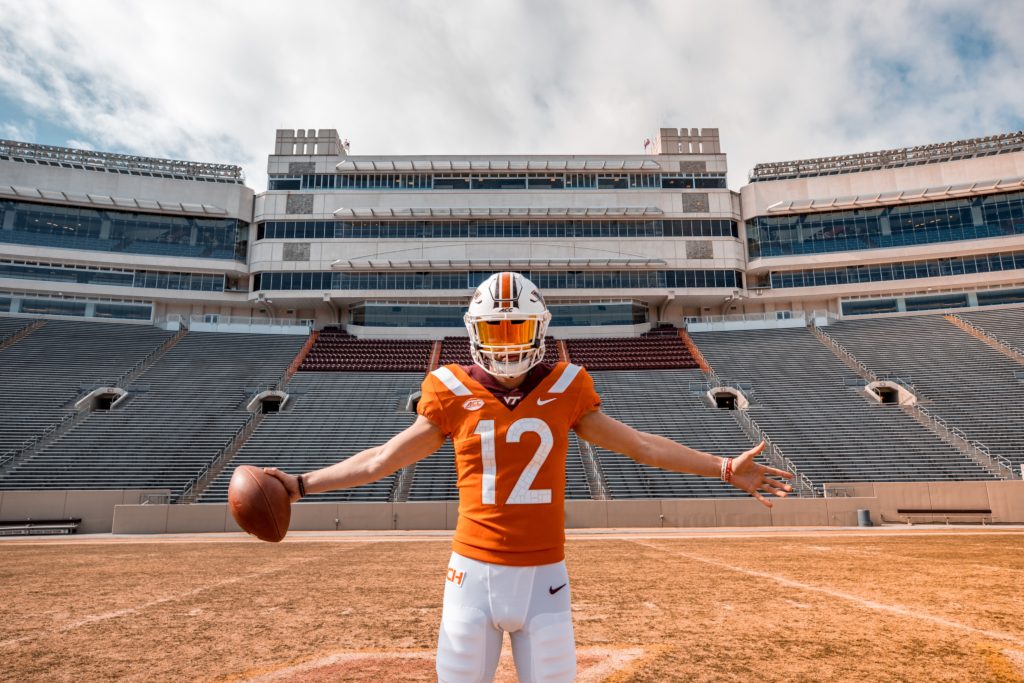 As the 2018 high school football season drew to a close and the Rome Wolves fell just short of a third consecutive Georgia State Championship in the 5-A Division, most blue chip players had already committed to a college program or, were in the midst of heavy recruiting wars and anxiously awaiting the February 6th National Signing Day.
In Rome, Georgia, all eyes had been on senior tailback Jamious Griffin and receiver Xavier Roberts. While the rangy wide out, Roberts, eventually settled on Florida Atlantic and Griffin became the prize of the hive by choosing Georgia Tech over Auburn and Florida State, there were a half dozen other wolves making their college choices by signing day.
However, the 6'3″ signal caller for the Wolves had slowly become the most underrated quarterback in the state, and many say, in the nation. Knox Kadum became the starter for head coach John Reid before the first game of his freshman season and, after four years at the helm, compiled a staggering list of accomplishments.
CAREER HIGHLIGHTS
2-time GHSA 5-A State Champions
2015 Top Region QB
2016 Player of the Year
2017 Region MVP
2018 Top Region QB
CAREER STATS:
Varsity 4 yr Starter
49-6 Starting QB Record
Total Passing Yards: 7,400
Total Rushing Yards: 2,414
Total Receiving Yards: 195
TOTAL YARDS: 10,009
Total Touchdowns: 118
Total Int: 15
CAREER QB Rating: 123.4
Recruitment
Despite his numbers and proven winning success, most division 1 programs seemed to overlook Kadum for one reason or another. Knox had won on the big stage even after seeing dozens of teammates move on to play on Saturdays. He scored with his arm and he scored with his legs. He demonstrated the arm strength to stretch the field and find fleet-footed receivers with the deep ball, and he wasn't hesitant to show his accuracy with cross-body passes when he was flushed from the pocket. Kadum threw for 78 touchdowns and only 15 interceptions in his career and, in a pinch, was a solid runner, adding 2,414 yards rushing with another 37 scores.
With the lack of big-name attention from the scouts, Kadum was very receptive when James Madison University came calling. After an official visit with the Dukes, Kadum felt comfortable enough to offer a verbal commitment but didn't go so far as to put ink to paper. And it was a good thing.
Change is in the air…
When the infamous Transfer Portal sent Virginia Tech quarterbacks Josh Jackson and Hendon Hooker looking for greener pastures, the Hokies turned to northwest Georgia in search of some much-needed depth under center.
Within 24 hours, Virginia Tech Offensive Coordinator Brad Cornelsen was in the halls of Rome High to make his pitch to Knox Kadum. After watching a workout with Kadum and his QB Coach Chris Boden, Cornelsen sat down with Kadum to officially offer a scholarship and invite Kadum and his family on a visit to Blacksburg.
Enter Sandman
For Knox and the Kadum family, the February 2nd trip would prove to be a dream come true and the deal was done, adding depth to Cornelsen's backfield and giving Knox a chance to play at the elite level with a top ACC program. Kadum graduated early in December and has already made trips back to Blacksburg to begin workouts with the team.
AllOnGeorgia sat down with Kadum to find out a little bit more about the whirlwind first week of February that has opened a whole new world for the teen.
AOG:  Tell me how you feel being able to take football to the next level?
KNOX: It's a dream come true for me being able to play at the next level. It's something I've always imagined doing from the first time I stepped on the field.
AOG:  Can you tell me a little about the process of the recruitment and commitment with VATech? What sold you on them?
KNOX: The process is filled with ups and downs and it's going to drive you crazy. The hardest thing is telling some of these coaches that you've built such great relationships with that you're going somewhere else. I was sold on Virginia Tech simply because it felt like home, the relationships and honesty of the coaches, the town of Blacksburg, and the players.
AOG:  What coach has impacted you the most?
KNOX:  Coach Boden has impacted me the most through the long 4 years. He's been my position coach everyday, we have more of a father-son relationship than a player-coach relationship. 
AOG:  What you will miss about high school?
KNOX:  I'm going to miss playing with all these guys and representing my hometown. I've been dressing out with most of these guys for 7 years and others for 11 years.
AOG:  What was your most memorable moment in high school football?
KNOX:  The most memorable moment for me was by far that first state championship my sophomore season. Taking down such a big time program like Buford and we were still a young team trying to find out what we were capable of was pretty awesome. The part that made it all so special was definitely being knowing that was the last time I would suit up with my brother and  seeing that stadium flooded with red, like I said there's nothing better than representing your hometown.
AOG:  What you advice would you give to a freshman who wants to go play college football?
KNOX:  The best advice I could give an incoming freshman that wants to play at the next level is this. Come in hungry and ready to work. You have to be willing to sacrifice time with your friends, parties, girls, etc. If you want to accomplish your goals, you have to live in the weight room, push yourself to limits you don't know you can go, be at every practice, and have that chip on your shoulder that you're the best player at your position in the country. Have that mindset that nobody else in the country is out working you.
AOG:  Most memorable football experience?
KNOX:  Honestly, we've had so many great memories together I couldn't pick a favorite. This was a special group of guys and I'm just thankful to have become so close and play with them. We've made lifetime memories and become one huge brotherhood.
AOG:  What are some qualities that you feel makes a successful student athlete?
KNOX:  To be a successful student athlete you have to be just as committed to your class work as you are to your sport. The first thing every coach I ever talked to asked me how are your grades. When your in the school building you have to be locked in on what the teacher is saying, take notes, and study just like you would in the film room with your position coach. 
AOG:  When it comes to your studies, what do you plan to Major in?
KNOX:  I plan to Major in either Pre-Med and later become an anesthesiologist.
AOG:  You've been a three sport athlete for a long time. Are you playing baseball this season?
KNOX:  I am doing baseball and track this season, I play center-field and pitch in baseball. Track I run the 400 and 4×400.
AOG: Now for the serious part. Favorite food, music, song.
KNOX: Fettuccine is definitely the favorite food, music honestly I love it all, I listen to Country, Hip Hop, R&B, Rock, a little Jazz. My favorite song I'd have to say is Rome, GA by TJ Cochran. He's a hometown man that made a hit song about Rome. I'll always play that to remind me where I came from.
AOG:  Virginia Tech has one of the most epic college football atmospheres and it all starts with the opening song. How cool is it going to be to run out to Metallica?
KNOX:  I get chills every time I think about it. Enter Sandman has always been one of my favorites and a song I have on my pregame list. I'm so fired up to come running out of that tunnel to it the first time!
AOG:  Who is your role model?
KNOX:  My biggest role model is my older brother Zach Kadum. If it wasn't for him I wouldn't be going to Virginia Tech I can promise you that. He's the reason I ever began to play football and the reason I'm the player I am today. Not a day went by he didn't push me to be the best person, brother, student, and player I could be. Seeing all his success really motivated me to strive for my goals more than ever these past two years without him home.
AOG:  As a student/athlete, what are some of your collegiate goals?
KNOX:  My goals are to of course become the starter, but simply to be the most selfless player on that team, become a leader of the program, be the best teammate I can be, best student I can be to get that paper in 4 years, and leave the rest in Gods hands.
AOG:  Looking beyond college, where do you see yourself in 10 years?
KNOX:  Obviously the dream is to be an NFL Quarterback. The backup plan is being an Anesthesiologist. Hopefully from there I'll be lucky enough to say I've found the right one and getting ready to start a family of my own.
AOG:  What do you enjoy doing outside of sports?
KNOX:  I spend a lot of my free time with teammates, whether it be enjoying time at the pool, bowling, enjoying some time down on Broad Street, or simply just a group of us hanging out at one of our houses cracking jokes playing on the PS4 or watching whatever sport is in season.
What is next?
Kadum will be joining the Hokies in the Fall but will spend a lot of time with Coach Cornelsen and other staff between now and the summer to familiarize him with the playbook. Becoming as comfortable as possible with a new staff, new teammates and a brand new offense will be key factors for Kadum and a Hokie team that finished 2018 with a 6-7 record, (4-4 ACC) and will be battling division foes Miami Hurricanes and Virginia with a key match up on November 16th as the Hokies face off against Georgia Tech and a Wolves reunion for Kadum and former teammate Jamious Griffin in Atlanta.
Only time will tell how Kadum's career on the field will play out but, for now, Hokie coaches and fans feel like they found recruiting steal by adding a third scholarship quarterback and natural-born leader to the Tech lineup.