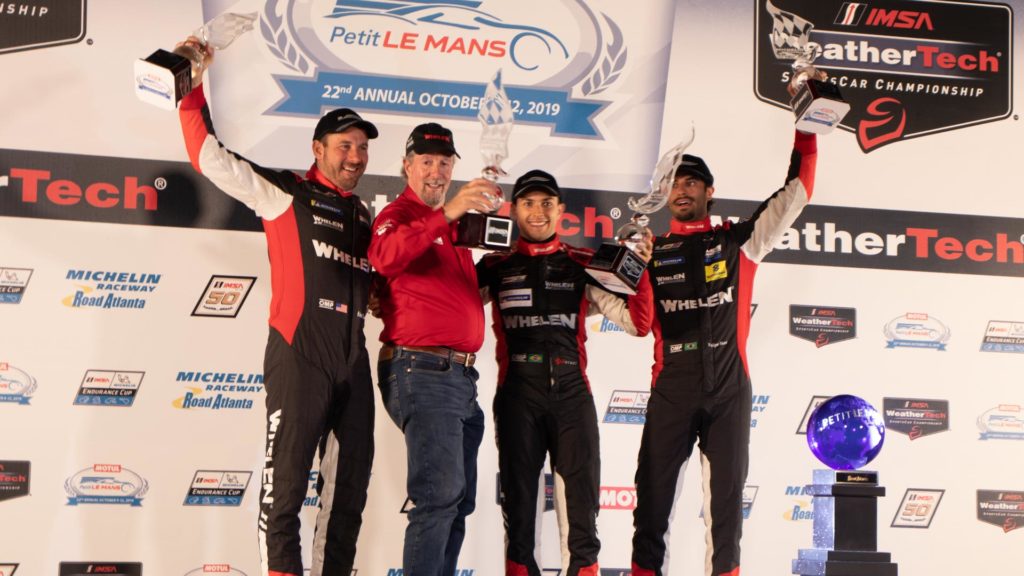 After leading for much of the ten hours of the 22nd Motul Petit Le Mans at Michelin, the #31 Whelen Engineering Cadillac DPi driven by Pipo Derani claimed victory in the closing moments of a record breaking race when brake issues befell its #5 sister car.

Much of ten hour endurance contest was run under green, however the race was slowed and the field brought back together under a safety car period with just under 40 minutes to go, after contact between the #63 Weathertech Ferrari of Cooper MacNeil and the #57 Acura NSX of Kaythrn Legg caused MacNeil to become stranded temporarily in a runoff area. During the safety car period. The #5 Cadilac DPi of Filipe Albuquerque gained track position by making a fuel only pit stop. However their hopes would be shattered when a left rear brake rotor failed with less than 15 minutes remaining in the race.  Deranni went on to edge out the second place Wayne Taylor Racing Cadillac of Jordan Taylor by just 0.996 seconds.
The Acura Team Penske entry of Jordan Taylor, Helio Castroneves, and Graham Rahal would claim third place. Their Team Penske sister car of Dane Cameron, and Juan Pablo Montoya would finish the race in 4th position and claim the team and driver's championship for Roger Penske.
The #62 Risi Ferrari of James Calado would hold on for the win in GT Le Mans, after regaining the lead in the closing hours of the race from the #67 Ford GT, that head led since inheriting the lead when it's sister car of Dirk Muller ran off track in turn one and lost 2 laps. The gap closed in the waning minutes of the race, with both Calado, and Ryan Briscoe exchanging fastest laps of the race for the respective cars. The #25 BMW of Rahal Letterman Lanigan Racing would claim third.
GT Daytona was won by the Turner Motorsports BMW of Bill Auberlen, followed by the Montaplast by Land Motorsports Audi R8 LMS, and the Porsche 911 of Pfaff Motorsports. 
This years running of Petit Le Mans set numerous records, as each class saw new lap records set in qualifying, and a new race lap record was set by each class. This year's running also sets a new distance record with the winning Whelen Engineering Car completing 465 laps, breaking the previous distance record of 443 set last year by Wayne Taylor Racing.