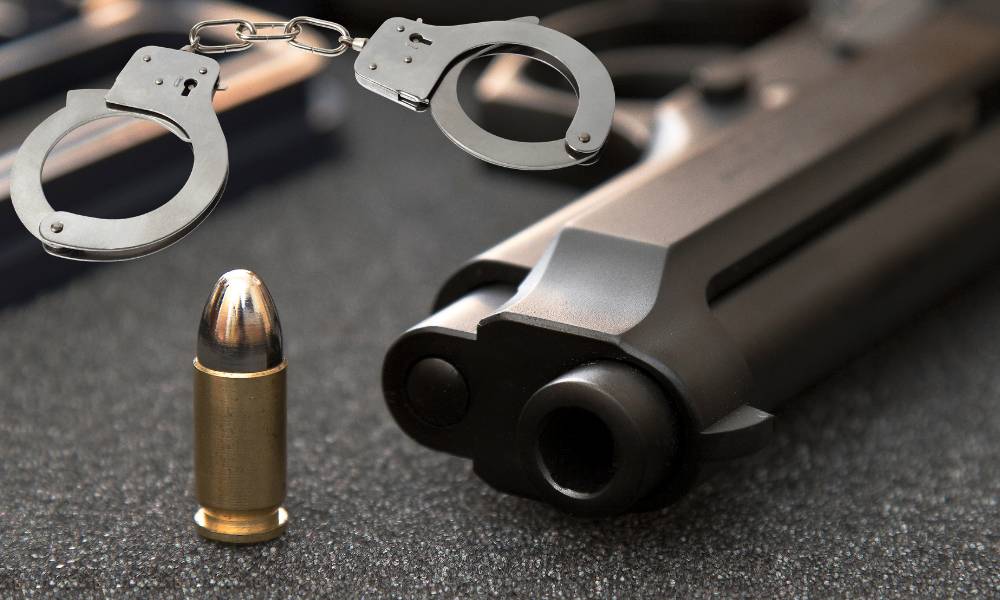 Since 2019, when Attorney General William P. Barr created the Department of Justice's first ever-Domestic Violence Working Group—galvanizing national efforts to bring federal firearms laws to bear against armed domestic abusers—federal prosecutors in the Northern District of Georgia have taken a multi-faceted approach uniquely tailored to the issues in Georgia.
"Keeping firearms out of the hands of dangerous criminal offenders is one of the Department of Justice's top priorities," said Attorney General Barr. "This is especially important when it comes to individuals with prior domestic violence convictions. The statistics are clear that when domestic violence offenders have access to guns, their partners and their families are at much greater risk of falling victim to gun violence. In fact, in some communities across America, roughly half of the homicides are related to domestic violence. The Department of Justice is committed to keeping guns out of the hands of those who are prohibited from having them, and we will continue investigating and prosecuting all domestic violence firearms related crimes."
"Georgia is one of only a handful of states in which it is not unlawful, under state law, to possess a firearm after a misdemeanor domestic violence conviction," said U.S. Attorney Byung J. "BJay" Pak.  "Similarly, Georgia law does not prohibit firearm possession after the entry of a domestic violence protection order. Federal law, however, makes it a felony to possess a firearm under both circumstances. Federal prosecution of armed offenders with a track record of domestic violence provides an opportunity to prevent additional violence before it occurs."
"According to the CDC, data suggests that about one in six homicide victims are killed by an intimate partner," said ATF Acting Director Regina Lombardo. "Nearly half of female homicide victims in the U.S. are killed by a current or former male intimate partner. ATF is committed to aggressively pursuing prohibited possession of firearms due to domestic violence convictions and certain protective orders. It is another way we prevent violent gun crime within our communities."
The situation in Georgia is particularly grave. Firearms were the cause of death in 73 percent of domestic violence fatalities. Tragically, the problem is not a new one.  According to the Georgia Commission on Family Violence, from 2010–2017, at least 758 Georgians died from a firearm in domestic violence-related incidents.
In addition to serving on the national working group and overseeing federal prosecutions in the Northern District of Georgia, U.S. Attorney Pak has endorsed a broad-based effort prioritizing training for local partners and promoting community awareness, which included a virtual community forum on Firearms and Domestic Violence on October 14, 2020.
U.S. Attorney Pak presented the forum moderated by CBS46 anchor Karyn Greer, which included discussions with DeKalb District Attorney Sherry Boston; Janet Paulsen, a survivor of domestic violence; Dr. Lauren Hudak, a doctor of Emergency Room medicine at Grady Memorial Hospital; Sharla Jackson, statewide domestic violence training coordinator for the Prosecuting Attorney's Council of Georgia; and Brian Johnston, Assistant Special Agent in Charge, Georgia Bureau of Investigation.  To listen to the archived forum, please visit our website found at https://www.justice.gov/usao-ndga/project-guardian.  Additional information about federal firearms prohibition related to domestic violence is also provided via the above link.
If you or someone you know is being abused, there are community and statewide resources available to you. Call the toll-free, 24-hour hotline for a confidential place to get help and find resources. 1-800-33-HAVEN (1-800-334-2836).
The U.S. Attorney's Office's efforts concerning firearms and domestic violence are part of two national Department of Justice programs concerning firearms violations and violent crime:  Project Guardian and Project Safe Neighborhood (PSN).