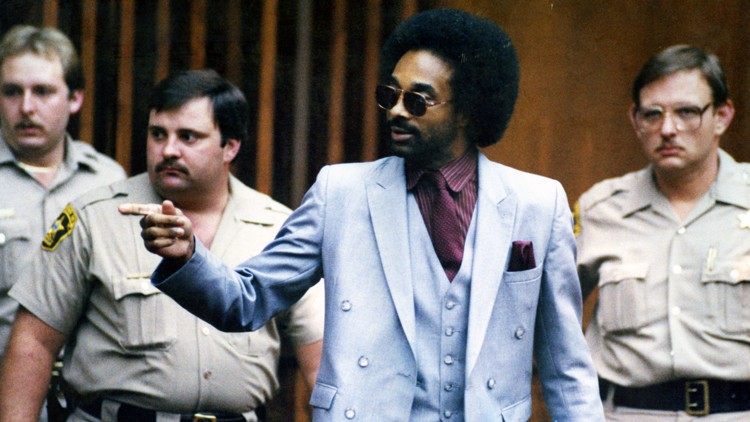 Even now, Carlton Gary seems to be in every shadow.
Before we saw his face or knew his name we felt him lurking in dignified trees high above Wynnton, looking down on a frightened neighborhood where lawmen wearing a variety of uniforms were running around like chickens in a storm.
We watched him strut into our aging police headquarters on the night he was brought to town after his arrest in Albany, Ga. We saw him flirt with an attractive TV reporter from WTVM-TV as detectives walked him down a crowded hallway.
We saw him sport fashionable new suits every day of his trial and noticed the platoon of women who came to court hoping he might throw a smile at them.
We heard a jury announce that he was guilty of the murder, rape and burglary of three older women who lived among us … and after that jury's work was finally done, Carlton Gary was sentenced to die in Georgia's Electric Chair.
That was 1986. Now it's 2018.
Like the rest of us, Carlton Gary has aged, but the events of the next two days will determine whether this is his time to die. As it stands, his execution — now by lethal injection — is set for 7 p.m. on Thursday at a state prison in Jackson, Ga.
Appeals are still being sought. Defense attorneys are trying to get the case before the U.S. Supreme Court. On the schedule Wednesday is a Clemency Hearing in Atlanta at 10 a.m. Members of the Pardons and Parole Board will hear from Gary's team of supporters in the morning. In the afternoon, prosecutors, lawmen and members of the victims' will be heard.
Bill Smith will be part of the group. He became the Chattahoochee Circuit's District of Attorney in 1978 in the throes of a dramatic a dramatic change of culture brought on by a criminal who would become known as the Stocking Strangler. Smith's mother lived near the DA and his family. At the time, no one knew there was a serial killer in their midst. But it soon became fearful enough for Smith to move his widowed mother into his house in Wynnton — never realizing this would be a case that he would follow for the rest of his career.
Jim Wetherington will also be part of the group. When nine women were killed and raped in 1977 and 1978, he was Commander of the Patrol Division, directing officers from the police department, sheriff's office, the GBI and the State Patrol as they kept watch on Wynnton.
"It was a tough time for Wynnton and Columbus," Wetherington says. "And it was the worst thing I ever experienced during my time in law enforcement."
By the time Gary was arrested in 1986, Wetherington was the Chief of Police, presiding at an impromptu news conference as a swarm of detectives came in the front door of headquarters with the suspect in shackles.
In 1995, Wetherington was appointed Chief of the State Pardons and Parole Board by Gov. Zell Miller and four years later  Gov. Roy Barnes appointed him Commissioner of the Department of Corrections, a position he held until 2003.
Among the hundreds of prisoners behind bars on Commissioner Wetherington's watch: Carlton Michael Gary. Inmate No. 0000418413.