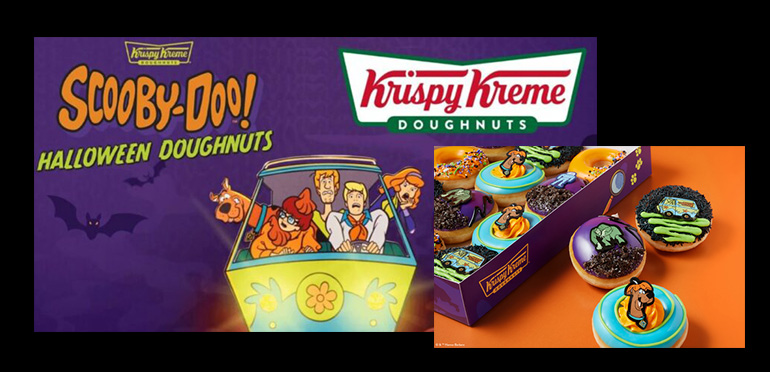 Ruh-Roh! Krispy Kreme® and Warner Bros. Discovery Global Consumer Products, are bringing mystery and monsters to life this Halloween in a first‑ever unveiling of the all‑new Scooby-Doo™ Halloween Dozen.

Beginning today, fans can head to participating Krispy Kreme shops across the U.S. to grab a Scooby-Doo™ Halloween Dozen, which comes in a limited-edition custom Scooby-Doo dozens box and features new doughnuts perfect for any event, gathering or adventure this Halloween season:
Scooby Dooby-Doo Doughnut: An Original Glazed® doughnut dipped in Scooby-Doo™ blue icing, decorated with Scooby-Doo™ lime green icing swirls, orange cake batter buttercream, and topped with a Scooby-Doo™ chocolate piece.
Mystery Machine Doughnut: An Original Glazed doughnut dipped in chocolate icing and chocolate sprinkles, decorated with Scooby-Doo™ lime green icing and a Mystery Machine™ chocolate piece.
Spooky Monster Cookies N' Kreme Doughnut: A doughnut filled with Oreo® Cookies n' Kreme™ filling, dipped in Scooby-Doo™ purple icing, decorated with Oreo® pieces, black chocolate icing, and a Scooby-Doo™ monster chocolate piece.
Jinkies! Halloween Orange Sprinkle Doughnut: An Original Glazed doughnut dipped in orange icing and decorated with a spooky Halloween sprinkle blend.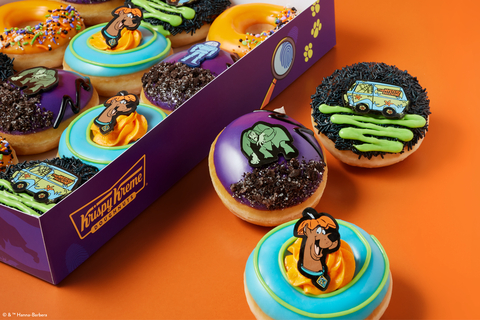 "We've asked Scooby-Doo™ and his friends to solve 'The Case of the Disappearing Doughnuts' because it seems like whenever we put out a dozen Krispy Kreme doughnuts, they vanish almost immediately," said Dave Skena, Global Chief Brand Officer for Krispy Kreme. "Scooby‑Doo™ is the perfect franchise this Halloween season for a fun collection of all-new doughnuts and to solve this spooky mystery."
Krispy Kreme's Scooby-Doo™ Doughnuts are available in-shop and for pickup or delivery via Krispy Kreme's app and website.
Guests can also get into the spooky spirit at Krispy Kreme this Halloween season on Friday, Oct. 13, receiving an Original Glazed dozen for just 13 cents when they purchase any dozen at regular price.
And to make the Halloween season even more Scoob'tastic, Krispy Kreme is offering guests who wear any Halloween costume to participating shops Oct. 31 a FREE doughnut of choice, no purchase necessary.
Doughnut and Scooby-Doo™ fans can also find a limited time Krispy Kreme 6-pack featuring the Scooby Dooby-Doo Doughnut, Mystery Machine Doughnut and Chocolate Iced with Halloween Sprinkles Doughnut delivered fresh daily to select grocery stores. The doughnut assortment is available at many local Walmart, Kroger, Food Lion, Publix, Stater Brothers, Wakefern and more stores. Visit WWW.KRISPYKREME.COM/LOCATE/LOCATION-SEARCH#GROCERY to find a shop or grocery store location near you.
Share how you're enjoying Krispy Kreme's new Scooby-Doo™ Halloween Dozen by using #KrispyKreme, #Scoobtober and tagging @krispykreme on social media. Learn more about Krispy Kreme's Halloween offerings by visiting KRISPYKREME.COM/PROMOS/HALLOWEEN.
---
About Krispy Kreme
Headquartered in Charlotte, N.C., Krispy Kreme is one of the most beloved and well-known sweet treat brands in the world. Our iconic Original Glazed® doughnut is universally recognized for its hot-off-the-line, melt-in-your-mouth experience. Krispy Kreme operates in over 30 countries through its unique network of fresh doughnut shops, partnerships with leading retailers, and a rapidly growing Ecommerce and delivery business with nearly 12,000 fresh points of access. Our purpose of touching and enhancing lives through the joy that is Krispy Kreme guides how we operate every day and is reflected in the love we have for our people, our communities and the planet. Connect with Krispy Kreme Doughnuts at WWW.KRISPYKREME.COM, or on one of its many social media channels, including WWW.FACEBOOK.COM/KRISPYKREME and WWW.TWITTER.COM/KRISPYKREME.
Warner Bros. Discovery Global Consumer Products
Warner Bros. Discovery Global Consumer Products (WBDGCP),part of Warner Bros. Discovery Global Brands, Franchises, and Experiences, extends the company's powerful portfolio of entertainment brands and franchises into the lives of fans around the world. WBDGCP partners with best-in-class licensees globally on award-winning toy, fashion, home décor and publishing programs inspired by the biggest franchises from Warner Bros.' film, television, animation, and games studios, HBO, Discovery, DC, Cartoon Network, HGTV, Eurosport, Adult Swim, and more. With innovative global licensing and merchandising programs, retail initiatives, and promotional partnerships, WBDGCP is one of the leading licensing and retail merchandising organizations in the world.
SCOOBY-DOO and all related characters and elements © & ™ Hanna-Barbera. (s23)
---
Source: Krispy Kreme