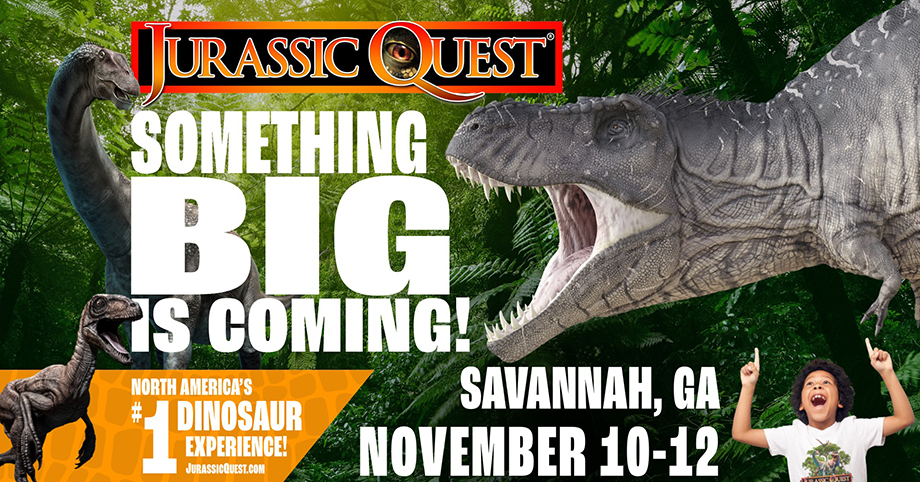 Jurassic Quest, the nation's largest and most realistic dinosaur experience, will make a tour stop in Savannah November 10 – 12, at the Savannah Convention Center.

Friday, November 10  9:00 am – 8:00 pm
Saturday, November 11 9:00 am – 8:00 pm
Sunday, November 12, 2023 9:00 am – 7:00 pm
The next stop in Georgia will be January 26 – 28, 2024 at the Cobb Galleria Centre in Atlanta.
Jurassic Quest is the largest and most realistic touring dinosaur event in North America. Since 2013, Jurassic Quest has been touring epic dinosaur experiences treating millions of people across North America to an as-close-as-you-can-get look at the giants that ruled the Earth and sea millions of years ago. Developed with leading paleontologists, each dinosaur has been painstakingly replicated in every detail including the most realistic likenesses, movement and sound. Whether their prehistoric counterpart had skin that was scaly, feathers or fur, Jurassic Quest has spared no expense in bringing the dinosaurs to life. Jurassic Quest sold more than one million tickets in 2019, and hosted more than 2.5 million fans at its Jurassic Quest Drive Thru beginning in 2020. Jurassic Quest now operates three touring versions of its classic indoor event, welcoming fans in 41 states and four provinces in the U.S. and Canada over the past year. For more information and tickets visit www.jurassicquest.com.