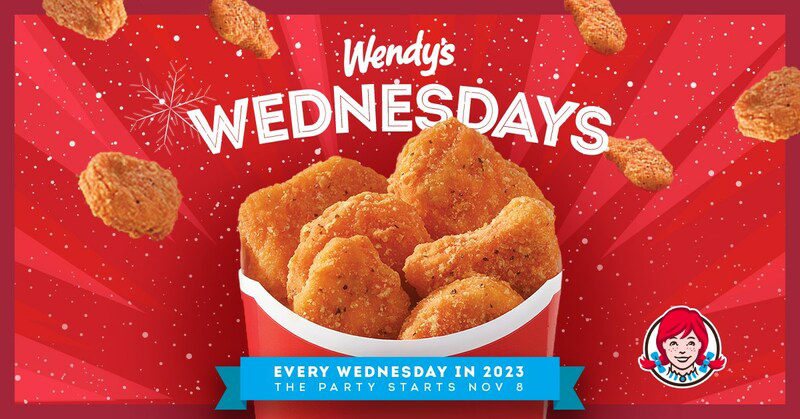 Wendy's is bringing nuggets of joy and holiday cheer every Wednesday for the rest of the year

Wendy's® is delivering the gift of warm nuggs across the country this holiday season. Starting today, Wendy's is offering an in-app FREE six-piece nuggets offer with ANY purchase* every Wednesday through 2023.
WHERE & WHEN:
Beginning Wednesday, November 8th, crack open the Wendy's app and find your gift of freesix-piece nuggets every Wednesday until the end of the year with purchase with the Wendy's app. Yes, that is eight weeks of Wendy's Wednesdays heating up the holiday season.
HOW:
Simply redeem the Wendy's Wednesday offer in-app or online, or scan the digital Wendy's Rewards offer code in restaurant. Time to dust off those festive holiday sweaters and head to Wendy's every Wednesday in 2023 for another reason to celebrate the holidays. Free-la-la, free-la-la-la-la-la.
WHY:
Fans are looking for the hottest holiday deals, the deal that can't be beat – and Wendy's is answering with the hottest gift of the season. America's favorite redhead is spreading the holiday spirit and helping fans beat the holiday slump with free Chicken Nuggets every hump day. Whether you like your nuggets classic or spicy, paired with one of our savory dipping sauces or perfectly plain, Wendy's Chicken Nuggets deliver with 100% white-meat chicken breaded to crispy perfection. Now this is some holiday cheer we can all get behind!
---
SOURCE The Wendy's Company