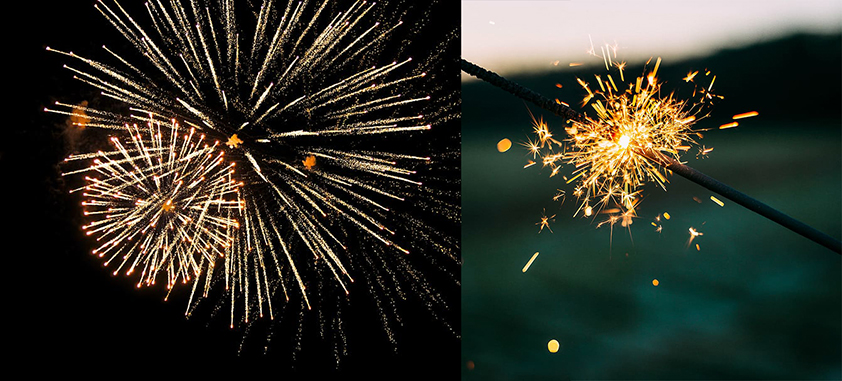 Be safe and follow the law when celebrating Independence Day with fireworks.

Between 2006 and 2021, firework related injuries increased by 25%. In 2021, an estimated 11,500 people were injured in incidents involving fireworks and at least 9 were killed. A majority of firework related incidents occur during Fourth of July Celebrations, and a significant amount occurs during the New Year's holiday.
Georgia Insurance and Safety Fire Commissioner John F. King offers the following safety tips for using legal fireworks:
Always read and follow label directions
Only use fireworks outdoors
Never experiment or attempt to make your own fireworks
Only light one firework at a time
Never re-ignite malfunctioning fireworks
Fireworks should only be used with close adult supervision
Never give fireworks to small children
Be sure to have water handy
Never throw fireworks at another person
Remember to call your local 911 for emergencies
Georgia Law Pertaining to Fireworks:
Dates and Times:
Rule 120-3-22-.13 Use of Fireworks
Consumer fireworks may be used, ignited, or caused to be ignited on any day between the hours of 10:00 A.M. and 11:59 P.M. unless during such times the noise from such use or ignition is not in compliance with a noise ordinance of a county or municipal corporation.
Exception 1: Consumer fireworks may be used, ignited, or caused to be ignited on January 1, the last Saturday and Sunday in May, July 3, July 4, the first Monday in September, and December 31 of each year after the time of 10:00 A.M. and up to and including the time of 11:59 P.M.; and on January 1 of each year beginning at the time of 12:00 Midnight and up to and including the ending time of 1:00 A.M.
Exception 2: After having obtained a special use permit as provided for in O.C.G.A. § 25-10-2(a)(3)(D).
Rule 120-3-22-.14 Unlawful Activity
| | |
| --- | --- |
| (1) | It shall be unlawful to use fireworks, consumer fireworks, or any items defined in paragraph (2) of subsection (b) of Code Section 25-10-1 indoors or within the right of way of a public road, street, highway, or railroad of this state. |
| | |
| --- | --- |
| (2) | It shall be unlawful for any person, firm, corporation, association, or partnership to sell or offer for sale consumer fireworks at a consumer fireworks retail sales facility, consumer fireworks retail sales store or a temporary consumer fireworks retail sales stand or wholesale distribution facility without maintaining the appropriate license. |
| | |
| --- | --- |
| (3) | It shall be unlawful for any person, firm, corporation, association, or partnership to sell consumer fireworks or any items defined in paragraph (2) of subsection (b) of Code Section 25-10-1 to any person under 18 years of age. |
| | |
| --- | --- |
| (4) | It shall be unlawful to sell consumer fireworks from any motor vehicle or from a trailer towed by a motor vehicle, or from a tent, canopy, or membrane structure. |
| | |
| --- | --- |
| (5) | It shall be unlawful for any person under 18 years of age to use or ignite or cause to be ignited or to possess, manufacture, transport, or store consumer fireworks, except that it shall be lawful for any person who is 16 or 17 years of age to possess or transport consumer fireworks, provided that such person is serving as an assistant to a distributor selling consumer fireworks from a temporary consumer fireworks retail sales stand or the nonprofit group directly participating in the operation of a temporary consumer fireworks retail sales stand and is not transporting such consumer fireworks on a highway which constitutes a part of The Dwight D. Eisenhower System of Interstate and Defense Highways. |
| | |
| --- | --- |
| (6) | It shall be unlawful to release or cause to be released any balloon, bag, parachute, or other similar device which requires fire underneath for propulsion or to release or cause to be released any floating water lantern or wish lantern which uses a flame to create a lighting effect in any public waterway, lake, pond, stream, or river. |