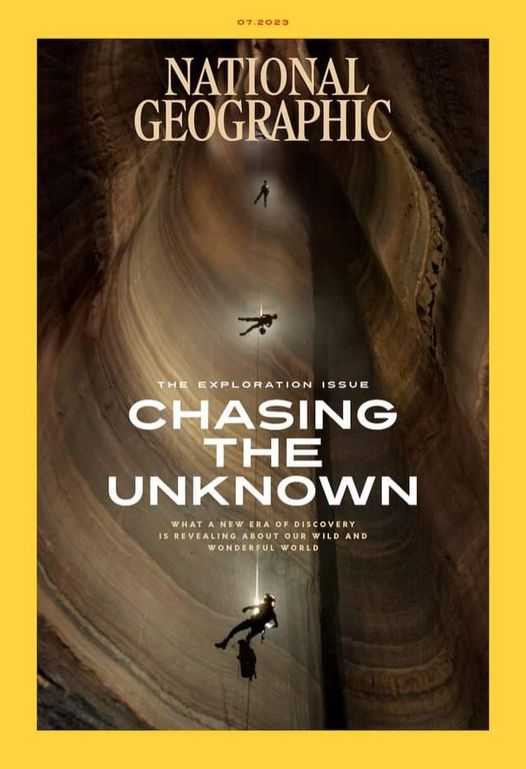 Recently I met a couple in Florida, explaining where I was from, "the corner where Georgia, Alabama and Tennessee meet."

The lady immediately said, "oh, up there with all the spelunking."
Turns out she was not alone in knowing about the exploration of caves, especially as a hobby in Northwest Georgia.
All 6.7 million global readers in forty languages of National Geographic magazine now know about spelunking in Walker County.
July's National Geographic cover featured a composite image shot in Ellison's Cave in Pigeon Mountain, Georgia, the deepest freefall pit in the United States.
How did the photographer get such an epic picture? 
Stephen Alvarez, the photographer, explains how he made the remarkable image: "I dropped 600 feet of rope from the top of the cave, then rappelled down, using clothespins to mark where I wanted John to stop and fire magnesium flashbulbs. I set up my cameras, and John began to descend. Since I couldn't see him coming down, we communicated through walkie-talkies. When he reached a clothespin, he'd let me know, then I'd shout, 'One, two, three … fire!' and he'd set off the light while I snapped my shutter. We did that six times."
For his part, John Benson, who's featured in the shot, says, "I had to lie back away from the rope to create a better silhouette, and I closed my eyes for each shot because the flashbulb that I was firing was so bright, which was a little disconcerting considering I was suspended 500-plus feet on a thin 10mm rope. Most importantly, I just wanted to ensure I didn't mess up the shot."
Ellison's Cave is located in the Crockford-Pigeon Mountain Wildlife Management Area.
The Crockford-Pigeon Mountain Wildlife Management Area, designated by the Georgia Department of Natural Resources as a conservation area, is a key part of the recreational activities in Walker County. Covering 20,000 acres, the conservation area provides opportunities for caving, camping, hiking, horseback riding, rock climbing, and endless other adventures.
---
*While there is no admission price for exploring the management area, a Go Outdoors Georgia Hunting, Fishing or Lands Pass license is required for most age groups.
Residents can purchase a one day Hunting/Fishing combo online for $5 (this is the cheapest option if you plan to partake in outdoor recreation on WMA property, even if you don't plan to hunt or fish). Tourist can purchase a one day fishing pass for $10.
**Ellison's Cave is a dangerous cave and should be left to experienced spelunkers to explore.
via: WalkerRocks