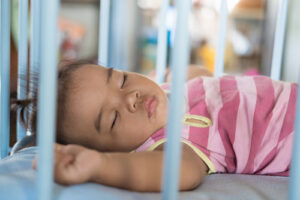 The Chatham County Health Department will offer several Safe Infant Sleep classes beginning Thursday, April 7. The goal of the class is to help educate pregnant women and parents of newborns about creating a safe sleep environment for their babies.

Sessions will take place at the health department's main clinic at 1395 Eisenhower Drive and will be limited to 10 participants per class. Registration is required.
The class is open to:
Pregnant women in their third trimester, and
Parents with an infant one-year-old or younger.
Each eligible participant will receive a free portable crib at the conclusion of class. Only one registration per family is permitted.
Classes will be offered at the following days and times – you only need to attend one class to complete the course, and classes take less than an hour:
Thursday, April 7, 6:00 pm
Thursday, May 5, 6:00 pm
Thursday, June 2, 6:00 pm
---

Registration:
Click the button below to register for one of the Safe Infant Sleep classes.
"There are a lot of evidence-based practices that help reduce the risk of infant sleep-related deaths," said Chatham County Health Department Nurse Manager, Sierra Peebles. "We want parents and parents-to-be to have all the tools possible to make informed decisions about safe sleep practices."
The Safe Infant Sleep initiative is being funded by the Georgia Department of Public Health Injury Prevention Program.
Reminders About Safe Infant Sleep:
Place your baby on his or her back for all sleep times—naps and at night. Babies who sleep on their backs are much less likely to die of SIDS than babies who sleep on their sides or stomachs.
Use a firm, flat sleep surface, such as a mattress in a safety-approved crib covered only by a fitted sheet. A firm sleep surface helps reduce the risk of SIDS and suffocation.
Keep your baby's sleep area (for example, a crib or bassinet) in the same room where you sleep until your baby is at least 6 months old, or ideally, until your baby is one year old. Accidental suffocation or strangulation can happen when a baby is sleeping in an adult bed or other unsafe sleep surfaces.
Keep soft bedding such as blankets, pillows, bumper pads, and soft toys out of your baby's sleep area. Additionally, do not cover your baby's head or allow your baby to get too hot.
Learn more about creating a safe sleep environment for baby in your home by exploring this Interactive Safe Sleep Environment Tool from Safe to Sleep®.
---
Georgia Department of Health Coastal Health District