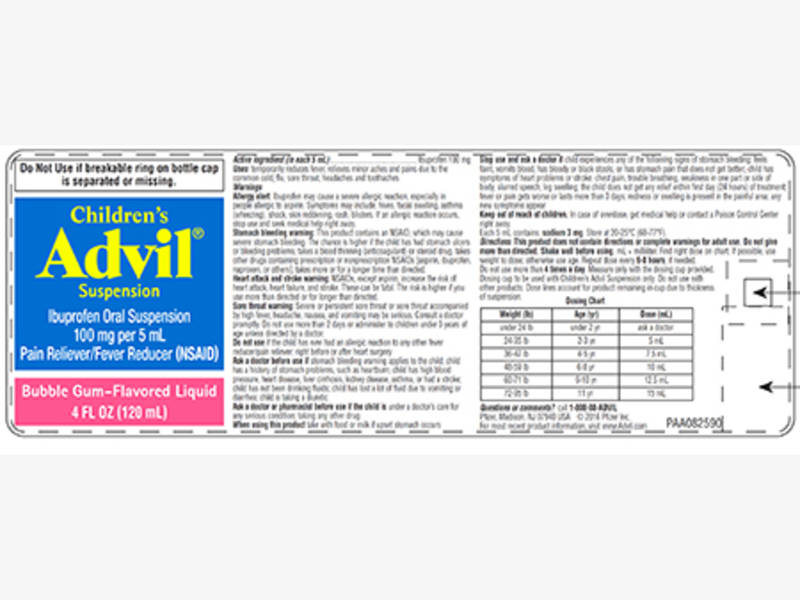 New Jersey drug manufacturer recalls nearly 28,000 bottles of the company's pain reliever for kids
Health officials say parents need to check the labels of the Advil in their medicine cabinets and double check labels before purchasing them in the store.
Pfizer has recalled 28,000 bottles of its bubble-gum flavored Children's Advil, citing incorrect markings on the dosage cup may cause some children to overdose. The company said the cup markings are in teaspoons and the instructions on the label are in milliliters, the company said.
Children have had upwards of five times the amount necessary as one teaspoon contains about 5 milliliters.
Pfizer Consumer Healthcare, a division of Pfizer Inc., said one lot of the 4-ounce bottles of bubble-gum flavored Children's Advil Suspension were distributed nationwide in May and June.
Bottles recalled have a November 2020 expiration date, the marked code R51129 and a UPC number 3-0573-0207-30-0.
Children's Advil is used to treat fevers and minor pain relief from conditions like colds, flu, sore throat, headaches and toothaches. The most common symptoms associated with ibuprofen overdose include nausea, vomiting, headache, drowsiness, blurred vision and dizziness.
Pfizer told officials and the media that wholesalers, distributors and retailers have been contacted and told to stop distributing the product.