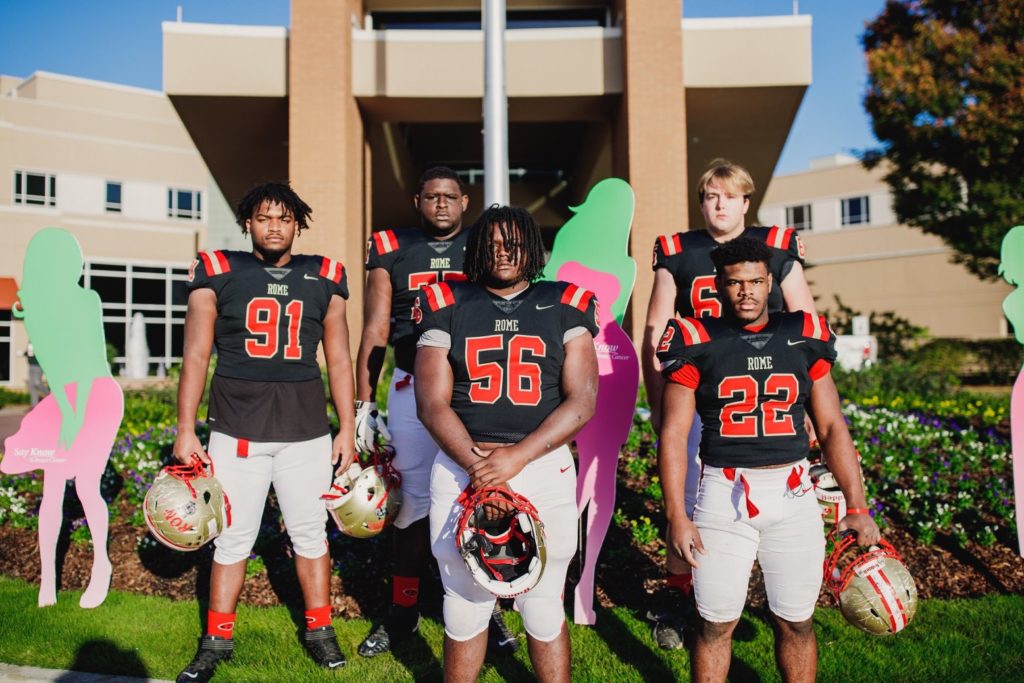 John Reid, head football coach at Rome High School, has asked his players and staff to organize a fundraiser aimed at helping his players understand what wearing pink is really all about.

October is Breast Cancer Awareness Month, and each player has been tasked with raising money in their community, with the team's booster organization providing matching funds. During the homecoming celebration at Barron Stadium this weekend, Rome City Schools will present a check to The Breast Center at Floyd that will add to the roughly $6,000 the team has raised since starting the fundraiser.
The money goes to a scholarship program for women who cannot afford to get screening mammograms at The Breast Center at Floyd.
"Our community has been so generous to our players," said Reid, who is also Rome City Schools athletic director. "We want them to understand that you reap what you sow. Our goal is to create a culture of giving back. We ask them all to go out and at least raise $10 and that is the minimum contribution."
Julie Reid, Coach Reid's wife, Director of Reading Incentive and Athletic Assistant for RCS, said the players are assigned teams and captains for this fundraiser.
"The captains collect the funds raised from their teams. Then, the captains give the donations to their coaches, and we make one final check to present at our homecoming game played to raise awareness of breast health and the importance of early detection," she said.
Several players have connections with aunts, mothers or grandmothers that have battled breast cancer, she added.
"Floyd does such a great job of sponsoring us and helping us out, and they have a wonderful program that highlights the importance of breast cancer awareness," Julie Reid said. "So, we think our players need to understand what wearing pink means. They have to earn the pink sticker for their helmets. Community service is the real reason for them wearing pink."
Floyd Medical Center partners with Rome City Schools to provide support for various programs throughout the school system. Representatives from Floyd are present at sporting events to promote wellness and keep the Wolves healthy and safe.
During last week's away game at East Paulding, one of the Raiders went down with an injury. Coach Reid was the first on the field to check on the young man, and just steps behind him was Floyd's Athletic Trainer Chad Wilson.
"When we work with Floyd, it is a true partnership," he said. "We went in with the idea of how we can support them and Floyd, in turn, has shown support for our programs and our events. They have been a key partner in all that we do, and we want to show our appreciation."