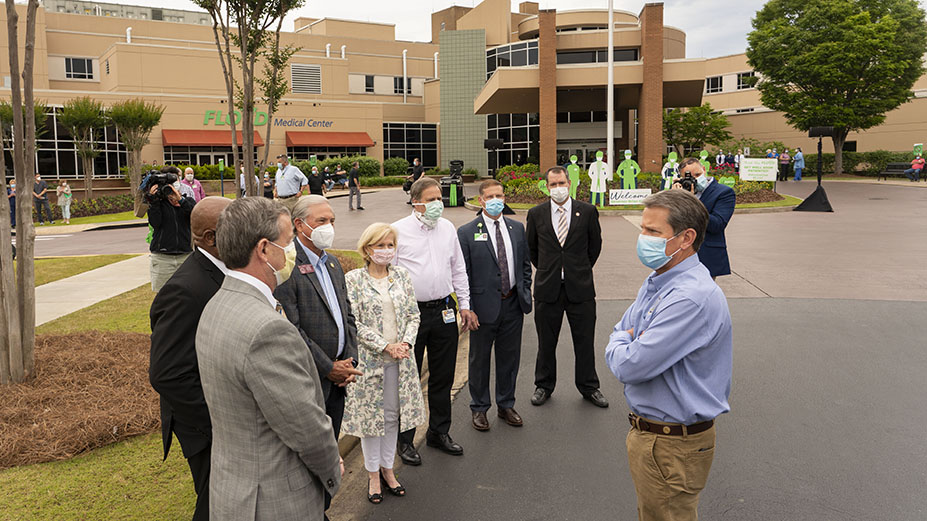 Gov. Brian Kemp praised Floyd Medical Center's efforts to battle the COVID-19 pandemic during his visit to the hospital on Wednesday.

"This is a great Georgia success story," Kemp told the crowd. "I could not be more proud, first of all for the team here, the medical professionals, the doctors, the nurses, the people doing the everyday work in the hospital, and every person who has been working on the supply chain. There has been an unimaginable amount of movable parts and scenarios that all of us in the state have been dealing with. I am very grateful for the team."
Kemp's comments came following a tour of a 20-bed mobile unit, donated to the hospital by the Georgia Emergency Management Agency, and100-bed field hospital Floyd created on the first floor of the two-story parking deck on its campus.
"You are seeing innovation, quite honestly, at its best in our state and across our country and even right here in Floyd County," Kemp said. "Seeing today a  100-bed unit in the parking deck really shows how forward thinking this group has been and quite honestly how forward thinking our state has been in a number of ways."
Floyd President and CEO Kurt Stuenkel thanked Kemp for taking proactive steps to protect the citizens of the state. Several hospitals across Georgia have been provided the mobile units from GEMA in case they need the extra bed space.
"Thank you, governor. We have this 20-bed unit here because of your foresight," Stuenkel said. "We have always taken our responsibility to provide care for our region very seriously. And we agree with you 100 percent; we hope don't ever need them."
Kemp urged the public to continue following the social distancing and handwashing guidelines issued by the Georgie Department of Public Health, stressing that cooperation from the public will be necessary as the state continues to open the economy.
​"On behalf of all of Georgia we want to say thank you to all of you at the hospital who have been doing the yeoman's work. We are a grateful state and I know our nation is grateful as well," Kemp said.
FMC press release