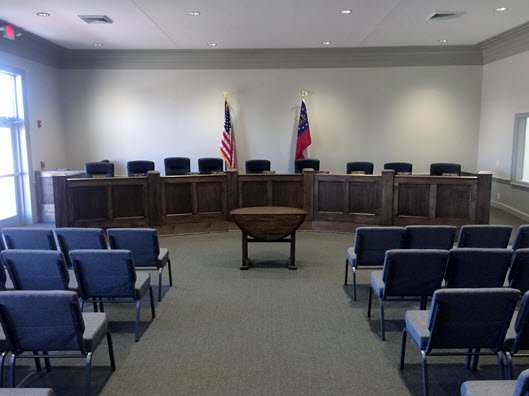 Following a series of community-based complaints over concern that some employees of the City of Claxton may be collecting retirement benefits while working full-time with the City of Claxton, AllOnGeorgia filed an open records request on the matter on Friday, June 3, 2016.


The request was filled Monday, June 6, 2016 and listed nine City of Claxton employees who are currently working full-time and also collecting their retirement benefits. The number is alarming because the City of Claxton only employs 28 people, meaning nearly one third of its employees are "retired" full-time employees. In Claxton, employees are eligible to collect retirement after 25 years of service with the city but no formal policy is in place to prevent employees from collecting retirement and working full-time. Additionally, no policy is in place to prevent continued contributions to retirement while retirement is being collected. Of most concern, however, is the notion that there does not appear to be any Human Relations (HR) personnel in place to evaluate these procedures and practices and the oversight of these practices is currently conducted by a full-time employee collecting retirement.
Of most concern is the lack of retirement procedure in place. The current operations permit an employee to remain on the job and declare retirement. Essentially, "retiring" is simply an administrative word used to allow the declaration of intent to collect retirement benefits. There is no interruption, change, or hiatus with employment
At Monday night's regularly scheduled council meeting, this matter was brought to the attention of the Claxton City Council and Mayor Branch. At that time, AllOnGeorgia referenced previous records requests of salaries with the city which indicate that, with combined salaries, reimbursements, and retirement benefits, some employees are making upwards of $150,000 annually.
After the presentation of the information to council, City Administrator Gayle Durrence said the practice saves the City a great deal of money, while other members of the Council noted the matter would be looked into further. An open records request has been filed by AllOnGeorgia inquiring to the full amounts the nine employees are pulling retirement.
The City of Claxton is currently undergoing an audit by Statesboro auditor Richard Deal.
There will be a public hearing on the upcoming budget on June 22 at 6:00 P.M. at City Hall.