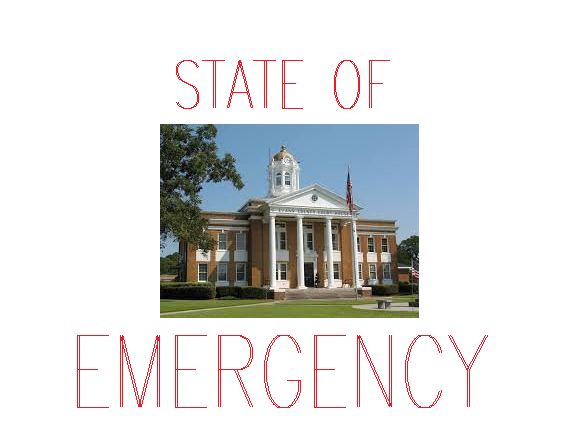 This article has been corrected to account for conflicting resolutions provided initially.


The Evans Board of Commissioners held a called meeting via Zoom video services Monday morning for the purposes of discussing a number of COVID-19 pandemic related items. 
Based on votes cast during the meeting, Evans County is now under a local state of emergency declaration.
Present on the call were all six Evans County Commissioners, County Administrator Casey Burkhalter, County Clerk Leah Edwards, EMA Director Mac Edwards, County IT Director John Benton, and Claxton Mayor Terry Branch. The media was invited to listen in when the meeting was announced last week 
Chair of the Commission Irene Burney read the resolution but nearly the entire reading of the declaration was mostly inaudible due to poor sound quality. A motion was made by Commissioner Shela Holland, seconded by Commissioner Brian Croft, and passed unanimously. The meeting adjourned shortly thereafter at 10:13 a.m.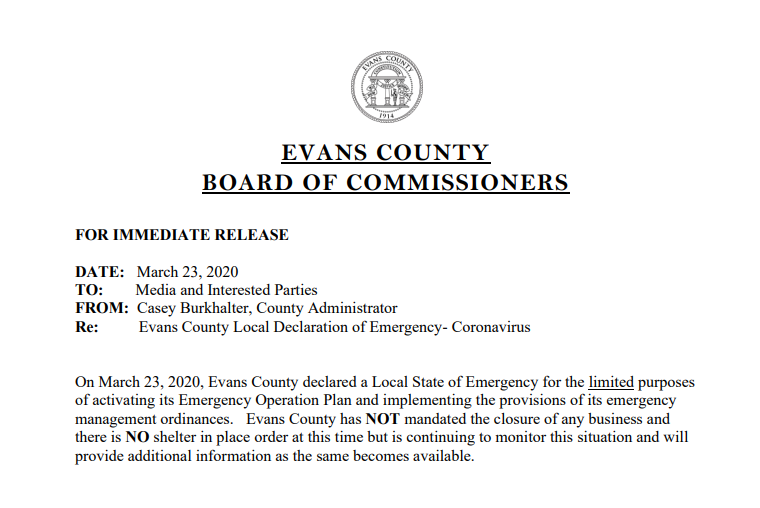 The county notes that though there are not presently any confirmed cases of COVID-19 in Evans County, professionals are encouraging local officials to act now to avoid great strains on resources. The county consulted with municipalities and determined emergency circumstances exist to the degree that "extraordinary and corrective actions" are necessary.
Governor Brian Kemp is expected to hold a press conference Monday evening, which will offer local and county governments more guidance on what to do. It is expected at that time that the county will adopt an additional resolution with more restrictions, if necessary. The draft of that resolution at the bottom of the article.
You can read the complete declaration from Monday below (first document). The second document is a memo from the commissioner's office. The draft resolution for consideration after Kemp's announcement is at the bottom in document three.
03.23.20 Delcaration of Local Emergency

COVID-19-Memo-3-17-20

---
DRAFT RESOLUTION that is not in effect at this time:
COVID 19 Emergency Declaration Draft