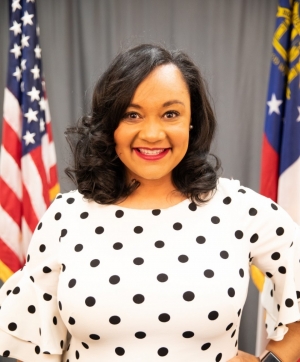 An accomplished Georgia State Senator that also holds the title as the Chair of the Democratic Party of Georgia is set to speak the Fall Commencement Ceremony for East Georgia State College.

Senator Nikema Williams serves the 39th Senate District in Georgia, which encompasses Atlanta, East Point, College Park, Union City and South Fulton. In the Georgia Senate, she's a member of the Economic Development and Tourism, Retirement, State and Local Government Operations, Urban Affairs, and Special Judiciary committees.
According to a press release from East Georgia, Williams has also served as:
Chair of the 13th Congressional District, 1st Chair of the Fulton County Democratic party and as a delegate for Georgia in the 2008 and 2012 Democratic National Convention. She has also served as the National Committeewoman for the Young Democrats of Georgia and was named a Woman of Influence in 2011 by the Atlanta Business League.
Sen. Williams is currently the Deputy Political Director at National Domestic Workers Alliance (NDWA) and the Georgia State Director at Care in Action, the advocacy and political arm of NDWA. She was recently elected as the first African American woman to be Chair of the Democratic Party of Georgia. Sen. Williams has been recognized as one of Georgia Trend Magazine's Forty under Forty, Power 30 Under 30, Outstanding Atlanta, and Who's Who in Black Atlanta. She is a graduate of Lead Atlanta, New Leaders Council and the Women's Campaign School at Yale.
The college also said the Alumni speaker will be John Allen Bailey and the student representative will be Megan Bryant. Bailey, is a resident of Swainsboro and attended EGSC when it was known as Emanuel County Junior College. He went on to get his master's from the University of Georgia and taught agriculture at Emanuel County Institute and now serves on the Emanuel County Board of Education. Bryant is a 19-year-old native of Reidsville and daughter of Phyllis Gaffney. She is currently a sophomore at East Georgia State College and is majoring in nursing
The graduation is set for Saturday, December 14, 2019 at 10 a.m. in the Gymnasium on the Swainsboro campus.