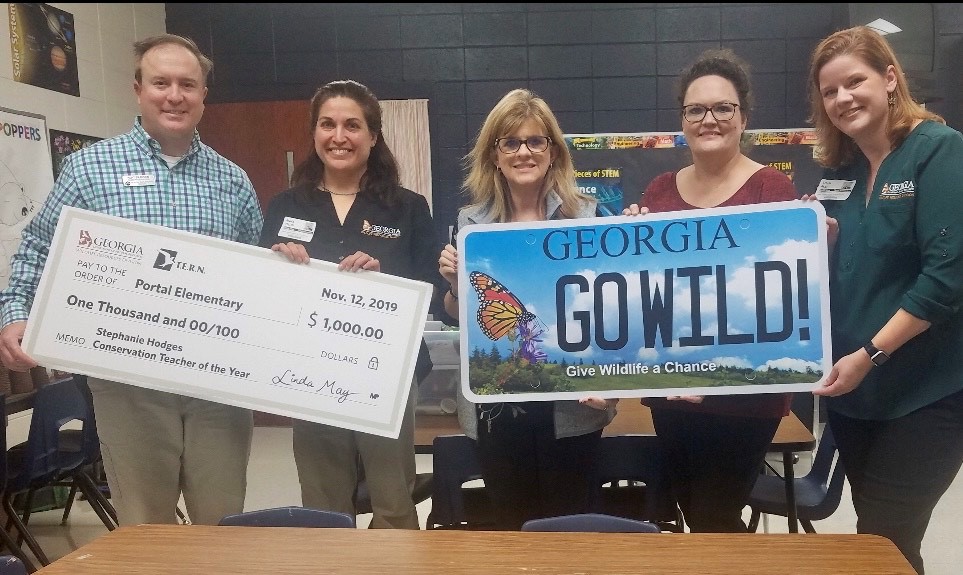 The agency announced today that Stephanie Hodges at Portal Elementary received the 2019 Conservation Teacher of the Year grant. The award is given annually to a third- through fifth-grade public or private school teacher in Georgia who demonstrates exceptional energy and innovation in teaching life sciences.
Hodges was selected for her Pollinator Paradise proposal, according to Linda May, DNR outreach coordinator. "Cross-curricular creativity, volunteer involvement and donations to leverage grant funds made Mrs. Hodges' proposal stand out," May said. "She also displayed a thorough understanding of how to empower students to help wildlife."
Hodges, a STEM Lab teacher at Portal Elementary, said she was "absolutely thrilled" about the grant. The funds will be used to buy materials and supplies for a "pollinator paradise" at the school. "My students are eager to create the garden that will make a real difference for the pollinators in our area."
A pollinator is an animal that moves pollen from one flower to another, aiding in plant reproduction. Many insects serve as pollinators, including ants, bees, wasps, butterflies, beetles and even mosquitoes. As hummingbirds sip nectar from flowers, they also distribute pollen. Pollinators are essential components of healthy ecosystems. Without them, fruit and seed production would come to a halt.
To prepare for creating a haven for pollinators in the spring, students at Portal Elementary are learning about these creatures and their importance. They recently worked in collaborative teams to study the physical and behavioral adaptations of native pollinators, building 3D models of the monarch butterfly. This iconic migratory species is struggling due to habitat loss and alteration as well as pesticide use and a changing climate. By planting milkweed, the only plant on which monarchs lay eggs, students hope to bolster populations. Native nectar-producing plants will be installed to attract various pollinators, too.
Funding for the grant is provided by The Environmental Resources Network, or TERN, friends group of the DNR Wildlife Conservation Section. Part of the agency's Wildlife Resources Division, Wildlife Conservation staff and a representative from TERN conduct the contest and review proposals.
Through education, research and management, the Wildlife Conservation Section works to safeguard and restore the diversity of native animals not legally fished for or hunted, rare plants and natural habitats, while also striving to increase public enjoyment of the outdoors. The agency's work is funded largely by grants, direct donations and fundraisers, such as sales and renewals of Georgia's bald eagle and monarch butterfly license plates