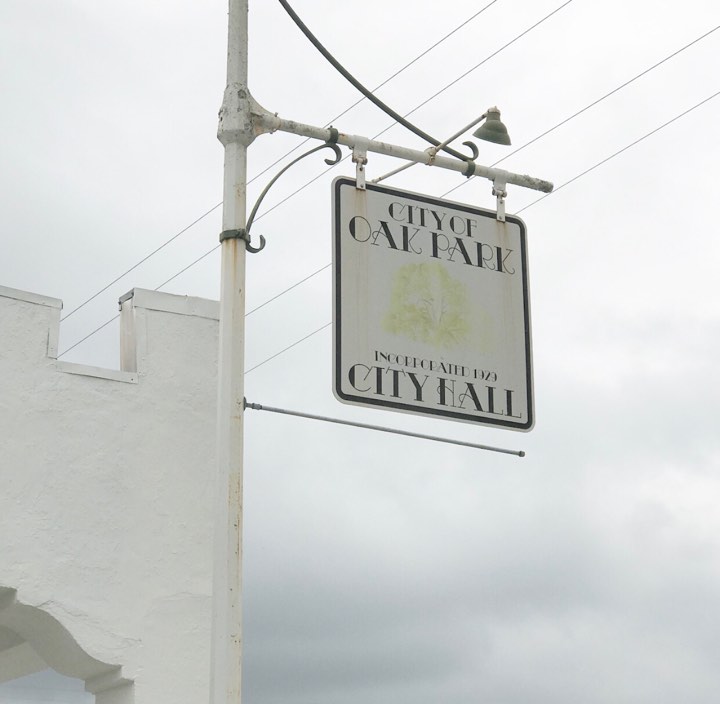 Though Oak Park Police Chief Trey NeeSmith announced at the beginning of the meeting that he would be requesting a sit-down meeting the Georgia Bureau of Investigation to discuss an investigation into city financial practices, it was not until the end of the meeting that the discussion got heated and two council members made it known that they would like to see the dismissal of the City Clerk.

Councilwoman Elaine Strange, just ahead of the adjournment, told Mayor Larry Wilson and other council members that she would like to discuss the "elephant in the room," alluding specifically to the use of the debit card by the City Clerk Monica Slater.
While Slater does have access to the city debit card linked to the General Fund, she is one of five people who have access to the card on a regular basis and some expenditures are made by others who travel for training. Most receipts provided to AllOnGeorgia lack any description of who made a purchase in the years 2015 to 2017. Many receipts requested still remain outstanding and have not been provided under the Georgia Open Records Act law.
Strange said, "We've had some controversy over the financial situation here in Oak Park and AllOnGeorgia has brought some of it out and a lot of this would not have occurred had we had financial statements. It is logged in our Charter that we are supposed to have a financial statement every month presented to us showing how much money was deposited in each account, what was paid out and to who."
Strange went on to question the receipts and the use of the city debit card. "I don't understand why that many cards are issued in this town." Slater said just two cards are in circulation, one for her and one for the Mayor, which is in the possession of the Mayor Pro Tem Roy Dismuke, and both are at city hall.
"This is the thing that I'm saying. How do the ones that go down for Savannah for training and all, where do they get a card to go to Spanky's and Wet Willy's and Hooters?" Strange pressed. Slater said they use the city debit card. Strange then asked why they aren't reimbursed instead of given the city card.
Mayor Larry Wilson said, "We had problems with that before…" as he was interrupted by the crowd saying, "You have that problem now" and "That's not the way it's supposed to be."
Wilson: "We had this problem before, with people bringing receipts and cashing them in. And we couldn't keep up with it."
Residents from the crowd were interjecting with questions and comments, one alluding to the issue of the $200 purchase for seafood in Brunswick. Chief Trey NeeSmith said that was not the purchase of a meal but the purchase of oysters for the police department Christmas party.
Elaine Strange said, "It doesn't matter how much was spent. It doesn't look good for us to be going to Hooters and Wet Willy's and Spankys."
Larry Wilson said repeatedly, "Well, I didn't do it!" as people from the crowd said "The one who holds the card should resign." Wilson asked for order to be maintained and said he would clear the room if residents kept interrupting.
Councilwoman Diane Wilson said, "That's another problem – you don't know a lot that is going on."
Elaine Strange ultimately made a motion for City Clerk Monica Slater to be dismissed for "not managing the money correctly and holding back information we should all know." Councilwoman Diane Wilson seconded the motion.
A citizen from the audience asked if the residents of Oak Park could vote on the dismissal. Mayor Wilson said, "No." He then went on to say that the city has invested a great deal of money in Slater and her training and what she does with the city.
Eventually, Mayor Wilson said "If there is any wrongdoing, praise God the GBI wil find it, and when they do, we will take action as necessary. But until they do, we will not take any action."
Strange said, "I just want it on the record where me and Diane stand. If an investigation comes up, we're all  going to be looked at because we should be in charge of what goes on here. We're not told anything because we don't have a financial statement. That's the first thing we should have when we walk in this building. And we've never had it.
Wilson asked Slater if she could start doing financial statements, to which she replied, "Absolutely."
Strange asked again why they hadn't been done in the first place and Mayor Wilson said, "I don't know." Strange, "You're supposed to know!" Wilson said, "How am I supposed to know?" to which Strange said, "You're the mayor!" Wilson simply said he "isn't an accountant."
Finally, the motion was called. Elaine Strange and Diane Wilson were the only two council members who voted in favor. Royce Dismuke voted NO and Kevin Head voted NO. James Head was absent due to an illness, so Mayor Larry Wilson broke the tie to keep Slater employed as police clerk, city clerk, TAC officer, and elections superintendent.
Toward the end of the discussion, Mayor Wilson said, "this shouldn't have been discussed out in the open," but while the Georgia Open Meetings Act says entities are permitted (emphasis added) to enter into executive session for reasons of real estate, litigation, and personnel, the code section does not say that members shall, or that they must, be required to go into executive session for such matters. OCGA § 50-14-3 deals with what is excluded from open meetings and subsection (b) reads, "Subject to compliance with the other provisions of this chapter, executive sessions shall be permitted for…" and goes on to list the reasons executive sessions are permitted. Strange's discussion in an open meeting was legal.  
(This article has been corrected to reflect that Kevin Head voted NO on the termination, not James Head. James Head was absent.)
You can read the entire Open Meetings Act here
The video of the meeting is below. The discussion on this story begins at the 31:00 mark.