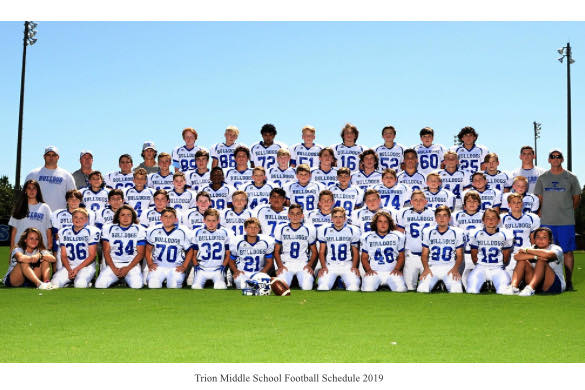 For the first time in the history of the North Georgia Athletic Conference, two teams from outside of Catoosa and Walker Counties will battle for the league's football title.

Trion and Dade, the only two teams in the NGAC not in Catoosa or Walker Counties, won their respective semifinal games. Trion won the West Division regular season champion, in a 14-6 home victory over East runner-up Heritage, while in Trenton, East champion Dade knocked off West runner-up Ringgold, 20-8.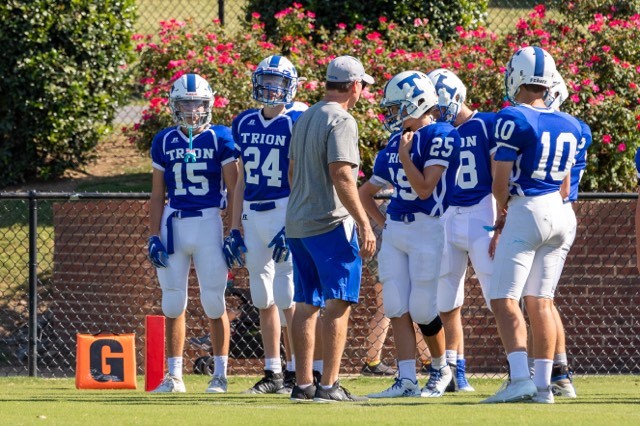 Trion has outscored their opponents 212-60 in seven games. Next up will be the championship against Dade County.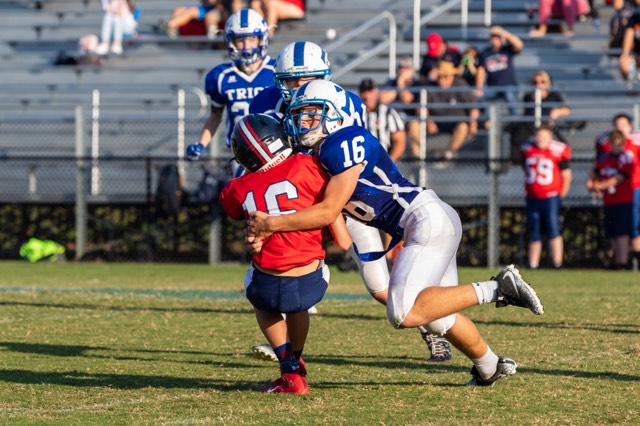 Dade (6-2) will play host to undefeated Trion (7-0) in the title game this coming Thursday at 4:30 p.m.
The two teams met back on August 29th with the Bulldogs scoring the 26-12 victory.
A closer look at the undefeated season:
August 22- (scrimmage) Trion vs. Darlington. 8-6
August 29- Trion vs. Dade. 26-12
September 5- Trion @ Ringgold. 22-20
September 12- Trion vs. Lakeview. 48-14
September 19- Trion @ Saddle Ridge. 36-6
September 24- Trion vs. Chattanooga Valley. 30-0
October 3- Trion @ Gordon Lee. 36-0
October 10- (playoff) Trion vs. Heritage. 14-6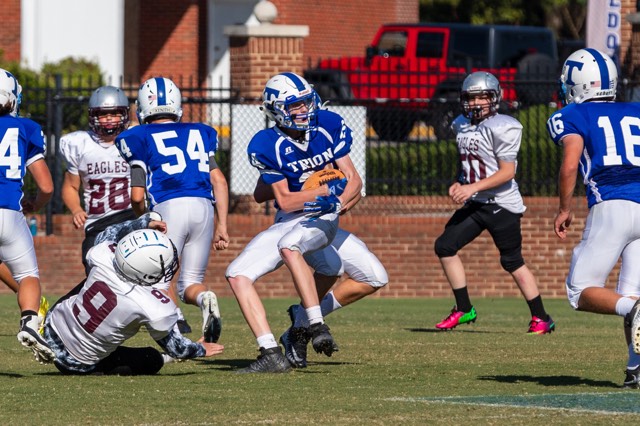 Middle School Football Roster
Coaches: Joe McCoy
Dan Duff
Chandler Pettyjohn
Jarin Blevins
Managers: Jasmine Crider
Erin Delay
Allie Millican
Nick Mitchell
1 Xander Covington 8 TE, DE
2 Cohen Blaschke 8 RB, OLB
4 Bryson Roberts 6 RB, DB
6 Jason Jenkins 7 WR, DB
7 Kade Smith 7 QB, OLB
8 Ethan Willingham 7 RB, DB
9 Curt Hambright 6 RB, DB
10 Jase Mason 8 RB, OLB
11 Liam Benefield 8 TE, DE
12 Christian Henderson 6 QB, OLB
13 Mason Stancil 6 TE, DE
14 Lane Harris 7 RB/TE, MLB
15 Landon Bandy 8 TE, OLB
16 Logan Ramey 8 RB, MLB
18 Draven Baker 8 WR, DB
20 Dillard Stricklin 7 RB/TE, MLB
21 Ryan Anderson 6 OL/TE, DL
22 Conley Harris 7 WR, OLB
24 Garrett Mahan 8 WR, DB
25 Toby Maddux 8 RB, DB
28 Porter Sentell 6 RB, DB
30 Branson Haley 6 RB, MLB
32 Will Groce 6 RB, OLB
34 Zach Camp 7 RB, LB
36 Will McWorter 6 OL, DL
40 Colton Sanford 7 RB, OLB
42 Hunter Cook 7 QB, DB
45 Liam Benefield 8 TE, DE
46 Price Wilson 7 OL, DL
48 Zane Williams 6 WR, DB
50 Connor Harris 7 OL, DL
53 Noah Bowman 8 OL, DL
52 Lucas Stoker 8 OL, DL
54 Brayden Broadrick 8 OL, DL
55 Logan Stokes 7 OL, DL
56 Ezra Adams 8 OL, DL
58 Lance Maynard 8 OL, DL
60 Dex Cargle 8 OL, DL
61 Colby Evans 8 OL, DL
62 Bryson Knox 8 OL, DL
64 Aidan Wright 7 OL, DL
66 Brock Payton 7 OL, DL
68 Evan Leming 8 OL, DL
70 Noah Gann 7 OL, DL
74 Kaden Ramirez 7 OL, DL
76 Braden Floyd 7 OL, MLB
77 Mac Lee 6 OL, DL
78 Josh Hernandez 8 OL, DL
80 Blayke Stowe 8 WR, DB
88 Caden Daniel 8 RB, MLB
89 Spencer Croft 6 TE, LB