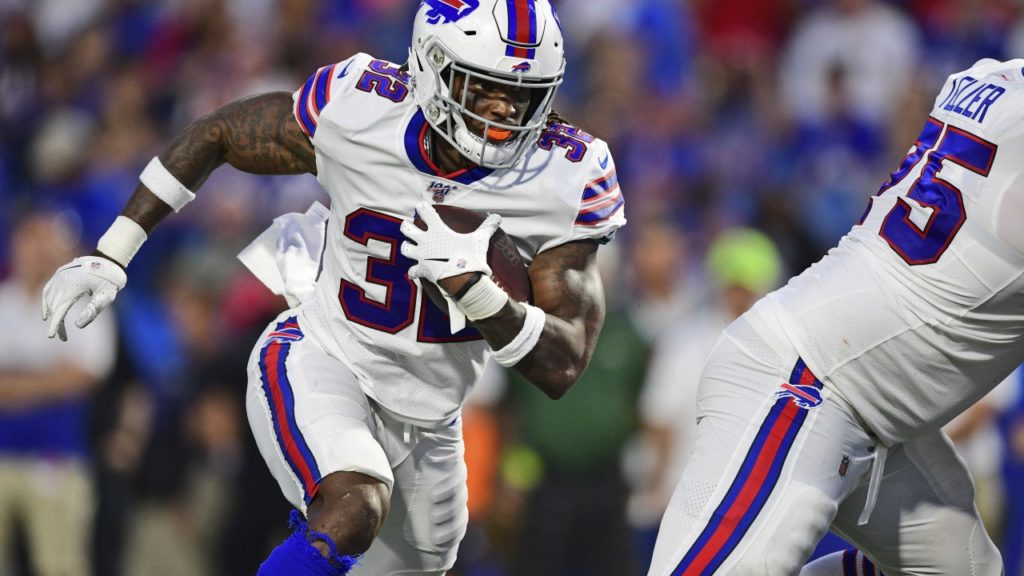 The Buffalo Bills added a fifth running back to the roster Tuesday by signing Senorise Perry to the 53-man squad. Perry takes the spot of Zay Jones, who was officially traded on Monday to the Oakland Raiders.

Perry spent training camp with the Bills and was placed on injured reserve with a quadriceps injury on August 31st. He began rehab in Buffalo and was released from injury reserve on September 4th.
Per league rules, six weeks must pass before a player that is released in an injury settlement is eligible to re-sign with the same club.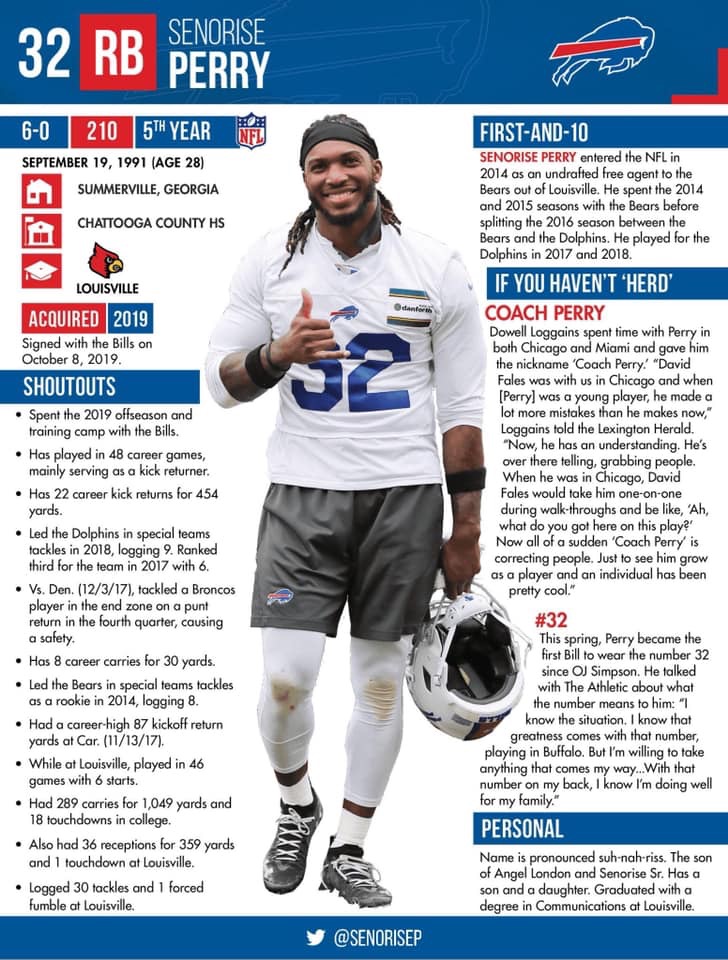 Senorise to wear #32
For the first time in over four decades, the Buffalo Bills have issued the No. 32 jersey once worn by Hall of Fame running back O.J. Simpson.
The No. 32 now belongs to running back Senorise Perry, the same number Perry wore as a Chattooga Indian, Louisville Cardinal and Chicago Bear.
In an interview with the Athletic Perry said he knows there are expectations with wearing that number.
"On one hand, wearing the number of a Hall of Famer creates a high expectation," Perry said. "I thought it was retired, but then I was told it was available. Boom, I took it."
"I know the situation. I know that greatness comes with that number, playing in Buffalo. But I'm willing to take anything that comes my way," Perry said. "I'm going into my sixth year, and I know what it takes to get in this league and stay here. With that number on my back, I know I'm doing well for my family."
Plans at Buffalo:
Perry plans to play a role on special teams. He led Miami in special teams tackles last season with nine and played 301 special-teams snaps, which ranked 60th in the NFL, according to Pro Football Focus. According to the Bills' website, the team ranks 30th in the NFL in punt coverage. Perry would see a role there, most likely.
The 6-foot, 210-pound Perry entered the NFL out of Louisville in 2014.
And entered Louisville out of Chattooga High School.
Senorise Perry is a Chattooga High School alum who was recruited by several Division 1 football programs. Perry selected the University of Louisville and spent his time there as a standout special teams player and running back. He made six college starts and rushed for 706 yards and six touchdowns as a college senior.