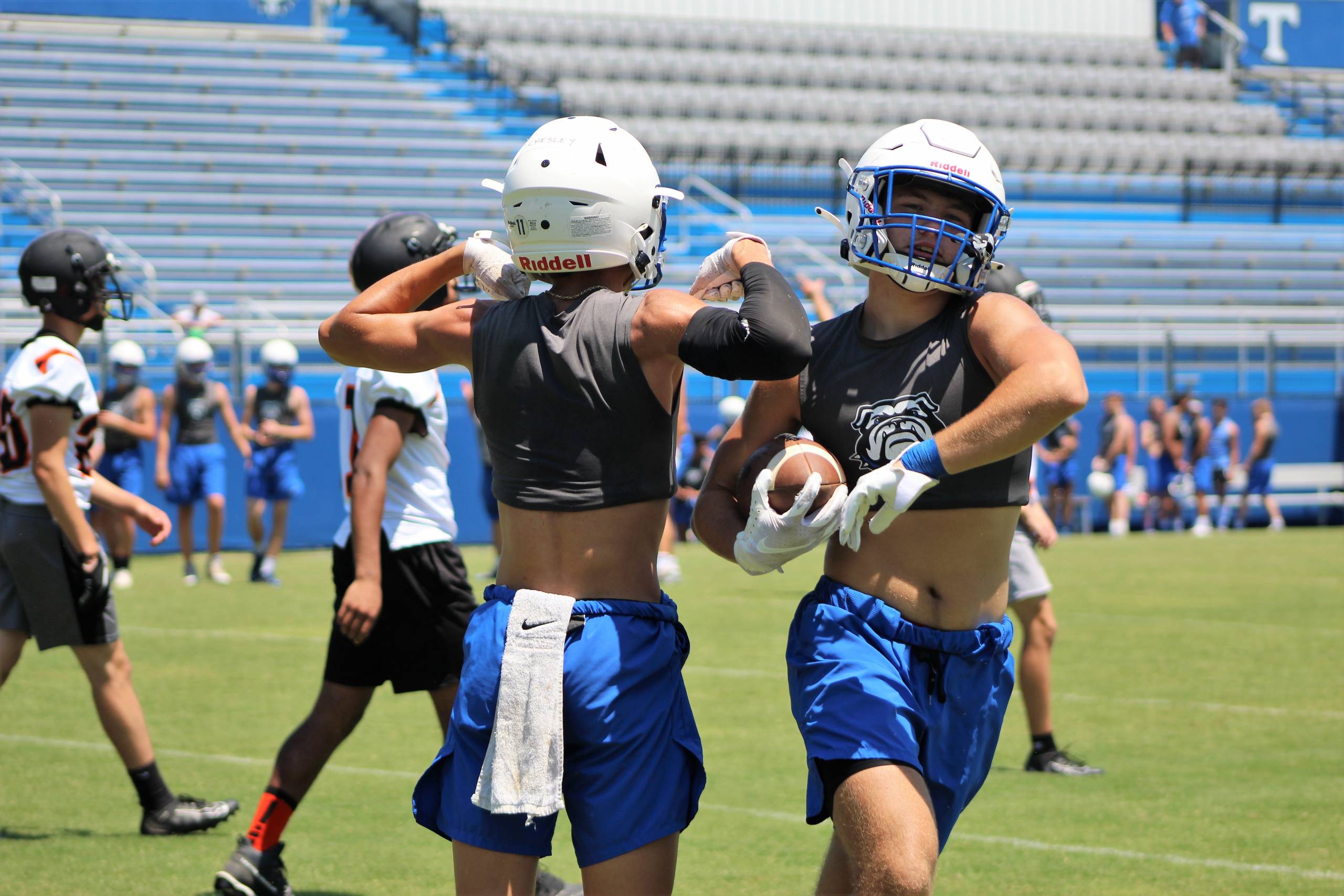 Trion Football hosted a 7 vs 7 camp on Thursday with three additional teams competing: Gordon Central, LaFayette, and Bledsoe (TN). This was the first time this summer competing against other teams for each of the teams at the camp.
Trion Coach Sean Patrick organized the camp, "we have really nice things here at Trion, and it's nice to get to show them off. For me personally, I like organizing events and this gave me an opportunity to do so. I had fun with it."
"7 on 7s and OTAs allow our kids to compete against other teams, which is fun. We, as coaches, are able to put them in game-like situations that are hard to replicate at practice. And most importantly, they are fun. This game can be a grind, and it is important to allow kids the opportunity to have fun as much as we can," Patrick said.
Patrick said he thought the Bulldogs competed well. "Obviously, we still have a ton of work to be done on both sides of the ball, but there were a lot of good things that happened. We repped a lot of kids on Thursday, which is definitely a good thing. Overall, I was pleased with our performance."
Patrick said both of the Bulldog's quarterbacks, Logan Eller and Kade Smith, had solid days. "This was the first time that either of them had thrown 7 on 7 against an opposing team. Our kids caught the ball really well. We had very few drops on the day. Riley Blackwell had a really good day offensively. Defensively, we had a good day as well. Daegan Vaughn and Crawford Lee both had a really good day."
Trion Football camps planned:
June 22 – 7 on 7 @ Pepperell
June 24 – OTA (padded camp) @ Gordon Central
July 14-15 – OTA (padded camp) @ Bleckley County
Coach Patrick will try to add another 7 on 7 at some point in July
Gordon Central Head Coach Tristan Hamilton said he thought that the camp was great. "We were able to get quality reps for everyone on our team. Attending camps allows for our athletes to get outside of their comfort area and compete against other talent. Seeing and going against other talent helps us coaches get a feel for areas we are good and what we need to focus on. I was very pleased with how we competed. We had some adversity hit us and we wanted to revert back to old habits, but we didn't. We kept our cool and moved on to the next play. We had several players that were in positions they had never played before and they took on the challenge."
Gordon Central is hosting an 11 on 11 with Darlington, LFO and Trion at 9 am this Thursday.
"Looking forward to good competition and getting good reps on before the break," Coach Hamilton said.
LaFayette High School football fans got their first look at new coach, Andy Scott on the field in the 7 vs 7 camp.
Coach Scott had this to say about the camp, "I was really pleased with how we played it being our first 7 on 7 of the summer. Of course we have a long way to go but we are very pleased overall. The rest of June we will continue to focus on our Weight Lifting Program, our Conditioning and continue to install our Offense and Defense. Once we get back from the Dead Week in July it will be a lot more Football as we prepare for our Season."
This is a link to LFS Football Calendar, all the workouts and upcoming events are on there.
https://sites.google.com/walkerschools.org/lafayetteramblerathletics/sports_1/fall-sports/football
#22 Trey Taylor, had a great day at the camp, catching multiple touchdowns and interceptions for the Ramblers. Coach Scott said the upcoming senior was an unbelievable kid and also a great player, "we are expecting big things from him."