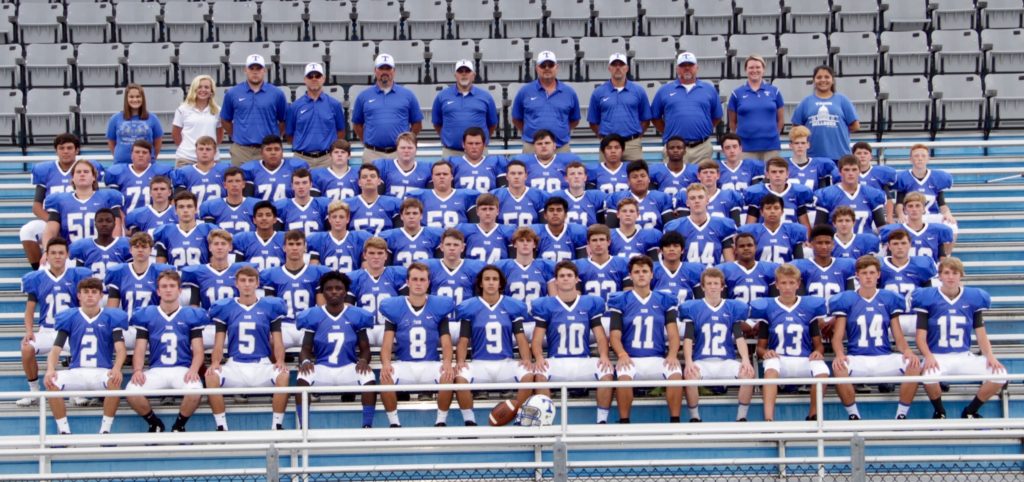 The Boys in blue and white are Back in T-Town and Head Coach Justin Brown is set to kickoff his his 7th season as the leader of the pack. Thursday August 9th, the Bulldogs will play a scrimmage with the Ramblers of Lafayette.
Senior Leadership
For the Trion faithful, the 2018 Bulldogs have many players returning and several new faces to give the team a whopping 17 seniors.
Brown pointed out several veterans including, Hagen Willingham, Braden Johnson, Jake Hayes and Clay Baker will all see extensive playing time on both sides of the ball.  The Bulldogs will also rely on the experience of Rylan Tomlin, Luke Westbrook, and Tucker McCoy.
Bulldogs fans can expect to see several new faces getting significant playing time this year including Will Wyatt, Chris Pace, Ross Moore and Conner Ellenburg: all will be counted on to contribute sooner rather than later.
DEFENSE
Defense impact players: Braden Johnson, Clay Baker.
Defensively, it will start with securing the middle for the Bulldogs.  Johnson and Wyatt will handle the Strong side and Weak side linebacker responsibilities while  Bryce Wallin and Ross Moore are locking down the middle linebacker position.  Hayes, Baker, and McCoy will anchor a defensive front and, adding some much needed depth, will be Kebreon Farmer and Alex Stewart. Brett Brown and Kodiak Crabbe will be starting at the outside linebacker positions.  With these players, Trion looks to field another solid defense that fills gaps at the line of scrimmage and shuts down running lanes in between tackles.
OFFENSE
Offensive impact players: Hagen Willingham, Braden Johnson.
The offensive line will be senior heavy with 6'5″, 305 lb, Jake Hayes anchoring the line.
Lincoln Maddux looked solid in the Bulldog's Spring Game and gave Trion a flash of excitement. Brown is excited and says he is, "…looking for Lincoln Maddux to take care of the football and make plays when opportunities present themselves." According to Brown, Maddux spent the summer putting in a lot of work at the quarterback position, "…he's improved quite a bit, so we're hoping to build on that and get him some game experience.  Those type of snaps will hopefully help him progress even more."  Maddux's backup will be sophomore Dawson Brown.  Third on the depth chart is freshman, Conner Deparlier.
SPECIAL TEAMS
Two seniors, Libni Ramirez and Luke Westbrook, will be replacing the long snapper and place kicker and they have big shoes to fill. "I think they are very capable. I'm interested to see how they react 
on Friday
 nights," Brown said.
2018 Trion Bulldog Roster: 
2018 Bulldog Football Schedule: 
Thursday night the Bulldogs will kick off the season at LaFayette. The Ramblers have a new head coach, so Brown is expecting some scheme changes.  "We saw their scrimmage in the spring.  We have a little bit of an idea about what they're going to try and do.  The main thing for us though is to go an execute our schemes.  It will be good to get all of our guys
on film.  It should be a great atmosphere." says Brown.
Beyond that, Brown will be working on keeping his players focused week-in and week-out. "All of our games are especially important because of power rankings, however, we'll look forward to playing Gordon Lee, Darlington and Mt. Zion.  Those are the 3 biggest rivalries on our schedule," Brown said.
Bulldog Coaching Staff:
Tim Barrett: Offensive Line, Assitant Head Coach
Garrett Brown: Running Backs Coach
Steve Gladney: Wide Receivers Coach, Special Teams Coordinator
Roone Gable DC: Linebackers Coach
Dean Hollis: Defense Line Coach
Cody Simpson: Defensive Backs Coach
The Blue Behind the Brown.
Head Coach Justin Brown is a 1992 graduate of Trion High School.  Brown earned his Bachelor's in English from West Georgia University.
Brown has coached at Temple, Mt. Zion, Alexander, and Villa Rica before coming home to Trion.  This is Brown's 11th year at Trion, 7th as Head Football Coach.