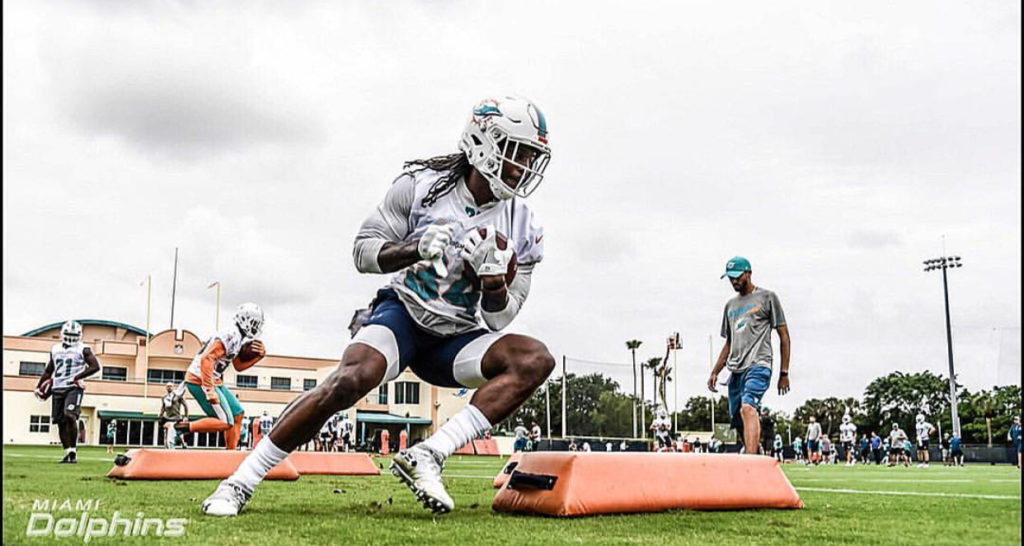 As the pre-season rapidly approaches for the NFL, Summerville native, Senorise Perry looks to continue his contributions to the Miami Dolphins Special Teams unit and build on a strong Spring Training performance at running back.
Dolphins Running Back coach, Eric Studeville, recently commented when asked where does Perry fit in, "Well he had a great spring, in my opinion. He really showed himself as being dependable… to go in there and know what's going on."
Perry joined the Dolphins after a 3-year stint with the Chicago Bears and, after working his way from the practice squad to the active roster, Perry has overcome injuries and a coaching staff shake up to prove himself an impact player for the special teams unit.
"Obviously, his role has been on special teams primarily but, when you've got a jersey, even as a special teams player, you've got to have an offensive role…  that's one of those roles and functions that we talk about…" says Coach Studeville.
Studeville wrapped up his commentary on Perry's ability by pointing out his dependability for the team. "What he's done, is establish himself as a dependable person, to be able to go in if we need him. Right now, I don't have any hesitation to drop him in a game. I'd play him."
After trading starter, Joseph Ajayi, to the Super Bowl champion, Philadelphia Eagles, the Dolphins have made a few major moves on offense, including bringing in future Hall of Fame tailback, Frank Gore. Studeville feels that Gore's experience and professionalism are already having an impact on his backfield. The depth at the position will be one more hurdle facing Senorise Perry in his 2nd year with Miami. But the once-undrafted runner has already proven several times, there is no obstacle he can't overcome.
After spending the 2016 season on Miami's practice squad, Perry played in all 16 games for the Dolphins in 2017. While he only recorded eight carries for 30 yards and one reception for three yards, Perry did solid work on special teams. He returned team kicks for a 20.2 yards per return average. He was also second on the team in special teams tackles, recording nine.
Senorise Perry is a Chattooga High School alum who was recruited by several Division 1 football programs. Perry selected the University of Louisville and spent his time there as a standout special teams player and running back.
After a breakout junior season at Louisville, Perry found himself on several NFL teams' radar and, in spite of battling an injury and stiff competition at running back on his own team, Senorise was invited to camp by the Chicago Bears after graduating from Louisville. Perry's camp performance was stellar and he won the coaches over and became one of the exceptionally few undrafted rookies to make it to the final roster on an NFL team.