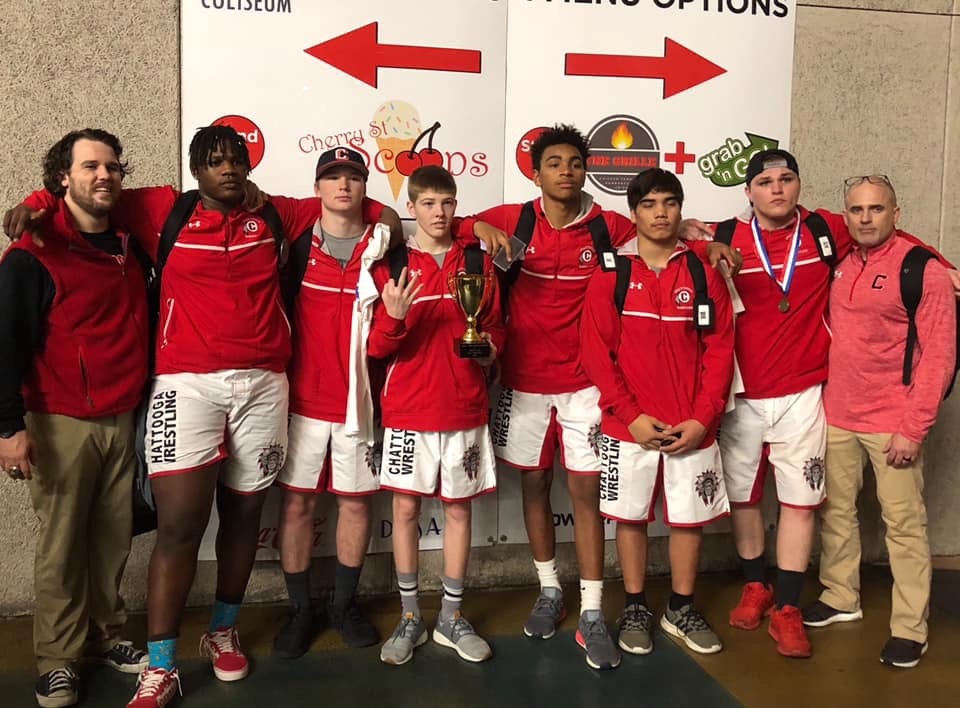 Chattooga Wrestling at the 2019 GHSA Wrestling Championship Tournament

For the Chattooga Indians wrestling team, 2019 was less about quantity and all about quality. Battling a depleted number of veteran wrestlers, the Indians entered the season relying heavily on two-time state champion junior, Griffin Jarrett (106), and state placers, Koby Cottrell (170), Alex Mears (220), and Luis Medina (285). All four wrestlers still have another year on the mat but performed like the seasoned athletes that they are.
Entering the GHSA State Championship tournament in Macon, Georgia on February 14th, Chattooga had managed to qualify six of their eight wrestlers including surging performances from sophomore Ty Veatch, who stunned the crowd at the Sectionals event in Toombs County by knocking off senior favorite, and defending state champ, Tahjah Watts (55-3) from Vidalia, 6-3 in the finals, and freshman Devon Heroch (160) who qualified for the state tournament at a weight typically dominated by upperclassmen.
Team Success is Built Upon Individual Effort
After team finishes in 2017 – 6th place and 2018- 7th place, Chattooga was hoping to keep the streak alive of Top 10 finishes and with only six wrestlers competing, the Indians would need bonus points every chance they could score them.
2A-160
Devon Heroch jumped straight onto the mat in the Fall after a stellar freshman season on the football field. As a fullback, Heroch was undersized but made up for it with pure heart and ferociousness. On the mat, Devon proved capable of holding his own time and again against his older competition and, when the team needed him the most, Heroch scored an epic victory with a pin over the #2 Sectionals placer, KeShaun Smokes of Dodge County. Heroch would fall just one match short of placing at state, but his points were a crucial part of the team's eventual finish.
2A-170
As a sophomore, Jakoby "Koby" Cottrell had exceeded expectations with a 5th Place finish at State and this year his bracket was even more loaded. Cottrell delivered in a big way with two victories by pin, another by a tech fall, and a fourth with a Major. His 8-4 victory in the 5th Place match over the #4 seeded Cameron Fortson from Elbert County boosted the Indians farther up the leader board.
2A-195
An injury during his freshman campaign is the only thing that prevented Veatch from being a factor in the 2018 State Tournament but his performance at the 2019 Sectionals had firmly placed the name Ty Veatch on everyone's radar. But the road to the top of the podium in Macon was far from easy and a 6-4 victory in the semifinals against Westside's Kwahla Hall (28-5) served as a reminder that every win on the mat would have to be earned. With a spot in the Finals confirmed, Veatch faced a rematch with defending state champion, Tahjah Watts and Watts was seeking some revenge for the earlier loss. Veatch came up on the losing end of the rematch but his State Runner Up finish and 18 team points were a huge boost for Chattooga's hopes at a lofty finish. Veatch was the sole 10th grader who qualified for state at the 195 pound weight class and advanced all the way into the Finals.
 2A-106
Griffin Jarrett's name has been synonymous with Chattooga Wrestling since his middle school years and, as a junior hunting his third consecutive state title, the pressure only mounts. Every time Jarrett steps onto the mat, the expectation for a win doesn't only rest on his shoulders, it lays on the minds of every Chattooga fan who has already put a check mark in the win column. With a 63-3 record for the season, Jarrett rarely fails to win and always comes prepared. For the 2019 State Tournament, Jarrett scored bonus points in every match, including a dominating tech fall in the Finals against Toombs County's Jose Balderas (49-12). Balderas pinned last year's runner up Tyler Post from Social Circle in the semifinals but was simply no match for Jarrett's relentless attack.
With his third State Championship and 26 team points, Jarrett became only the second Chattooga wrestler to earn three State Titles and the first to earn them consecutively.
"Since winning state as a freshman, Griffin has been on a mission. From weight management to being in the room every time the door is open, he's been totally committed to winning a title each year," Coach Beasley said.
2A-220
Junior Alex Mears left the 2018 state tournament with the agony of two overtime losses and was barely able to enjoy his 4th Place finish. His offseason included focusing solely on wrestling and a few private workouts with assistant football coach and MMA Grappler Nicky Peppers. Mears' 61-3 record for the season is proof that his efforts have paid off and as he rolled through Sectionals with two pins and a tech fall in the finals, he had only one thing on his mind; Redemption at State.
The redemption train rolled at State as Mears picked up pin after pin to secure his spot in the Finals where he faced off against 2018 3rd Place finisher Jacob Stephens. Stephens was nearly a finalist last year at division 3-A before Bremen was realigned to 2-A this year. Despite putting up a fight, the determination of Mears was unstoppable and his 8-4 win in the Finals gave Alex his first taste of State Champion success. Odds are strong, this won't be his last.
Mears added 26 team points for Chattooga as the team broke into the Top 5 and threatened the 2-A hierarchy.
"Alex was a runner-up as a freshman and an overtime loss in the semis last year that kept him from a state title. Being a state champ has been his singular focus. He put in the time not only in the wrestling room, but in the weight room as well to put himself in position to win a state title," Coach Beasley said.
2A-285
Luis Medina has dealt with adversity his entire life. From drastic leg surgery to a crushing overtime loss in the 2018 State Wrestling Finals. While Medina does many things better than his opponents, what he does best is overcome adversity.
The State Runner Up finish last season has served as fuel to Medina's inner fire and the 2018 football season was proof that his legend had grown. With a 6'2" frame carrying 275 pounds of speed and power, Medina wreaked havoc on the defensive line for the Chattooga Indians and, when wrestling season drew him back to the mat, Medina was a machine. His 49-2 record included the first Indians wrestler to win the McCallie Invitational, where he pinned every opponent.
At Sectionals, Medina faced another moment of adversity when, in the Finals, he fell 1-2 to senior challenger Rolando Tonoco (48-8) of Toombs County. The loss could've derailed a lesser man, but Medina came into the State Tournament with something to prove and a fresh wound to fuel him. After pinning two State Placers, Medina found himself in the Finals facing Tonoco for the ultimate rematch. Tonoco wouldn't score a single point against Medina as Medina attacked from every angle and won 6-0 for his first State Championship. Another 26 team points for the Tribe as Chattooga surged into 3rd Place despite bringing only six wrestlers to the tournament.
"Losing in OT, in last year's finals left a bad taste in his mouth. Luis went on a tear this season with only two losses (3-2 to west Lauren's state champ and 2–1 to Toombs County who he avenged in the finals). He has been dominant and added a state title to his already impressive athletic resume," Coach Beasley said.
Tribe Pride
Alex Mears defeated a Toombs County opponent in the semifinals. Jarrett and Medina both defeated opponents from Toombs in their Finals match ups. The final team scores were:
Social Circle              150.5
Elbert County            122.5
Chattooga                  112.5
Toombs Co.               107.5
Chattooga had a school-record FOUR STATE FINALISTS. The Indians tied a school record with THREE STATE CHAMPIONS and their FIVE STATE PLACERS lifted them to a 3rd Place finish that tied a school best at the GHSA State Championship Tournament.
"The team placing third was a total group effort. Besides the three champs, the other three put points on the board to put us in Top 3. Veatch had an impressive performance rolling to a second place finished. Cottrell had back-to-back Top 5 performances to score for the team. Heroch fell short of placing, but had a big pin versus sectional runner up to score bonus points for the team. Best part, all six are underclassman," Coach Beasley said.